Posted on
Fri, Nov 30, 2012 : 5:55 a.m.
University of Michigan jazz and improvisation program celebrating 25 years
By Will Stewart
In 1987, the University of Michigan School of Music was already long established as one of the finest in the nation.
But it didn't have a lot of swing.
Renowned flugelhornist and Music School Professor Ed Sarath remedied that by founding the Department of Jazz and Contemporary Improvisation, adding a progressive voice to the classically based programs that already existed within the school.
"When I was hired in 1987 to establish a program in jazz and improvised music, there was strong encouragement to explore new horizons in both jazz and overall musical studies," Sarath said. "It was a perfect fit for the approaches I had developed.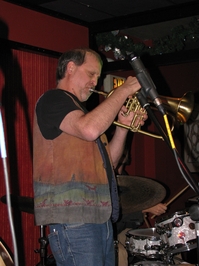 "I was also interested in exploring application of jazz's creativity and consciousness foundations to education at large and was fortunate to find support for that work across the U-M campus."
Twenty-five years later, the department is one of the jewels of the Music School, allowing it to attract not only gifted musicians who want to pursue classical-music studies, but also those with an interest in America's own classical music: jazz.
And we're not just talking about mainstream jazz.
The department has established itself as a proving ground for students interested in pursuing the outer edges of jazz and contemporary classical music, where composition meets improvisation and where the results can be as challenging as they are rewarding, both for the performer and the audience.
"We get a lot of feedback that we're one of the strongest, as well as one of the most innovative, programs out there," Sarath said. "We go seriously to the outskirts of jazz."
Part of that exploration comes as a result of the departments ability to attract classical students to some of the department's more improvisational classes and seminars. That combination of classical sensibilities and ad-libbed performance yields remarkable results, Sarath said.
"In many ways , improvisation is core to all creativity," he said. "Students at the School of Music come into the program already playing a a very high level and we're able to work with them on making creative decisions in interpreting the music that's written on the page.
"The result is that all aspects of musicianship are enhanced."
Another selling point in the department, Sarath said, is that the faculty consists of professors who are well established as working musicians with international touring commitments.
"It's amazing, the level of talent of the students who come into the program," he said. "So the faculty has to be up to the task of having something to offer them."
To celebrate a quarter-century on the edge, the department has organized a weeklong series of performances that showcase students, alumni and faculty members.
The "Jazz Week" series kicks off Friday with a faculty recital by faculty members Andrew Bishop on clarinet and pianist Ellen Rowe, both of whom will perform original compositions and standards.
Continuing through Dec. 7 and including nine performances in all, the series includes everything from student ensemble performances and panel discussions, to master class recitals by noted alumni, including drummer Allison Miller and pianist Myra Melford.
"This is a very proud time for us and we wanted to do something to commemorate the occasion," Sarath said. "As faculty we don't get a lot of opportunities to play together, either, so that's exciting, too."
Here's the university's schedule of events:
Jazz Week: Commemorating 25 Years of the University of Michigan Department of Jazz and Improvisation

Friday, November 30

Faculty Recital: Andrew Bishop, saxophone and Ellen Rowe, jazz piano
Moore Building, McIntosh Theatre
8 p.m.
The program will include compositions by the performers and jazz standards.
Free - no tickets required


Sunday, December 2

Campus Jazz Ensemble
Moore Building, McIntosh Theatre
8 p.m.
David Sayers, graduate student director.
Free - no tickets required


Monday, December 3

Masterclass: Allison Miller, drums and Myra Melford, piano
Moore Building, Rehearsal Hall
6 p.m.
NYC-based drummer Allison Miller defies all boundaries bringing her individual sound to diverse types of music while preserving their stylistic authenticity. Allison goes from leading her band, BOOM TIC BOOM, to playing with legendary songwriting vocalists Ani DiFranco, Brandi Carlile and Natalie Merchant, to touring with avant-garde saxophonist Marty Ehrlich and legendary organist Doctor Lonnie Smith. She approaches each of these musical situations with her own stylistic identity and a creative, fresh and energetic approach. Allison was chosen as "Rising Star Drummer" in Downbeat's 53rd and 58th Annual Critics Poll.

Over the course of two decades and more than 30 recordings, Myra Melford has carved out a distinctive niche among creative music's most respected pianist-composers. Her signature sound skillfully combines early influences such as classical music and the traditional blues piano styles of her native Chicago with her later immersion in the music of Eastern Europe and India and extensive musical studies with such legendary figures as Ran Blake, Jaki Byard, Don Pullen and Henry Threadgill. Free - no tickets required

Tuesday, December 4

Jazz Ensemble and Jazz Lab Ensemble
Rackham Auditorium
8 p.m.
Featuring works by faculty and former students, and guest alumni soloists. including Tyler Duncan, David Luther and Jeremy Kittel.
Free - no tickets required


Wednesday, December 5

Alumni Panel Discussion on Careers in Improvised Music
Stearns Building, Cady Room
4 p.m.


Wednesday, December 5

Jazz Alumni and Creative Arts Orchestra Concert
Walgreen Drama Center, Stamps Auditorium
8 p.m.
Featuring Stephen Rush, Jason Stein, Matt Bauder, Amy Bormet, Alana Rocklin, Vincent Chandler, and Dean Moore.
Free - no tickets required


Thursday, December 6

Panel Discussion: Jazz at Michigan and the Future of Jazz Education
Rackham Amphitheatre (4th Floor)
4 p.m.
Panelists include Dean Emeritus Paul Boylan, Senior Vice Provost Lester Monts, and Professors Geri Allen, Ellen Rowe, and Ed Sarath.
Free - no tickets required


Thursday, December 6

Celebrating Tagore: Translations through music, dance, and poetry
Hill Auditorium
8 p.m.
Celebrating Tagore: Translations through Music, Dance, and Poetry features performers from the School of Music, Theatre & Dance, including the 90-member University Choir, a 20-piece string orchestra, and students and faculty from SMTD's Department of Jazz & Contemporary Improvisation, as well as classical Indian dancers and vocalists in a celebration of the 150th anniversary of the Indian poet Rabindranath Tagore's birth.
The centerpiece of the performance will be "Brahma, Vishnu, Shiva," set to music by jazz faculty member Ed Sarath, and choreographed by Odissi dancer Sreyashi Dey, who will perform with an ensemble consisting of Srishti Dances of India and dancers from student group Michigan Sahana. The concert will also feature U-M public health professor and Rabindrasangeet singer Mousumi Banerjee on a solo performance of Tagore's "Aguner Parashmani," arranged by jazz graduate student Demetrius Nabors, and the premiere of Sarath's setting of Tagore's "Sorrow Persists, Joy Prevails." Jazz faculty Geri Allen, Robert Hurst, Andrew Bishop, and Michael Gould will be featured soloists. Associate Director of Choirs Eugene Rogers will conduct.
Free - no tickets required


Friday, December 7

Faculty Recital: Geri Allen, jazz piano
Walgreen Drama Center, Stamps Auditorium
8 p.m.
Professor Geri Allen, recipient of the Harold Haugh award, gives a solo piano concert.