Posted on
Mon, Jan 18, 2010 : 4:50 a.m.
Cutting-edge fiber art effectively showcased in Ann Arbor Art Center exhibit
By John Carlos Cantu
"Unraveling the Familiar: An Exhibition of Non-Traditional Fiber Media" at the Ann Arbor Art Center is a good gauge of how far postmodern art has come in the last decade.
What might have been considered offbeat is now appreciable on the basis of its merit. Thus the "non-traditional" in "Unraveling the Familiar" is certainly accurate — but it's also hardly as surprising as it might have been as little as 10 years ago.
All this is to the good, since fiber art — like ceramics — is one of those ancient artforms that's been revitalized in the last century with a proliferation of applications and materials that would have scarcely been considered by earlier artists.
But this isn't saying enough about this accomplished exhibit. "Unraveling the Familiar" is also an example of sophisticated installation art —Â making it a superior example of postmodernism in two distinct aesthetic categories.
The exhibit consists of work by 4 Michigan artists: Detroit-based fiber specialists Annica Cuppetelli and Megan Heeres; Ferris State University art professor Jill Jepson; and Eastern Michigan art professor Brooks Harris Stevens.
As the Art Center's gallery statement tell us, each of these artists "explores non-traditional and contemporary fiber art as expressed in the two and three-dimensional works" — fair enough — through the reapplication "of traditional fiber techniques and materials."
Also fair enough. Let's just say there's a lot of reapplication going on in this exhibit. The use of fiber (through a number of media) effectively delimits the range of materials (if not by much) but the expansive styles the foursome employ is impressive — as is the non-traditional use of the Art Center's gallery space.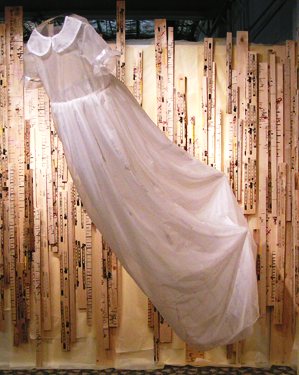 EMU's Brooks Harris Stevens has contributed 3 works — "Altered Expectations"; "No Longer There"; and "Binding Expectations" — that in one manner or another involve the human body as the focus of her creativity.
Stevens' approach differs in each installation work: "Altered Expectations" is a mixed-media china silk dress hung before a cluster of screen-printed strips of wood. "Binding Expectations," on the other hand, is an upright steel mesh coffin holding a body crafted from flesh-colored silk organza. And "No Longer There" employs a series horizontal and vertical rectilinear cotton cigarette papers that been patiently stitched in a floor plan of her deceased father's early residence; all set to a slide projector featuring an aged photograph of him as a child wearing a cowboy outfit.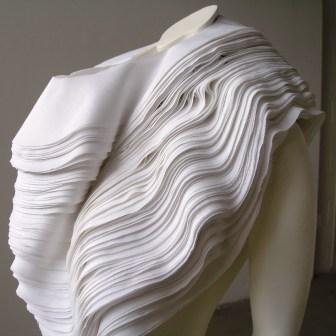 Annica Cuppetelli's use of the body is a bit more abstract — just as the use of her fiber is far more pronounced in a pristine way. Her "Core" is a 4-part installation of polyester batting and cotton lain about on the gallery floor or worn. Using a variable loft to her fabric, Cuppetelli allows 3 pieces to rise expansively of the ground. The fourth piece of "Core"; using a shop mannequin to illustrate its use as a fashion vestment, blurs the line between fashion and art with Cuppetelli clearly opting to side with aesthetics over couture.
Her "Structured Garment No. 1" clearly marks Cuppetelli's interest in installation art. A tepee crafted from boning, cotton, and lead; this sheer, tapering "garment" winds its way from the gallery ceiling to the gallery floor in a graceful twirl. Exceedingly handsome in a non-functional as well as non-traditional manner, "Structured Garment No. 1" is certainly an accomplished work of art.
Ferris State's Jill Jepson has contributed 8 brightly colored floral inspired mixed-media fabric and paper collages suspended from the gallery ceiling with strings serving as taut bracing cords. These works are irregular-sized rectilinear compositions that can be read either vertically or horizontally. Certainly the most unpredictable art on display in this exhibit, Jepson's fiber and Rives paper collages are delightful profusions of abstract chromaticity.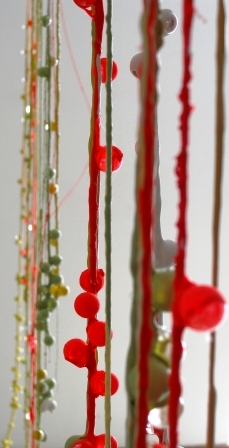 Finally, Megan Heeres' "Two: One (The Tension of Surfaces)" gallery installation stands literally alone in this exhibit of non-traditional fiber art.
The most interactive artwork in an exhibit devoted to interaction, "Two: One" encourages its visitors to walk through its walls of strings and beads — leading to a large canister filled with burbling water in the heart of the installation. Both a bit disquieting and intriguing, wandering in and out of "Two: One" is more than enough to make the viewer feel like an artful collaborator at the fanciful border of observation and participation.
"Unraveling the Familiar: An Exhibition of Non-Traditional Fiber Media" will continue through Feb. 14 at the Ann Arbor Art Center, 117 W. Liberty St. Gallery hours are 10 a.m. to 6 p.m., Monday-Thursday and Saturday; 10 a.m. to 9 p.m., Friday; and noon to 5:30 p.m., Sunday. For information, call 734-994-8004.