Posted on
Tue, May 4, 2010 : 5:32 a.m.
UMHS Gifts of Art showcases "Unseen Universes: Acrylics on Canvas"
By John Carlos Cantu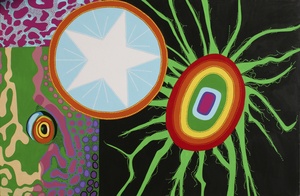 Merrill Steiger's "Unseen Universes: Acrylics on Canvas" on display at the University of Michigan Hospital are cosmically big.
Steiger's heroically scaled exhibit, part of the University of Michigan Health System's Gifts of Art program, features a dozen phantasmagorical paintings that reflect this New York City painter's keen interest in the microscopic being made macroscopic and vice-versa.
As her gallery statement tells us, Steiger "believes spirit is part of our experience from which the arts, philosophy, science, magic and all religions of the world derive." She "strives to juxtapose the totality of the universe (in her art) with the microscopic creatures that exist within it."
Blending the molecular levels of biology with the expanse of cosmology, Steiger covers the natural world's symmetry with imaginative aplomb.
This might seem like a lot of science for any single display of art to handle, but as Fairfield (Connecticut) University art professor John Mendelsohn adds in his observations of Steiger's art, her "paintings are infused with a buoyancy, quirkiness, and sense of humor.
"They are highly personal," says Mendelsohn, "yet each (painting shares) a kinship with a variety of aesthetic sources. While never directly quoting their origins, they seem to echo with a range of styles: Aboriginal Australian art, Indian tantric motifs, biological diagrams, 20th century painting, 1950s modernist design, and 1960s cartoon imagery."
Steiger's personal quirkiness makes each of these canvases agreeably intense. Her 6-part "Invisible Universe" use the smallest canvases in a display where the average work runs 5 by 6 feet, with the largest painting measuring 7 by 5 feet.
There's something eccentric about seeing protoplasmic phenomena (for example, mitochondria and the like) interacting with the expansive realms of the universe to create a sort of highly personal cosmic biomorphism. For Steiger's organic shapes — some clearly identifiable, yet others decidedly not — ground her art in natural forms that the average viewer can identify with even if their scale is also beyond normal reckoning.
Her "The Third Eye," for example, features a reddish orange cell with outstretched nerve-like tentacles set in juxtaposition to a 5-point polygon against 2 fields of abstracted cells where an all-seeing eye rests at mid-canvas. The work's compositional strategy creates acrylic domains large enough to handle these disparate forms while also crafting a medley of unsettling, surreal figures.
"Jewel Tree in a Field of Rocks" goes even further in flattening this peculiar imagery while also accenting a cacophonous palette. This painting features a silhouetted purple tree nestled in the center of the composition surrounded by Steiger's signature biomorphisms: Red and orange ovals dominate a lush plane of vegetative greens above a field of purple, pink and brown pebbles. A group of overlaid orange pods are placed against the painting's foreground.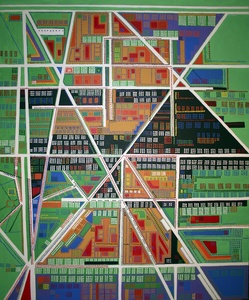 Interestingly, the exhibit's most intriguing painting, "City No. 1," finds Steiger working strictly within a rectilinear rather than curvilinear orientation. This painting is both a spectacular summing up and departure for Steiger, with its off-kilter linear networks harnessing smaller fields of billeted rectangles.
Looking a bit like a straight-laced city map — with the exception of a very interesting curved green field in the heart of the composition — "City No. 1" nicely fits Steiger's fascination with simultaneous micro and macro sceneries.
Only in this instance, her cells are seemingly self-enclosed urban constituents, suggesting a man-made environment rather than the nature-based imagery of her other artworks. In contrast to the other paintings in this display, humanity is most certainly the measure of all things in Steiger's "City No. 1."
"Unseen Universes: Acrylics on Canvas" continues through June 14 at the University of Michigan Health System Gifts of Art Gallery — University Hospital Main Lobby, Floor 1, 1500 East Medical Center Drive. Gallery hours are 8 a.m.-8 p.m., daily. For information, call 734-936-ARTS.
John Carlos Cantú is a free-lance writer who reviews art for AnnArbor.com.