Posted on
Mon, Jan 28, 2013 : 12:46 p.m.
Vagabond Opera to bring old-world style to The Ark
By Ann Dwyer
If you're looking for a dynamic band that brings the likes of European cabaret, vintage Americana and accordion to the stage, then look no further than Vagabond Opera. The Portland, Ore.-based band is making a stop at The Ark on Thursday.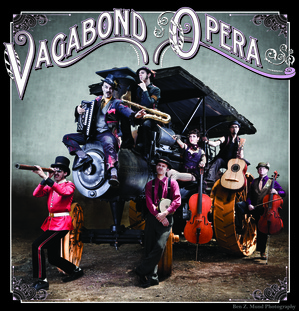 Consisting of four vocalists—including trained operatic tenor and soprano vocals—accordion, tenor saxophone, clarinet, two cellos, stand-up bass and drums, Vagabond Opera brings a lusty, old-world flair to the stage.
The group "delivers passionate offerings of Bohemian cabaret for young and old. Paris hot jazz, gutbucket swing, tangos, Ukrainian folk-punk ballads, klezmer, and vigorous originals," according to the press release.
Get a sample of their music at vagabondopera.com.
Thursday, Jan. 31, 2013. 8 p.m. $15. The Ark is at 316 S. Main St., Ann Arbor. 734-761-1800.