Posted on
Thu, Feb 7, 2013 : 10:12 a.m.
Sold-out 'Valentines for Veterans' concert at EMU to feature country music hitmaker Aaron Tippin
By Roger LeLievre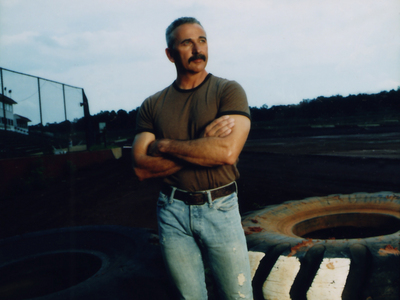 Country music artist
Aaron Tippin
, whose songs are known for their patriotic themes, will perform a free show Sunday afternoon at Eastern Michigan University's Pease Auditorium thanks to the efforts of the
VA Ann Arbor Healthcare System
.
The local "Valentines for Veterans" concert is part of 16 such concerts nationwide, three of which feature Tippin. This is the first such concert the Ann Arbor VA, which provides health care services to veterans in southern Michigan and northern portions of Ohio, has hosted.
Area veterans, as well as members of the community, are welcome to attend; however, a ticket is required (see info box).
"Everyone we've talked to says this guy is just a gem," said Derek D. Atkinson, public affairs officer for the local VA, referring to Tippin, who is known for his support of veterans and veterans' issues. "He genuinely loves veterans. He's constantly out on USO tours. … he's the kind of guy we want to team up with. He's really an advocate."
One reason admission to the show is free is that Tippin gives veterans' organizations "a deep discount," said Atkinson. In addition, the concert is funded by donations from several companies and groups, among them the Foundation for American Veterans and automotive parts manufacturing company Delphi. The concert is being presented in partnership with Student Veterans of America at Eastern Michigan University.
PREVIEW
"Valentines for Veterans"
Who: Country music star and veterans' advocate Aaron Tippin. Sponsored by VA Ann Arbor Healthcare System.
What: Concert featuring country music with a patriotic theme.
Where: Pease Auditorium, Eastern Michigan University campus.
When: 2 p.m. Sunday, Feb. 10.
How much: Sold out.
In a larger sense, "the price has already been paid" by those in the military and their families, Atkinson added. "That's what a big part of this concert is all about … it's an opportunity for the community to come together and say 'thank you for your service and for the sacrifices you've made for our country's behalf.'"
W4 Country radio host Brian "Bubba" Cowan will be the event's MC. There will be no opening act for Tippin's 90-minute set. After the concert, Tippin is expected to go to the VA hospital to visit with veterans who are unable to attend the show.
The concert is being held in conjunction with a National Salute to Veteran Patients Week, observed nationwide, in which community leaders and others are invited to visit VA hospitals to visit with veterans and thank them for their service.
"It's really a big week for outreach within the VA," Atkinson added.
Tippin boasts five certified gold albums, one platinum, and hits that include "You've Got to Stand For Something," "My Blue Angel," "Where the Stars and Stripes and the Eagle Fly," and "I Wouldn't Have It Any Other Way."
At the beginning of his career, he was the first country entertainer to travel with Bob Hope to the Persian Gulf to entertain the troops. He has also traveled overseas with the Stars For Stripes organization, which dedicated to providing quality entertainment to internationally deployed U.S. military forces.