Posted on
Wed, Jan 18, 2012 : 7:45 a.m.
Village Pub offers a welcome new neighborhood hangout
By Julie Halpert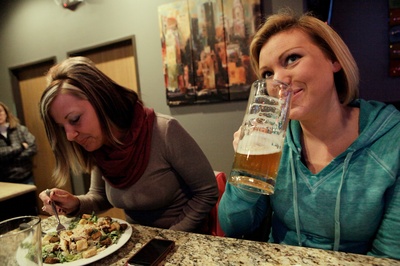 Chris Asadian | AnnArbor.com
A pub aimed at becoming a hangout for locals in the neighborhood is the latest business to make an attempt to thrive in a geographically challenged space. Village Pub, which opened Dec. 11, succeeds the short-lived Asian Fuzion, which once occupied the space next to the Honey Baked Ham store on Washtenaw. The location has experienced high turnover through the years.
The restaurant is named for the nearby Pittsfield Village development in the hopes that it will become a "family-friendly, hometown bar," said manager Lisa Rasak. She said it's already become a favorite among those who live nearby.

The interior is warm and inviting. There's a long, granite bar down the center that spans the back part of the restaurant. Seven flat-screen televisions are on the walls, interspersed with pictures of modern art, making for an eclectic decor. There are several high-backed booths that provide a more private dining experience.
RESTAURANT REVIEW
Village Pub
3452 Washtenaw, Ann Arbor
734-929-5370
Hours: There are no set hours yet, but it is generally open Monday-Wednesday, 11 a.m. to 11 p.m.; Thursday-Saturday, 11 a.m.-midnight; Sunday, 11 a.m.-10 p.m.


Plastic: Visa, Mastercard, American Express, Discover.


Liquor: Yes.


Prices: Moderate.


Value: Very good.


Noise level: Quiet.


Wheelchair access: Yes.
The food includes appetizers like wings and nachos, as well as salads, sandwiches, pizzas prepared by Cottage Inn and some larger entrees. In addition to a full bar, there are 12 beers on draft and 15 by the bottle, as well as a dozen different types of wines offered by the bottle and glass.
I started by sampling the house chardonnay, a bargain at $5 a glass, but it was much too sweet. The B.V. Pinot Noir was far better, rich and full-bodied. The margarita was lip-puckering salty, though that nicely accented the lime taste.
Food-wise, Village Pub does best with the basic bar fare. I enjoyed the piled-high nachos, which were lightly sprinkled, instead of doused, with cheese. Pieces of prime beef added a nice touch to the assortment of blue, red and yellow tortilla chips. The Caesar salad was excellent, tossed with the perfect amount of dressing, along with croutons made from the bread of local bakeries and slivers of freshly grated parmesan cheese.
Village wings also were delicious. We ordered ours cooked in the barbeque sauce and they were sweet, tender and juicy, with meat that easily peeled off the bone.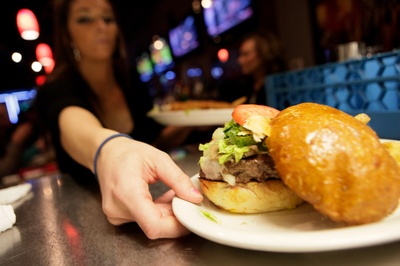 Chris Asadian | AnnArbor.com
The 10 different burgers are the specialty, made with prime beef and served in half-pound portions. I particularly enjoyed the mushroom burger, which was served on a fresh brioche roll, cooked to my specifications. The New York Reuben packed an enormous portion of corned beef and also was quite good. The salmon on the salmon sandwich was fresh, complemented by a sauce that made this a great dish.
Some of the other entrees at Village Pub didn't fare quite as well. The calamari fell short, tasting like fish sticks, with sauce resembling bottled Thousand Island dressing. Our server recommended the fish and chips, since she thought they were better made with haddock, instead of the traditional cod. But the haddock, though fresh, didn't hold up as well when fried as cod. It lacked sufficient crunch and flavor.
I was surprised that the Village Pub doesn't offer any desserts. Pie, cheesecake or ice cream would be a nice addition to the menu.
Servers on both our visits were eager to please and checked in on us frequently, though we were among just a few dining parties. The first time, the owner stopped by our table asking for feedback and promised to deliver a better steak in the future after a member of my dining party confessed it was subpar.
Especially if you stick with the classic bar fare, and are looking for a cozy place to gather and watch sports in this part of town, Village Pub is certainly worth a visit.
Julie Halpert reviews restaurants for AnnArbor.com.