Posted on
Thu, Apr 29, 2010 : 5:08 a.m.
New chef brings new vigor to menu at Vinology
By Susan Isaacs Nisbett
The greatest compliment I can give to chef James Leonardo, the toque now helming the kitchen at Main Street wine bar and restaurant Vinology, is I'll be back.
Not for vengeance (I said it was a compliment, right?) but for what he's cooking up in the spare, but somehow cozy brick-walled space. Not all the food is perfect at Vinology, but so much is so consistently good that when the restaurant is no longer on my work "to do" list, I'll be back on my own dollar.
Leonardo took over the kitchen at Vinology, owned by wine-family scion Kristin Jonna, last December, following chef Robert Courser, who filled in when previous chef Brandon Johns left for farm-to-table Grange Kitchen & Bar, practically around the corner.
The local buzz about Leonardo, who had been at Detroit-area standout Mosaic, began to build as winter waned and the trees budded out. Leonardo is making changes — more half-plates, a menu organized around food-and-wine pairings, said owner Jonna. But what he's been plating — high-end, new-American comfort food that favors local ingredients and incorporates international flavors — augurs well for diners in the days and weeks ahead.
RESTAURANT REVIEW
Vinology Wine Bar and Restaurant

110 S. Main St.

734-222-9841

Vinology in AnnArbor.com restaurant guide
Extensive wine list and excellent new-American cooking, in a hip, high-ceilinged Main Street space.
Hours: Monday-Thursday, 11 a.m.- 11 p.m.; Friday, 11 a.m.-midnight; Saturday, 4 p.m.-midnight; Sunday, 4 p.m.-10 p.m.
Liquor: Full bar, extensive wine list.
Plastic: Yes.
Prices: Appetizers, $5-$10; small plates, $9-$14; full main dishes, $17-$32.
Value: Excellent.
Noise level: Lively, but conversation can be enjoyed.
Wheelchair access: Yes.
The Bottom Line: New chef James Leonardo is in the kitchen, and the results are tasty, tasty.
Our party of four was plenty impressed with the munchies we ordered with drinks as we perused the dinner menu one recent evening. Olives — a plain-enough sounding offering — were anything but, we discovered when an oil-glossed mound of vari-colored olives mixed with onions, citrus and spices was delivered to our table. Delicious. And duck wings? Well, they didn't sound plain, and they weren't fancy, just addictively crisp and just sweet-hot enough in their cloak of Thai chile glaze.
Truthfully, we could have stopped there, or after our salads, a well-dressed Caesar adorned with a Parmesan crisp and house-made breadsticks; and our Wedge — a retro hunk of iceberg that's the perfect crunchy foil for loaded baked potato dressing (sounds terrible, tastes great!) and crisp snippets of bacon.
But we forged onward, fortified by a carafe of light, fruity Yealands Sauvignon blanc and a bottle of Tempranillo, through plates large and small, and even desserts. The wine list is long and interesting — worth a read and way more than a sip, for sure.
Small plates, and large ones, too, are judiciously priced here ($9-$14 and $17-$32, respectively, with the new menu in the same range), and, honestly, you can make a meal with the generous small portions. We loved a crab and lobster cake with creamy slaw; a slew of scallops with rosemary polenta, braised endive and apple-kissed vinaigrette; and the homey duck egg with creamed spinach and asiago. Sliders — juicy and rosy inside, made from house-ground beef — were a treat, though a few weeks later at lunch a burger from that same grind swam in its own little pond of grease, perhaps from the cheese or mushroom toppings, but unappealing nonetheless.
The large plates we tried were a little overwhelming in size and over-ornamented: One less element per plate would have helped. Tiger shrimp (stuffed with crab and lobster, for crustacean cubed) were good enough, with sides of potato pancake, swiss chard and tomato-saffron cream. Lamb chops and loin came in a captivating smoky tomato broth (with spanikopita and zucchini, too), but they were "blue," that is, barely cooked, which I like, thank you, but had ordered medium rare. Our server — a little overwhelmed that evening — offered to take them back when he finally stopped by to check on us. But I was full and happy; other patrons, who like their meat to lie still on the plate, might have been less content. But it was delicious.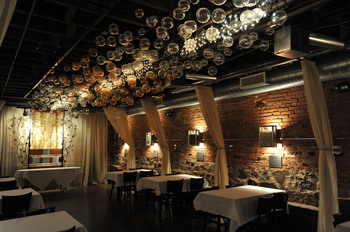 Service, while always pleasant, has been a little spotty on my visits, and hard to predict. At one lunch, there must have been a kitchen issue — it took forever, in a nearly empty restaurant, for our meals to surface. At another lunch, with the restaurant more full, everything arrived spot on. The front of house staff, especially manager Steve Weber, are always friendly and happy to chat about food, wine choices and service.
So is chef Leonardo, who surfaced from the kitchen at a recent lunch to see how we liked our fare. A regular fan of the oyster po' boy asked him why the bivalves seemed so small that day — a different kind of oyster, he said, launching into an explanation of sourcing and its vagaries.
I'll tell you, those po' boys looked like rich fare to me, the sole person at our table who was playing healthy by ordering a salmon burger — which turned up enormous and a little too fishy for me, though the accompanying sweet potato fries were orangey-gold goodness.
But lunch is a bargain, with lots of tough choices to make in a menu that rarely travels north of the $10 mark.
One sure bet — in a menu that includes the aforementioned po' boy, soup, salads, burgers, pulled pork sandwiches,and some larger dishes — is the pot pie of the day. It isn't just the price, $8, that makes this a bargain; it would be a star at twice the money. I experienced it in its short rib incarnation: chunks of meltingly tender meat, potato and mushrooms in a winey sauce beneath a lid of incredibly good pastry. I had to stop myself from finishing it all, the reward being leftovers for another day.
Desserts, unusually, seem worth the calories if you have the space or sweet tooth; I loved an unusual blue-cheese pound cake served with a fine dice of genuinely ripe mango, but there are more conventional choices — cobblers and chocolate cakes, for example, that please as well.
A glimpse of the new menu shows an increase in the number of vegetarian-friendly dishes, and of course, lots of half-portions, so diners can sample an even greater range of Leonardo's cooking.

Susan Isaacs Nisbett is a freelance writer for AnnArbor.com.