Posted on
Sun, Jan 22, 2012 : 5:44 a.m.
Top-flight recorder player Maurice Steger highlights Rackham appearance by Violons du Roy
By Susan Isaacs Nisbett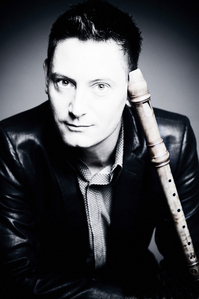 photo by Marco Borggreve
Lots of children have stories about learning to play the recorder in elementary school. Most of them do not involve going on to become recorder virtuosos.
My daughter's story is one of puzzlement. The only "recorder" she knew was the tape recorder she saw me using, as a journalist, to record interviews. She was pretty excited to think she was getting one of her own at school—though just how or why someone would teach you to play it baffled her. She became an opera singer.
Maurice Steger was baffled, too, when a recorder was put in his hands as a 6- or 7-year-old schoolboy in a small Swiss town. In fact, he was so baffled—he was plagued by what he called some "motoric problems"—that the teacher asked him to leave the class after a few lessons. He came home and buried the instrument far, far away, under some winter clothes in his bedroom. It stayed there for three years. When he pulled it out again, he vowed to master its difficulties. He was on his way to recorder stardom and a career as a sought-after soloist.
"I found it difficult to make nice sounds on this instrument," Steger, 40, recalled of those early years in a recent phone call from Europe. "As you blow into it, the sound comes out just the way you put it in. That's why it's sometimes so ugly. I loved figuring out how to make a nice, sweet, emotional sound on this instrument. I have loved it ever since. It's so exciting to find out the possibilities with this instrument."
The Ann Arbor audience gets a chance to hear why other listeners are also enchanted by the sound Steger makes—his tone and his virtuosity are both astonishing—when he makes his University Musical Society debut Saturday evening at Rackham Auditorium in the excellent company of the Violons du Roy chamber orchestra, conducted by founder Bernard Labadie.
PREVIEW
Les Violons du Roy
Who: Well-regarded chamber orchestra. Bernard Labadie, conductor; with Maurice Steger, recorder.
What: Music by Handel, Telemann, Sammartini, and Geminiani/Corelli.
Where: Rackham Auditorium, 915 E. Washington St.
When: Saturday, 8 p.m.
How much: $22-$48. Tickets available from the UMS Michigan League Ticket Office, 734-764-2538, and online at ums.org.
The program focuses on music of the Baroque period, with suites and concerti by Handel, Telemann, Sammartini and Geminiani.
Les Violons du Roy, though steeped in historically correct performance practices, uses modern instruments (and replicas of period bows for 17th and 18th century music). Steger, likewise, plays modern recorders.
"There are differences between Strads and violins and recorders," he said. "Recorders are under pressure outside, by liquids from the air and inside from the breath. Instruments from the 17th and 18th centuries are playable now, but only in a kitchen would they sound very nice. They make a very small sound, and with the humidity the wood swells so there's nearly no hole to blow into. If I'm honest, you cannot use them. Maybe you could make a record for 5 minutes a day, with the microphone close to the instrument. It's not a major sound like I would wish."
Luckily for Steger and the career he has built (which also includes conducting these days), in the middle of the 20th century, he said, recorder-makers began turning out excellent copies of ancient instruments.
"They've gotten better and better," he said, "and now new recorders are the best copies of ancient instruments. They are fantastically nice."
The pieces on the bill Saturday, he said, show the recorder in different lights. The Telemann Suite in a minor for Alto Recorder, Strings and Continuo, for example, shines a "little flashlight" on the recorder, showing off the different colors of the instrument, bringing it in on "special occasions" and in "exotic roles."
Sammartini, on the other hand, in his Concerto in F Major for Soprano Recorder and Strings, focuses on "the sweet side of the instrument," Steger said. The sweetness comes with a large dose of virtuosity, surely a winning combination.
The last two works on the bill are orchestrations, by Geminiani, of popular Corelli Violin Sonatas from Op. 5. In the Concerto Grosso after Corelli's "La Follia," that most popular of Baroque tunes, Steger joins the string ensemble. Then, for the grand finale, he does the honors that would have been reserved for the violin in the Sonata No. 10 of that set. The work is not strictly just by Corelli or Geminiani.
"Every big soloist began to make big ornaments for the music," Steger said.