Posted on
Sat, Feb 25, 2012 : 5:52 a.m.
Vitosha Guest Haus Inn opening new Pinocchio Theatre with 'Don Giovanni'
By Jenn McKee
Photo provided by Kei Constantinov
Vitosha Guest Haus Inn proprieter
Kei J. Constantinov
is preparing to debut a new local theater space—called Pinocchio Theatre—this weekend that will seat about 100 and will showcase live comic, dramatic, and puppet productions.
But for Constantinov, the theater is more the realization of her original vision for Vitosha - initially a private, historic house that later served as a Unitarian church before being re-purposed as a 32 person capacity bed and breakfast - than a radical new direction.
PREVIEW
"Don Giovanni"
Who: Vocal Productions.
What: A new, New York-based company for young and up-and-coming singers inaugurates a re-purposed, renovated performance space (called the Pinocchio Theatre) at Vitosha Guest Haus Inn with two performances of Wolfgang Amadeus Mozart's opera, "Don Giovanni," featuring the uncut concert version of the original score.
Where: Pinocchio Theatre at Vitosha Guest Haus Inn, at 1917 Washtenaw Ave.
When: Saturday, Feb. 25 and Sunday, Feb. 26 at 7 p.m.
How much: $30, $35, and $40. For advance tickets, call 734-255-9107 or send a message to info@a2vitosha.com.
"I've always thought of (the former sanctuary space) as that," said Constantinov. "My former husband worked in Sony's classical music and opera division. … And our original impetus for buying the property was to establish a cultural center with lodging."
However, years passed (Constantinov and her husband purchased Vitosha in 1998 and spent four years renovating it); the couple parted ways; and to support herself, Constantinov instead ventured into the world of hosting weddings, conferences, retreats, and other sorts of events.
"There was a huge pipe organ that was keeping us from doing anything with the space," said Constantinov. "It was this huge, beautiful instrument, but no one was interested in it. So I finally held my breath and sold it to an organ dealer in New Orleans, and that's allowed me more liberty with the space. … And this summer, I pushed out the stage, frontally and to the sides, and established a supplemental stage for puppetry, so I'm finally going to do it. I'm throwing caution to the wind; I've made the decision to not have other events, but instead to line up great talent and use the space as I originally intended."
The first performances in Pinocchio Theater will be by a new, New York-based performance company called Vocal Productions, which provides opportunities to young and up-and-coming singers. The company will present Wolfgang Amadeus Mozart's "Don Giovanni," featuring the uncut, concert version of the original score.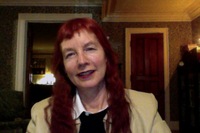 Photo provided by Kei Constantinov
Constantinov programmed the event by way of VP's founder, Valentin Peytchinov—a Bulgarian performer she got to know by way of her Bulgarian ex-husband. (Vitosha is named for a mountain in Bulgaria.)
"This was all arranged just a couple of months ago," said Constantinov. "In the course of a 'Hello, How are you?' conversation, I mentioned it, and (Peytchinov) got very excited about it. So it happened rapidly, and I'll be putting up the artists for 3 nights. A more sustainable concept, and what will be our niche in town, is that we want to offer operatic puppetry," with children's entertainment occasionally offered on the supplemental stage.
Beyond "Don Giovanni," Constantinov hopes to feature a former New York actress who now makes her home in Vitosha's neighborhood; musicians and groups around town; and possibly a burlesque show.
"I'll be sending out a call to artists very soon, to see what I can line up," said Constantinov.
But the performers that will be the best fit for the Pinocchio will be those looking for an intimate setting.
"I made the decision to make the theater seat only about 100, for several reasons," said Constantinov. "For one thing, we're in a residential neighborhood, and you want to be mindful of that. But it's also a matter of parking and infrastructure—the number of toilets and things like that. It detracts from the venue to have too big of a crowd in here. I've learned that from hosting other kinds of events."
Jenn McKee is the entertainment digital journalist for AnnArbor.com. Reach her at jennmckee@annarbor.com or 734-623-2546, and follow her on Twitter @jennmckee.