Posted on
Fri, Jul 16, 2010 : 5:53 a.m.
Locally produced album gives voice to composers affected by the Holocaust
By Susan Isaacs Nisbett
For soprano Caroline Helton, being an academic musician — she is on the voice faculty of the University of Michigan — represents freedom to roam.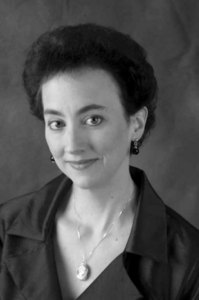 "It's something that I really enjoy," she says about her job, "because if I want to do a full program, I just get to make it up and do it." Frequently colleagues come along for the ride.
That's the case with "Voices of the Holocaust," an album Helton recorded with pianist Kathryn Goodson for Block M Records, the U-M School of Music's label. The album is newly available on iTunes this month.
Helton, who also has an appointment at the U-M's Frankel Center for Judaic Studies, joined with Goodson, a colleague who coaches and accompanies in the U-M wind department and opera studio, to record the album in 2008, at the U-M's Duderstadt Center Audio Studio, after the pair performed the same program live on Chicago's classical radio station, WFMT. "Voices of the Holocaust" was so well received that parts of it were re-broadcast on the WFMT Pianoforte Salon's "Best of 2008" program.
Unlike recordings that focus on Jewish composers who perished in the Holocaust, Helton's album focuses on European Jewish composers who outlived it, but whose work — through suppression, dislocation, emigration — was profoundly affected by the events that shook Europe in World War II. Some were deeply Jewish-identified; some were not, she noted, and in many cases, there is nothing traditionally Jewish about the musical language.
Of course, as she pointed out in a phone interview, whether composers identified with their Jewish heritage or not made little difference to the Nazis as they sought to eradicate all Jewish influence from the public sphere.
"Music was an essential part of German culture, and Jews made profound contributions in this arena," Helton noted, "so when the Nazis shut off this flow of creativity they literally buried an astounding variety of their own compositional voices, which is why I chose to call the program Voices of the Holocaust."
In choosing music for the program and then for the recording, Helton was after a narrative arc, one that begins with a glimpse of the varied compositional styles used by Jewish composers who flourished before the Nazis came to power and ends with post-World War II compositions that touch directly on the Holocaust.
Unsurprisingly, that arc comprises composers whose names are barely known today as well as others more familiar, but here revealed in a different light.
Into the first category falls the composer who touched off the project, Robert Kahn.
"It all started with a friend telling me about Robert Kahn, what great stuff he composed, and telling me I should learn some of his songs," Helton said.
That was all well and good, but when Helton started to do some research on Kahn, a German composer who lived from 1865-1951, none of his songs were to be found in the U-M library. Eventually she obtained some of his works through inter-library loans from other institutions.
What she saw intrigued her, musically and culturally. As pianist Goodson notes, Kahn's style recalls that of Brahms, and even Mendelssohn.
"The Kahn language I found really charming," said Goodson by phone. "I hate to compare him, but fitting him into the scheme of things, his music is a little lighter than Brahms, but as beautiful as Mendelssohn and more substantive than Mendelssohn. And it's very pianistic writing."
Though Hugo Wolf's setting of Moricke's "Der Gartner" ("The Gardner") is justly famous, Goodson said she almost likes Kahn's lesser-known (or shall we say unknown) setting better.
Helton, in program notes, calls Kahn's songs "little gems from the golden age of German song." But though Kahn was popular in his day, night fell for him when the Nazis came to power. He was forced to resign his teaching post (at the Royal Conservatory in Berlin) and banned from performing in public or publishing his compositions. In early 1939, at age 73, he and his wife made the decision to leave for England, where he resumed composing and lived until his death in 1951.
Lifting Kahn out of obscurity became part of a larger scheme for Helton as she learned some of the songs and began to think of exhuming other composers of the period.
Consulting with Ann Arbor's Richard LeSueur, who knows everything you want to know but were afraid to ask about vocal repertoire, she came upon the compositions of Czech composer Oskar Morawetz (1917-2007), who fled to Canada in 1940 and became an important composer there. The CD includes his powerful "From the Diary of Anne Frank," from 1970.
And then, in the names-you-know category, she added songs of Kurt Weill, Darius Milhaud and Erich Korngold, all of whom sooner or later found their way to the United States. But here, too, it was the unusual and the offbeat that attracted her attention. For example, from Weill, the son of a cantor and composer, the CD includes art songs he wrote as a teen for a concert in a synagogue, based on 12th century poetry of Judah Halevi that had just appeared in German translation. The CD also includes his 1946 "Youkali," a song based on a "tango habanera" that he wrote soon after he left Germany for France in 1933 and whose words express a longing for a land of happiness — that does not exist.
In taking on the "Voices of the Holocaust" project, Helton was spurred both by academic and musical curiosity and by her own interest in things Jewish. Brought up in Galax, Va., the daughter of a minister, she converted to Judaism in 1998 as an adult, a path she set out on after her Jewish husband became more observant during a year the pair spent in Germany. When they came to Ann Arbor in the 1990s, they began attending services at Beth Israel Congregation. "Wait a minute, this is where they're saying everything I believe," Helton recalled thinking. "As I grew more and more comfortable with this congregation, I decided to convert."
The recording is a culmination of sorts, but Helton's work in the area still grows. Recently she added to her repertoire contemporary composer Paul Schoenfield's "Ghetto Songs," which set poems of Mordecai Gebirtig, murdered in the Krakow Ghetto in 1942. And Italian scholars she's made contact with are providing her with repertoire from Italian Jewish composers whose lives were affected by the Holocaust, for a concert planned next January to commemorate the Holocaust in Italy.
For Helton, the work brings intellectual and personal satisfaction as well as musical gratification.
"I love this time period between the wars, when music had so many different compositional voices," she said. "It's a chance to get to sing music of this period."
Susan Isaacs Nisbett is a free-lance writer who covers classical music and dance for AnnArbor.com.