Posted on
Mon, Dec 10, 2012 : 10:22 a.m.
Dragon Wagon and Live nightclub hosting new Wagon Wreck Music Festival this weekend
By Bob Needham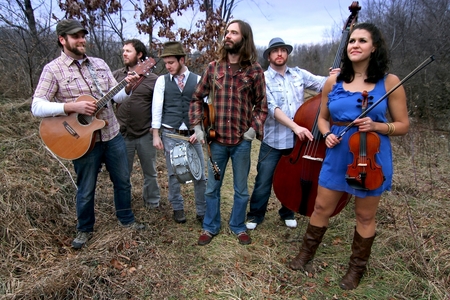 photo by Dree Ziegler
Despite a couple notable exceptions locally (The Ann Arbor Folk Festival, Mittenfest), music festival season generally falls in the summer.
But the new Wagon Wreck Music Festival just might change that.
Coming to Live nightclub this weekend, the two-day event will showcase around 20 different roots-music acts from the Ann Arbor/Ypsilanti area and the broader region. Local acoustic-roots band Dragon Wagon serves as the anchor band / host for the festival, leading to the event's name.
Since festival director Dree Ziegler and Dragon Wagon singer-guitarist Don Sichender previously worked together helping to organize the Michigan Roots Jamboree, "It seemed like a good idea to have Dragon Wagon anchor the festival," Ziegler said.
As for the timing, Ziegler noted that not many similar events take place in the colder months. "It's a time when people kind of settle down and don't have a lot of festivals to go to," she said.
Live nightclub seemed like the right size for the event, and "the atmosphere there is really great," Ziegler said.
PREVIEW
Wagon Wreck Music Festival
Who: Dragon Wagon and a bunch of other local and regional bands.
What: A new event showcasing various acoustic-roots styles.
Where: Live, 102 S. First St., Ann Arbor.
When: Dec. 14 and 15. Friday, doors open at 5 p.m. and music starts at 6. Saturday, doors open at 3 p.m. and music starts at 4. Full schedule on the Facebook page.
How much: $15 at the door or in advance.
The festival used a
Kickstarter drive
to raise $5,000 seed money. The description of the project reads, "The Wagon Wreck lineup celebrates Dragon Wagon's roots music tradition and the local and regional talent we want to support as a band. We consider these musicians to be our friends and family, and hope to see them succeed as artists."
Ziegler said the use of Kickstarter was important, so that they would go into the festival knowing they could pay all the acts.
The lineup includes plenty of familiar and well-liked local names such as Hullabaloo, October Babies, the Ben Daniels Band, and Joshua Davis (leader of Steppin' In It). Among the less familiar names, Ziegler highlighted the Rumpke Mountain Boys and People Being Human, both well-known in their Ohio home.
The festival is expected to be an annual event; in the future, they might even consider an outdoor location using a heated tent, Ziegler said. But first comes the ground
"I'm just really excited that we have such a breadth of talent here," Ziegler said.
The full band lineup appears below. For more information and a link to buy advance tickets, see Dragon Wagon's website or Facebook page.
Friday Dec. 14
Dragon Wagon
Rumpke Mountain Boys
Covert
Lindsay Lou and the Flatbellys
October Babies
Decent Folk
Tony Lajoye Trio
People Being Human
Johhny Lunchbox
Erik Santos

Saturday, Dec. 15
Dragon Wagon
Third Coast Kings
Rootstand
Joshua Davis
Ben Daniels Band
Me 3 Mind
Hullabaloo
Match By Match
Ghost City Seachlight
Adam Labeaux
Cold Tone Harvest

Bob Needham is director of entertainment content for AnnArbor.com. Reach him at bobneedham@annarbor.com or 734-623-2541, and follow him on Twitter @bobneedham.