Posted on
Sat, Jan 22, 2011 : 12:08 a.m.
Performance Network's 'The War Since Eve' is a tempting new comedy
By Jenn McKee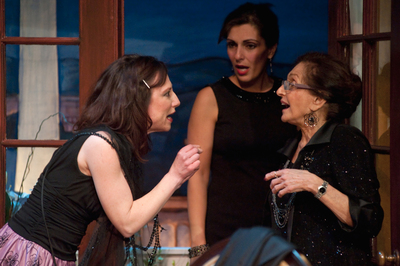 photo by Jude Walton, courtesy of Performance Network
One truly wonderful thing about the world premiere production of Kim Carney's "The War Since Eve," now being staged at Performance Network, is that it gives lie to the tired old stereotype of the "humorless feminist."
For the feminist at the center of the play, Roxie Firestone (Henrietta Hermelin), is quite often hilarious, as is "Eve" more generally.
Set in a D.C. hotel suite, "Eve" begins shortly before Firestone is slated to receive the Presidential Medal of Freedom for her decades of service to the cause of women's rights; accompanying her is her oldest daughter, Milty (Leah Smith), who works as Roxie's underappreciated assistant. But when Roxie's long-estranged youngest daughter, Tara (Sarab Kamoo), suddenly shows up at the door, Roxie and Milty are thrown into a tailspin, and the family's dirty laundry inevitably gets a good airing.
Carney's play is whip-smart in its humor, but also wise in its complexity. The three women depicted have made markedly different life choices, and the audience gets to see the drawbacks and advantages in each case. No one path is championed, and each character is full of all-too-human contradictions - none more so than Roxie, who spent her life fighting to give women control of their lives, yet can't seem to make peace with the notion that she can't control her own daughters.
And because Roxie is the play's beating heart, the production's success depends heavily upon Hermelin's performance. But luckily for us, the actress is more than up to the task. Though Roxie can be selfish, vain, and insensitive, Hermelin provides her with such a mischievous spark that you can't help but like Roxie, almost despite yourself.
Likewise, Smith and Kamoo seem perfectly cast as two sisters who are, physically and otherwise, completely unalike (partly for reasons that are revealed in the play). Carney gets credit for masterfully scripting the way the two just-reunited sisters immediately slip into old roles and vacillate between rivalry and affection, but the actresses do the impressive heavy lifting that's involved in making it feel organic and real. In particular, Smith shines in the role that the audience is most likely to identify with - the eye-rolling, overlooked voice of reason.
Director David Wolber does terrific work bringing this piece to life. Even when things get tense, the play's tone never becomes shrill; humorous moments get their due but aren't forced or overplayed; and the pacing of this rollercoaster family reunion feels exactly right.
Suzanne Young's costume design effectively underscores each character's self-perception, while Will Myers' sound design contributes a few sly jokes (Tara, the rebellious daughter who's married to an NRA lobbyist, has Lee Greenwood's "God Bless the USA" as a ringtone). Sarah Tanner designed the authentically tasteful hotel suite, furnished with Charlie Sutherland's props, while Mary Cole provided lighting design.
My one qualm with "Eve" involves information that Roxie, late in the show, reveals about her past. She de-bunks the party line tale of her family history and tells the true version; yet because Roxie is an icon of the feminist movement, I couldn't help but think that at some point in her long career, her critics, if not simply a thorough journalist, would have investigated her personal history, and thus unearthed this secret long ago.
But this was a small hiccup in an otherwise well-constructed, thoughtful show that manages to make you laugh while taking women, and their choices, seriously.
Jenn McKee is the entertainment digital journalist for AnnArbor.com. Reach her at jennmckee@annarbor.com or 734-623-2546, and follow her on Twitter @jennmckee.