Posted on
Sat, Apr 27, 2013 : 5:02 a.m.
Washtenaw Community Concert Band goes around the world for 35th anniversary show
By Roger LeLievre
When Joe Burke gave up the trumpet in his teens, he never thought he'd pick up the instrument again later in life. But he did, and now he's in his 20th year playing with the Washtenaw Community Concert Band.
The group, which is made up of Washtenaw Community College students and area residents, will offer its 35th anniversary concert Thursday at WCC's Morris Lawrence Auditorium.
A former prosecutor and now a 15th District Court judge in Ann Arbor, Burke said the group is primarily made up of non-students - adults who for one reason or another found themselves wanting to play an instrument and be in a band again.
"We run the gamut. We've got people who were music majors in college, and there are people—like me—that quit playing when they were 13 and decided sometime in their 30s they'd like to give it another try," he said.
The group was formerly known as the Ypsilanti Community Band, but changed its name when it became affiliated with Washtenaw Community College around five years ago.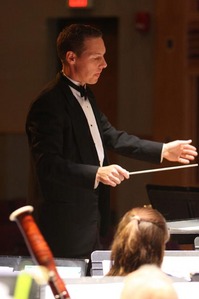 Christopher Heidenreich, an assistant professor of music at the University of Michigan in Flint, is in his third year of leading the ensemble, which consists of around 70 volunteer members, said Burke. Besides four annual indoor concerts, the group also provides several outdoor shows during the summer. There are no auditions for players and all concerts are free.
PREVIEW
Washtenaw Community Concert Band
Who: Christopher Heidenreich conducts this ensemble made up of students and members of the community.
What: 35th anniversary concert featuring music from around the world, including Persia, France and Belgium.
Where: Washtenaw Community College (Morris Lawrence Auditorium), 4800 E. Huron River Drive.
When: 7:30 p.m. Thursday, May 2.
How much: Free. Info: www.ypsicommband.org.
Thursday's program, "World Travels," includes music from around the globe, including Persia, France and Belgium. Included are Bizet's Carmen Fantasy (featuring flutist Beth Wondolowski), and Kalinnikov's Finale to Symphony No. 1 in G minor. The group will be joined by several members of the Whitmore Lake High School Band, including its director.
Burke, who is also the band's president, said the social aspects of being in a group such as the Washtenaw Community Concert Band are just as important as the music itself.
"I think a lot of people see it as a return to high school," he explained. "You get to have all the social fun you had in band in high school, but everybody also takes it very seriously when it comes time to play music. It's a great mix.
"It is just nice to have one day a week where you remove yourself from the daily grind and insert yourself where you're doing nothing but thinking about and playing music. You can see a whole different group of people from who you are accustomed to seeing through your work day," he added.
"And it's a personal challenge. You don't just show up and play - you have to practice from home. You have to do your best for the performances. You want to support the band and not make a fool of yourself and also you want the band to be able to put its best foot forward."