Posted on
Thu, May 2, 2013 : 7:55 a.m.
Water Hill Music Fest will again fill Ann Arbor neighborhood with harmony
By Bob Needham
• Watch a multimedia feature from the 2012 Water Hill Music Fest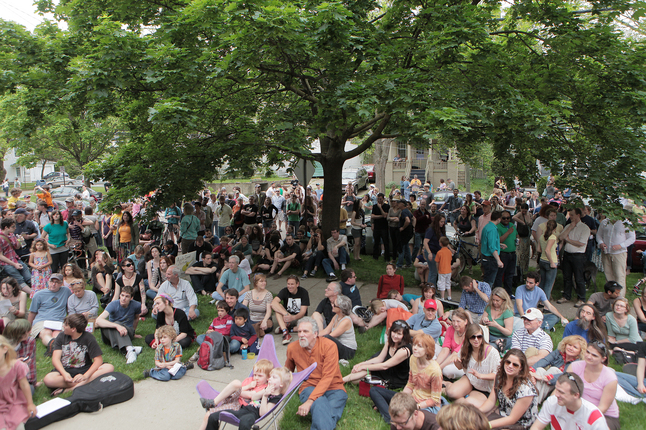 Chris Asadian | AnnArbor.com file photo
The Water Hill Music Fest returns to Ann Arbor on Sunday, its unique approach and quirky character fully intact.
Entering its third year, the festival will follow the same plan established from the beginning: Residents of Ann Arbor's Water Hill neighborhood play music on their porches for the enjoyment of visitors.
There's a set schedule, to minimize chaos and make it easier to find the performances. But there are no food vendors and no sponsorships. T-shirts are sold, but only to cover the festival's minimal costs.
There aren't even any portable toilets; like last year, a handful of generous neighborhood residents are opening their home bathrooms—"Water Hill Water Closets"—for the use of festival-goers.
PREVIEW
Water Hill Music Fest
Who: The residents of Ann Arbor's Water Hill neighborhood, including some well-known regional names. The full lineup is online.
What: Unique event in which residents of a single neighborhood perform music on their porches for passers-by.
Where: Just northwest of downtown, in an area bordered by Miller Avenue, Brooks Street, Sunset Road and the Ann Arbor Railroad tracks.
When: 2-6 p.m. Sunday, May 5. Rain date is May 12. A full schedule is available on the website, waterhill.org. Signs will identify performance sites.
How much: Free.
Those attending the festival can expect a wide range of music—including folk, rock and classical—from nearly 100 acts. Some performers are solo; some are bands or ensembles. Some are well-known professionals, like the Chenille Sisters, Dick Siegel and Vienna Teng. Others are dedicated amateurs, including harmonica player Antonia Teernstra and the Mack School-based Ann Arbor Open Choir Club. Many fall somewhere in between.
All will help celebrate the value of community, in what has quickly become a treasured event in Ann Arbor.
Resident (and Fourth Avenue Birkenstock co-owner) Paul Tinkerhess, who conceived of and organizes the festival, focuses on keeping the event truly local—a creation of the Water Hill neighborhood, just northwest of downtown Ann Arbor. He's tried to avoid much publicity for the event, even requesting that it not be included on national listings of music festivals.
"We're getting to know each other better in Water Hill," he said recently in reflecting on the first three years of the event.
Tom and Sally Brush are among those volunteering their "Water Hill Water Closet." In an email note, they explained the appeal of the festival: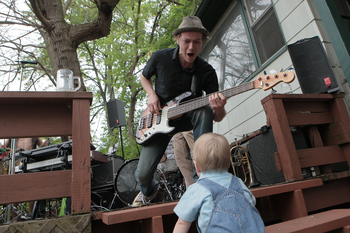 Chris Asadian | AnnArbor.com file photo
"There is something magical that happens once a year. Neighbors sharing the universal language of music that brings a smile to every face. Seeing young, old and those in between strolling our streets pausing to listen to music of all genres flowing from front porches. You have to be there to believe it. A new dimension to 'so Ann Arbor!' "
Pianist William Schafer will perform in the event. He added, "I like the Water Hill Music Fest for many reasons. But mostly because it is precisely the kind of event Paul Tinkerhess would create—simple, straightforward, sustainable, and selfless. The fact that Paul turned down offers of corporate sponsorship last year should draw people's attention. When I asked him why he did that, he replied, 'Because I don't want you to come out on Miner Street on Sunday and find people who drove 100 miles to attend. I want you to see your neighbors.' "
The festival website offers some good tips for those attending—on staying hydrated, bringing a seat, and parking (ideally, don't).
Other than that, it's just a matter of show up, listen and enjoy.
• Past coverage of the Water Hill Music Fest
Bob Needham is director of entertainment content for AnnArbor.com. Reach him at bobneedham@annarbor.com or 734-623-2541, and follow him on Twitter @bobneedham.