Posted on
Tue, Feb 14, 2012 : 5:36 a.m.
Random Dance company to explore the Age of Reason at Power Center
By Susan Isaacs Nisbett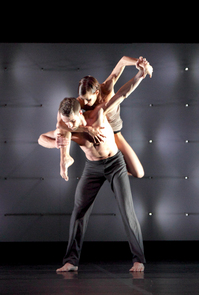 photo by Ravi Deepres
Wayne McGregor
, resident choreographer of the Royal Ballet and artistic director of his own company, Wayne McGregor/Random Dance, the resident company of London's Sadler's Wells Theatre, is English. But the motto of this globe-trotting, polymath choreographer might well be the title of that very American Cole Porter song, "Don't Fence Me In."
He's worked with Radiohead (on a Grammy-nominated music video that has garnered more than 16 million YouTube views); used orchestral arrangements of songs by the White Stripes; choreographed for the film "Harry Potter and the Goblet of Fire;" and worked with more ballet companies than there are steps in the terpsichorean lexicon.
He's incorporated animation, digital film, 3D architecture, electronic sound and virtual dancers into his choreography, choreography which itself is radical in its reconsideration of the body's possibilities. He has held fellowships in experimental psychology at Cambridge University and works alongside cognitive psychologists as he develops his dances. He is making a dance for 2,000 ordinary citizens, who will discover, if not their inner Baryshnikovs and Pavlovas, their movement potential, in a Trafalgar Square event during the London 2012 Olympics.
And he and Random Dance are coming to town Saturday. Is it surprising that University Musical Society is presenting the company as part of its "Pure Michigan Renegade" series? Not a bit.
But the label, though it might stick, is not one McGregor, speaking by phone from Chicago last week—his dance "Infra" was enjoying a U.S. premiere at the Joffrey Ballet—would necessarily apply of his own accord.
PREVIEW
"FAR"
Who: Wayne McGregor/Random Dance.
What: Full-evening, 60-minute dance for the 10-member contemporary dance company.
Where: Power Center for the Performing Arts, 121 Fletcher St.
When: Saturday, Feb. 18, 8 p.m.
How much: $20-$50. Tickets available from the UMS Michigan League Ticket Office, 734-764-2538, and online at ums.org.
Free event: Wayne McGregor at the Michigan Theater, 5:10 p.m. Thursday, Feb. 16, part of the University of Michigan Penny W. Stamps Speakers Series.
"I think, in a way, the clue to that is that I call Random 'random.' I never worry too much about definitions," he said. "I let other people do that. I had a great conversation with Stephen Sondheim once, when I was working on a production of 'A Little Night Music.' I asked him what made him kind of unique, and he said - 'You can't set out to be unique. You just follow your interests at the time.'"
The set of interests led McGregor to "FAR," the 2010 work that Random Dance presents here, are embedded in the work's title. It's an acronym for a book, "Flesh and the Age of Reason," Roy Porter's history of Enlightenment explorations of body and mind.
The era's investigations into the internal mechanisms of the body, through autopsies and other means—"peeling the layers," as McGregor put it—served as a catalyst in making the work. McGregor was intrigued not only by the achievements of Enlightenment scientists and thinkers, but the parallels to the discoveries, three centuries down the road, of contemporary cognitive scientists today.
But it would be a mistake, he said, to look for "a narrative point" about Porter's book or the Enlightenment in the 60-minute "FAR."
"My point of departure was related to the Enlightenment," he said. "I'm just happy to see where it takes me."
In fact, it frustrates McGregor, he said, when critics try to "apply the process to the piece."
And the question of whether audiences do the same "preoccupies me quite a lot," he added.
"I think there are two kinds of audiences," he said: "Those who like to hear about process, who like that information to filter into their watching; and those who don't like it, who want to make their own conclusions."
The trick for the first group, he feels, is to remember that, at least in his case, the information relates "not to what we want to communicate, but what we do in the studio."
But all audiences, he says, apply "filters."
"They have habits of watching," he noted, just as choreographers have habits of making—one reason McGregor is such a searcher and researcher with his 10-member dance company—and expectations may get in the way of audiences seeing what's in front of them, he said.
"That takes work," he added. "Hopefully, the audience is captivated by what's in front of them to keep them watching. And to make meaning from the things they're watching. What we hope for is a curious audience, one that brings that curiosity to the piece and enjoys having their perceptions challenged in different ways."
As a choreographer, his aim is also to arouse people's "visceral system," to provoke kinesthetic and emotional responses.
"That's very important," he said. "There is no motion without emotion. You have a living, sentient being in front of you (on stage), someone with lots of technique that shows how they're trained, but a real person. The body is inherently literal. So all you can do is you work against it, but one of the beautiful things is that you have an individual doing the movement, layering their own history on it. It touches us in some way."
If the Enlightenment was the gleam in McGregor's choreographic eye for making "FAR's" movement, it was also the spark, in some way, for the music and sets.
For him, music is "never the first thing in the hierarchy of making" a dance, he said, as it can be for other choreographers. "It might come in late, it might come in early. I look for multiple narratives in terms of the relationship."
In "FAR," music from the Age of Enlightenment does play a role - but a "pixilated, atomized" one, to borrow McGregor's words. The music sometimes interrupts the visual processing, and intentionally so, he said. He dubs Ben Frost, who created the score for "FAR," "a sound terrorist," and a composer he chose for precisely that reason.
"Dance is so much about the synchronicity of music and dance; in this production, I thought a more antagonistic relationship might be interesting. Having said that, there are a few songs, a few melodic loops, which are evocative on an emotional level."
The lighting and set design, by the unrelated rAndom International, also has 18th century origins, though the giant light installation consists of 3,000 LEDs; it is algorithmically based so that "it has an intelligence of itself," he said.
Firelight would have been the illumination of the 18th century, he said, and so the 2011 update is as much about shadow, the space between lights, as about the lights themselves. "It more synaptic, more of our age," he said.
That holds true of McGregor's whole enterprise, as the UMS audience will soon experience.