Posted on
Mon, Jul 8, 2013 : 10:18 a.m.
Weekend's A2 Fest offers one-two punch of music, cage fighting at Farm Council fairgrounds
By Roger LeLievre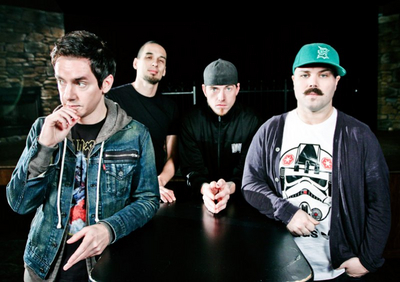 Ann Arbor rock band
Taproot
will be the main event at
A2 Fest
, a music and mixed martial arts festival Friday and Saturday nights at the Washtenaw Farm Council Grounds.
The four-member Taproot started off locally in 1997 and went national in 2002, scoring a rock hit with "Poem." They released a new album, "The Episodes," in April 2012.
Breaking Point Entertainment, from Monroe, which promotes both music and sporting events, is presenting A2 Fest, the company's first foray into the Ann Arbor market. Jeff Pitock, the company's president, said he expects 4,000-6,000 people over the course of the two-day event, with more than 60 bands—many of them from Michigan—performing on seven stages.
"A2 Fest is stacked with local and national talent not only in rock, but hip-hop as well," said Pitock. "The idea is an all-in-one package for festival goers."
PREVIEW
A2 Fest
Who: Musical acts include Taproot, Chris Webby and many more, presented by Breaking Point Entertainment.
What: Mix of music and mixed martial arts. Ann Arbor-based rock band Taproot headlines on Saturday night, with several other metal and hip-hop acts scheduled to perform. Friday night's activities also include Warrior X-treme Cagefighting.
Where: Washtenaw Farm Council Grounds, 5055 Ann Arbor-Saline Road.
When: Friday (gates at 5 p.m., music at 6 p.m.) and Saturday (noon-midnight) July 12-13.
How much: $15 (Friday) and $20 (Saturday). Two-day and VIP passes available. Tickets also available at www.tixget.com. Info: www.a2fest.com
Taproot will headline the rock stage Saturday, while Connecticut-based rapper
Chris Webby
will headline the hip-hop stage.
The event also includes martial arts and cage fighting on Friday night. "(It will be) a full-on competition," said Pitock. "Michigan Combat League are the people that are hosting. (There will be)15 matchups … It's the real deal."
"We refer to it as two days of mixed music and mayhem," Pitock said. "Just because it says mayhem doesn't mean it's the brawling, hateful kind of stuff. … All of them are good bands, from emo bands to rock bands to even a few metal bands."
Taproot guitarist Mike DeWolf said the Ann Arbor homecoming marks the end of this leg of "The Gift" tour, in which the band plays all the songs from its 2002 major label debut album.
"It was kind of exciting for us to play some of the songs we haven't played (for a while) and for the fans to hear some songs they haven't heard in a really long time," DeWolf explained.
"It should be a good time for everybody" he said of A2Fest. "I'm excited to hang out and see all these kinds of big mishmash of bands."
Saturday will also include a performance by the joke/metal band Green Jelly, known as much for their rowdy behavior back in the 1980s as for their minor 1992 hit "Three Little Pigs."
Friday's musical headliner will be Cleveland-based industrial metal band Ventana, an offshoot of another Cleveland metal band, Mushroomhead. Other Friday bands will include Losing September, Saint Diablo, Ghost in the Machine and Fall II Rise.
Other scheduled bands for Saturday are Critical Bill, Blue Felix, Psychostick, Motown Rage and Another Lost Year, as well as artists from Flint's Day Uno hip-hop label and The Dayton Family.
Pitock said he is particularly excited to have Chris Webby on the bill.
He's "making some serious waves in the industry," Pitock said. "He is the next to follow in the footsteps as fellow (rap) performers such as MGK and Mac Miller."