Posted on
Wed, May 1, 2013 : 2:17 p.m.
WEMU announces retirement of Program Director Clark Smith
By AnnArbor.com Staff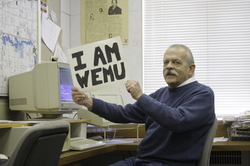 photo courtesy of WEMU
Clark Smith, a well-known presence and 30-year employee at
WEMU
(89.1-FM), is retiring effective this Friday, the station announced.
Smith has been both news director and program director at WEMU, the public-radio station at Eastern Michigan University. The station is starting a search for a replacement.
The full press release from WEMU:
89.1, WEMU, Eastern Michigan University's announced that Program Director, Clark Smith, is retiring after 30 years at the station. His last day is Friday, May 3.

Originally hired as News Director in May of 1983, Smith was named Program Director in 2007 and filled both positions until Morning Edition anchor, David Fair, was named News Director in August of 2012. Under Smith's direction the WEMU news department expanded its coverage of Washtenaw County to include the city councils and school boards in Ypsilanti and Ann Arbor, the Washtenaw County Board of Commissioners, AATA, and many other civic groups. Smith is responsible for WEMU's strong local election coverage and created and produced WEMU's popular 'Soapbox Summer' series on which candidates whose names appear on the Washtenaw County primary ballot are given three minutes of free air time for a stump speech.

As Program Director, Smith strengthened WEMU's midday jazz programming by adding music to the noon-1:00 p.m. time slot. Together with Music Director, Linda Yohn, he developed a new weekday evening sound, rooted in jazz, aimed at attracting a younger music audience, and created a roots and Americana music block on Saturdays with Roots Music Project, hosted by Jeremy Baldwin, and the syndicated programs Mountain Stage and American Routes.

Smith also served as WEMU's sports director and was responsible for bringing in seasoned sportscaster, Matt Shepard, as the voice of EMU football.

"Clark Smith has been a mainstay at WEMU, both on and off the air," said General Manager, Molly Motherwell. "He is broadcast professional and perfectionist who helped lead and train generations of broadcasters, many of whom are on the air all over the country. We will miss him tremendously but wish him the best in his well-earned retirement."

"When I was in high school, I wanted to be in broadcasting. I'm one of the fortunate few who's been able to pursue that dream and hold onto it for a career, and I couldn't be more grateful to all those who helped me along the way, and all the wonderful people I've worked with all these years," said Smith .

"I'm most grateful for WEMU's listeners who've made WEMU what it is today and glad I've been able to meet so many good people. It's just amazing to work for a station that values its audience so highly. While WEMU certainly faces formidable challenges, I see nothing but good fortune for the station in the future. Outstanding leadership, a hard-working, dedicated staff, and a great University that realizes the terrific value of WEMU. I look forward to listening for years to come."

Smith's responsibilities will be shared among various staff members while WEMU conducts a search for a new program director. The station hopes to post the position by the week of May 13.

WEMU is a listener-supported, NPR affiliate with a format of jazz, local news, and blues in addition to network news, information, and cultural programming. The station broadcasts to an eight county area that includes all or part of Washtenaw, Wayne, Oakland, Livingston, Jackson, Lenawee, and Lucas (OH), operates a second HD channel WEMU2, an unhosted mix of blues, Americana, and roots programs, and webcasts live 24 hours a day at wemu.org