Posted on
Mon, Apr 11, 2011 : 10:58 a.m.
Original music video extends radio station's 'I Am WEMU' campaign
By AnnArbor.com Staff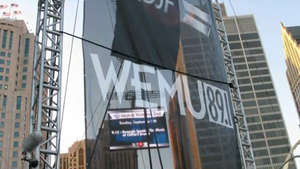 WEMU, the public-radio station based at Eastern Michigan University, has posted an original music video to YouTube.
The song, written by Chris Benjey and sung by Sue Gillis, is called "So Glad You're Mine." It was created as part of the station's "I Am WEMU" campaign, which aims to build connection with current listeners as well as draw new ones, station General Manager Molly Motherwell explained in an email.
The first phase of the "I Am WEMU" campaign consisted of on-air spots in which the station's program hosts offered little-known facts about themselves.
"Those little vignettes were a huge hit with our audience," Motherwell related. "The plan for the video was to reach out to the greater community asking them to state that they are WEMU as well, particularly during the current attacks on funding for public broadcasting.
"It's also being used as part of the 170Million Americans for Public Broadcasting campaign, illustrating the community connection to WEMU." Third Street Productions in Ann Arbor oversaw the video. Area filmmaker Tom Connor coordinated the video production; local photographer Bill Streety took many of the photos; and Perich Advertising did the yellow billboards featured in the video, part of a past award-winning campaign. "So, it was truly a community project which is great because WEMU is a community radio station," Motherwell wrote. "We hope to launch Phase Three, asking listeners to create their own 'I Am WEMU' videos some time this summer."
Watch the video here: