Posted on
Sat, Nov 14, 2009 : 5:22 a.m.
Wendy Wasserstein's "Uncommon Women" being revived at University of Michigan
By Jenn McKee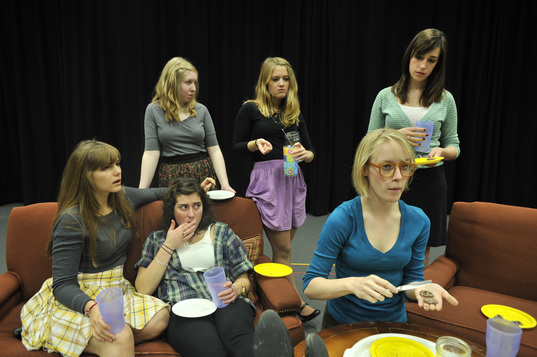 Peter Smith Photography
Wendy Wasserstein's
"Uncommon Women and Others,"
now being staged by the
University of Michigan's theater department
, takes place in the 1970s, well before any of its cast members were born.
"The other night, one young lady was trying to put an album, an LP, onto a record player, and she'd never done that, so she didn't know what to do," said director John Neville-Andrews.
Add rotary phones and slang phrases like "gross me out" into the mix and you've suddenly got a period piece — albeit one which many in the audience will have lived through. "As I said to the designers, we have to be as authentic as we possibly can in every aspect, and that's the costumes, the language, even the way these young girls speak," said Neville-Andrews. "People will be very nostalgic, I think, coming to see this, and it will create a great deal of reminiscing for people, and memories."
"Uncommon" tells the story of a group of women who get together for lunch, six years after their graduation from Mount Holyoke College, to reflect on and take stock of their lives in terms of their feminist goals.
"I think it's an interesting play to do at this time," said Neville-Andrews. "It might spark something in people to say, 'Well, just a moment, we have regressed quite a bit. (The feminist movement) was energetic and passionate there for a time, but now we've become a bit more lackadaisical. … (Women's rights) are just there. But are they really there?'"
The play was Wasserstein's graduate thesis for the Yale School of Drama, and the original, 1977 off-Broadway production boasts some pretty familiar names in its cast (Glenn Close, Swoosie Kurtz, and Jill Eikenberry). "Uncommon" earned Wasserstein a place on the cultural map right at the start of her career, which ended prematurely in 2006, when the playwright died from lymphoma at age 56.
Best known for her 1989 Pulitzer Prize and Tony Award-winning play, "The Heidi Chronicles," Wasserstein is considered by many to be the quintessential contemporary feminist playwright — a reputation that may have contributed to tickets for U-M's production being sold out weeks before "Uncommon"'s opening.
"I'm as surprised as anyone else," said Neville-Andrews. "I was a bit nervous when I first chose the play, thinking, well, people might not know this play, or might find it somewhat dated. But apparently not."
U-M's other upcoming production, "MacBeth," is heavy on roles for men, which is one reason Neville-Andrews sought a play with several female roles.
"I started to look at (Wasserstein's) plays — her modern plays, like 'Third' and 'The Sisters Rosensweig,'" said Neville-Andrews. "But then I came upon ('Uncommon') and thought, well, this is an ideal play, because it's about college students; it offers a wonderful learning experience for our emerging actors; and it has nine women's roles and one male narrator. So it seemed a bit perfect for our needs."
PREVIEW "Uncommon Women and Others" Who: U-M Department of Theatre & Drama. What: Wendy Wasserstein's drama about five female college friends who reunite after six years apart and wonder whether they've each fulfilled their feminist goals to be "uncommon." Where: Arthur Miller Theatre in the Walgreen Drama Center, 1226 Murfin Avenue. When: Thursday, November 19 at 7:30 p.m.; Friday-Saturday, November 20-21, at 8 p.m.; and Sunday, November 22 at 2 p.m. How much: $18-$24. Info: All four performances are sold out. To get on a wait list, arrive one hour before a performance and give your name to a box office representative.
Jenn McKee is the entertainment digital journalist for AnnArbor.com. Reach her at jennmckee@annarbor.com or 734-623-2546, and follow her on Twitter @jennmckee.