Posted on
Wed, Feb 8, 2012 : 9:18 a.m.
Art meets invention meets alternative energy in downtown 'Whirlydoodle' installations
By Bob Needham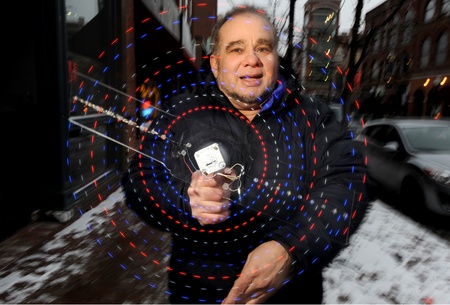 Angela J. Cesere | AnnArbor.com
Small windmills with changing colored lights are brightening the downtown
Ann Arbor
landscape this winter. But the man behind the
"Whirlydoodles"
has much bigger ideas for them.
Tim Jones works as a lawyer, but he moonlights as an inventor. And his first patent already shows potential: spinning doohickeys that use the wind to power LEDs that change color as they speed up.
About 20 Whirlydoodles have been installed on light poles around downtown Ann Arbor. But Jones hopes that's just a beginning: He'd love to see his creations organized into a larger public-art installation. And he'd also like to see them advance the debate over the potential of wind energy.
"Ann Arbor's the kind of place you can test something like this," said Jones, 50, a Jackson native who has lived in the Dexter area for about 10 years.
He said he basically stumbled on the Whirlydoodle concept: "One of the theories of invention is you see a need and solve a problem. I'm kind of the reverse."
A Whirlydoodle is basically a small windmill. The wind catches the blade and spins, creating energy that generates the power for the lights, whose colors change with the wind's speed and direction.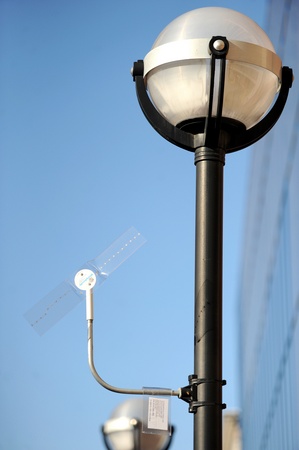 Angela J. Cesere | AnnArbor.com
Jones has spent about $2,000 of his own money on the project, he estimates. Thanks to the involvement of
Dave Konkle
, energy programs director for the Ann Arbor Downtown Development Authority, several of the devices now sit on light poles downtown.
Initially, Jones hopes to generate some interest and raise awareness of the potential for wind energy. "It starts the conversation about clean energy in a different position," Jones said, ultimately leading to more understand and acceptance of the concept.
Some of the poles have placards leading to Jones' Whirlydoodle website. So far, most of the response—including an informal survey on the website—has been positive, he said.
"I think that it really helps people to understand clean energy and some of the possibilities—and some of its limitations," Jones said.
Now, he envisions more and larger arrays, including some that he's donating to the Hands-On Museum. Ultimately he'd like to see a temporary public-art installation involving a thousand or more of the devices, perhaps on a hillside, which wouldn't even be noticeable during the day or when the wind was still. The devices could be sold when the installation came down, which would minimize the cost.
"It's simple, it's safe, it's been a tremendous amount of fun, and people enjoy it," Jones concluded. "I think it has potential for changing people's opinions."
Anyone interested in Whirlydoodles should check out Jones' Whirlydoodle website. And anyone interested in buying one (or more) can contact Jones at trjones21@gmail.com.
Bob Needham is director of entertainment content for AnnArbor.com. Reach him at bobneedham@annarbor.com or 734-623-2541, and follow him on Twitter @bobneedham.