Posted on
Tue, Feb 26, 2013 : 12:48 p.m.
Why EMU professor Pirooz Aghssa isn't a fan of Oscar winner 'Argo'
By Jenn McKee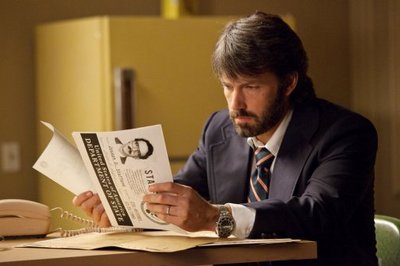 Warner Bros.
Director/actor
Ben Affleck
is probably still celebrating his best picture Oscar win for "Argo" on Sunday night.
But the much-celebrated film about how a CIA agent, in 1980, smuggled a handful of American embassy diplomats out of Iran during the hostage crisis hasn't exactly earned accolades from Eastern Michigan University theater professor (and Iranian-American) Pirooz Aghssa.
"A movie can't tell all stories, but it was very upsetting to see that the entirety of a nation had been turned into a coarse, shrill, savage-like people on the attack," said Aghssa. "To me, the movie—having lived through that experience, and lost members of my family—it was like an action-slash-chase movie that happened to use that story as background."
Aghssa was 16 when his family left Iran for America in 1976, "a year or so before what's called the Islamic Revolution happened," Aghssa explained. "Because my father was a military man, a general under the Shah, it was impossible for us to go back, because it was 'payback time.' People who'd worked for the Shah were being executed right and left."
The American embassy in Iran depicted in "Argo" was, in fact, where Aghssa and his family went to get visas to travel to America—"Everything has such a strong emotional memory to it," Aghssa said—and he hasn't been able to return to Iran since.
"I haven't been able to go back at all, because my family, along with many, many other Iranians, left Iran because it became impossible to live there under the circumstances," said Aghssa. "It's like the way we hear now about how educated, upper class Iraqis left or are leaving Iraq because they can't function there any longer. Not because of executions and brutality, but because, within a short amount of time, one culture and sensibility was completely replaced by another. In one moment, women were part of the workforce, … then after the revolution, they were forced to go to their homes and cover up. … Whomever could get out (of Iran) did."
Most of Aghssa's relatives left for places like England, Australia and America, among others. And Aghssa views "Zero Dark Thirty" as a recent movie that handled a complex global situation with more nuance and care.
"What is now called the Islamic Revolution (in Iran) was not started by Islamic forces," said Ahssa. "It started as left-wing uprising—Socialists, Marxists, Communists—and then, just like any other revolution, … it was stolen away by a gang of people who just had the force of brutality behind them. And in fact, one of the rebels, so to speak, who instigated the attack on the American embassy … was Mahmoud Ahmadinedjad, who's now the leader of Iran."
You might think Aghssa's personal ties to Iran made him expect the worst upon entering a theater to see "Argo," but the professor says he went "with an open mind."
"This is the country I came from, and what I lived through, and what led to my coming to America," said Aghssa. "I'm interested. But when you're dealing with any group that's marginalized in society, the manner of artistic depiction is foremost and should be done with great care. People should know there were thousands upon thousands of Iranians who couldn't be part of what was happening at that time. … To turn this into a melodrama about good guys and bad guys adds nothing to the debate. Also, the historical context is questionable. To Iranians, the dust hasn't settled yet."
Indeed, Aghssa noted that any movie that deals with the Middle East "is very touchy, because the facts are subject to interpretation. The entire region is like a volatile chess game."
By way of an example, Aghssa points to "Argo"'s preface, which depicts Prime Minister Mohammad Mossadegh—most famous for nationalizing Iran's oil industry—as leading Iran in a national movement toward freedom and democracy; but another version of the story casts Mossadegh as an agent for the Soviet Union at the height of the Cold War.
"('Argo''s preface) is only one version of the story," said Aghssa. "I'd be interested in finding out why he chose that version. … It negates the decades that followed that intro, and almost makes the brutality of the current system understandable."
Aghssa concedes, though, that he might be particularly sensitive to depictions of Iran and its people in the time of the Revolution because he was still in his formative years when he had to leave his homeland.
"Because I was so young, … and it affected my family and everyone I knew, my reaction is always going to be an emotional reaction," said Aghssa. "When the hostages were taken, I would get anonymous phone calls. I was at the University of Illinois (as an undergraduate student), and after the hostages were taken, I went to the bank to take money out of my account, and they told me my money was frozen. And I do remember when Jimmy Carter said that every Iranian in America should be fingerprinted. I'm not saying whether it's right or wrong. Just like, in a terrorist situation, you have to do what you think you have to do to protect yourself. But those were dark times for many of us. And the movie has no indication of any of that. I look at that movie, and I have to assume that I am part of the screaming mob wanting to lynch America. I'm not."
Jenn McKee is the entertainment digital journalist for AnnArbor.com. Reach her at jennmckee@annarbor.com or 734-623-2546, and follow her on Twitter @jennmckee.