Posted on
Mon, Apr 30, 2012 : 5:58 a.m.
Wild Swan Theater presents 'The Cricket in Times Square'
By AnnArbor.com Staff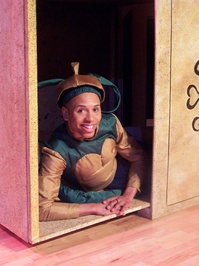 Wild Swan Theater
, Michigan's award-winning theater for families, brings another classic of children's literature to the stage with "The Cricket in Times Square," May 3-6 at Towsley Auditorium in the Morris Lawrence Building at Washtenaw Community College, 4800 E. Huron River Dr.
Continuing its tradition of creating plays based on classic children's literature, Wild Swan presents the Newbery Award-winning tale of how the song of a gifted cricket saves the Bellini's newsstand in the subway station under Times Square. Matthew Gwynn guest directs.
Chester, the cricket, arrives at Times Square in the picnic hamper of a family back from a day in the country. Adopted as a pet by Mario, the son of the Bellinis, Chester soon settles into his new home. When an unusual pair of pals, a fast-talking rat and a sophisticated cat, befriends him, Chester's life takes on big city excitement - until a fire at the newsstand puts the Bellini's livelihood in jeopardy. That's when Chester's musical career takes off, with Tucker the rat and Harriet the cat as his managers.
The role of Chester is portrayed by Jeremy Salvatori. Mama and Papa Bellini are played by Wild Swan's co-founder and co-artistic director Sandy Ryder, and company regular Mark Hammell. Ty Mitchell appears as their son, Mario. Wild Swan company manager Michelle Trame Lanzi plays the cat, Harriet, with Ryder as the rat, Tucker.
The score includes swing and big-band era music, composed and selected by Tom Schnauber. Lorrie Gunn plays violin (the instrument that represents Chester during his melody-making sessions) and is joined on the accordion by John Sterbenz. "The Cricket in Times Square" has been adapted from its novel form by Ann Arbor playwright Jeff Duncan, especially for Wild Swan Theater.
Simultaneous shadow-signing of the performance is provided by Jamie Fidler and Courtney Butcher, American Sign Language interpreters.
"The Cricket in Times Square" is appropriate for children from kindergarten to grade 8. Performances are Thursday, May 3 at 10 a.m. and 12:30 p.m.; Friday, May 4 at 10 a.m. and 12:30 p.m.; Saturday, May 5 at 2 p.m. and Sunday, May 6 at 2 p.m. Tickets are $15 for adults, $10 for children and seniors. Purchase tickets by calling 734-995-0530 or through the theater's website at www.wildswantheater.org.
Wild Swan Theater is dedicated to producing professional children's theater of the highest artistic quality and to making that theater accessible to low income, minority and disabled children through lowered ticket prices and innovative outreach programs. For more information about the company, its current season, touring programs and drama camps, visit the Wild Swan website at www.wildswantheater.org.