Posted on
Thu, Mar 1, 2012 : 11:31 a.m.
Wild Swan Theater evicted from its Maple Road space
By Jenn McKee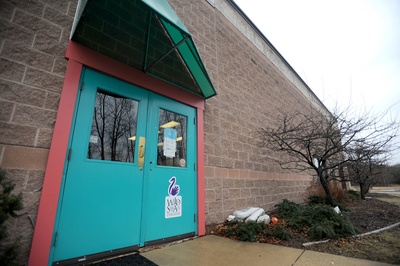 Angela J. Cesere | AnnArbor.com
The
Wild Swan Theater
—an award-winning professional company that presents kid-friendly shows—is suddenly on the move, and not by choice.
The troupe learned on Tuesday afternoon that it is being evicted from its building, at 410 S. Maple Road—a building previously shared with the now-defunct Veritas Christi, a small, private school for autistic children.
"The school had been in the building last year, but over the summer, or the beginning of fall, they did not open for the new school year," said WST box office manager Kathy Pawlicki. "Shortly after that, we learned that the building was in foreclosure."
Pawlicki said that the building's court-appointed receiver, David Findling of the Royal Oak-based The Findling Law Firm, initially seemed willing to work out an arrangement with WST. "We were told that, as a paying tenant, we were an asset to the building," said Pawlicki. "We asked if we could have a short-term lease, but we were not given that. They would not give us a lease. And then yesterday, the (architects for the building's buyers) showed up and started measuring the space. And that's when we found out we had to leave. This morning, we received the official eviction notice."
"It's unbelievable to me that they didn't contact us when an offer was on the table," said WST company manager Michelle Trame Lanzi, who noted that the law firm had recently asked WST to pay for snow removal. "When I called, he told me that they just did everything according to the law, and that the deal wasn't finalized until yesterday. … And I know that business is business. But have a heart."
Findling, meanwhile, argued that once the building went into receivership, the company should have been preparing for the building's sale.
"Typically, this stuff happens in a few days," Findling said. "A buyer comes to me, he or she makes me an offer, I negotiate with them, and we draw up a purchase agreement. … I wouldn't notify a tenant unless I have a deal. … (Wild Swan) was on notice since the inception of the receivership, and that was months ago."
"At the beginning of a receivership, the first thing we do is, someone from my staff goes out to meet with them, to talk to the tenants about our role, and about what their possible choices are," said Findling. "When a receivership is appointed, typically the one purpose of the receivership is disposal of the property. It should be no surprise to Wild Swan that the person appointed to sell the property is selling the property. … I don't want to kick out Wild Swan. … I'm not insensitive to their concerns and frustrations, but I'm not certain what else we could do for them when the building went up for sale. … Our broker is trying to help Wild Swan find a location."
WST has been at the Maple Road space since August 2007, and previous to that, the troupe was housed in a building on Huron Street, across from the YMCA. The Maple Road site houses offices and studio space; the theater generally does its local performances at Washtenaw Community College.
According to WST's eviction notice, they need to be completely moved out of the space by March 31.
"Apparently there's a church that wants to buy the building," said Pawlicki. "They want to start a rebuild on April 1, and they don't want a tenant."
March is a particularly busy time for WST, with rehearsals, touring shows, and two productions coming up; the troupe intends to go ahead with all those plans. "This couldn't have happened in a worse month," said Pawlicki. "But (Realtor) Jim Chaconas is supposed to find some spots for us to look at this week."
The company is reeling from the news, but Pawlicki notes, "We've already been getting some support from the local theater community, so we're hoping for the best."
"I know it will work out," said Lanzi. "I really do. I just don't know how."
Jenn McKee is the entertainment digital journalist for AnnArbor.com. Reach her at jennmckee@annarbor.com or 734-623-2546, and follow her on Twitter @jennmckee.