Posted on
Mon, Jun 17, 2013 : 9:47 a.m.
Willie Nile talks about the music business and his latest work ahead of Ark date
By Martin Bandyke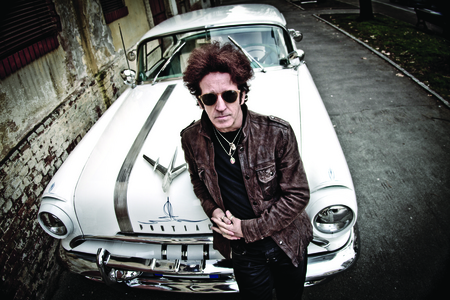 The music career of
Willie Nile
has had more ups and downs than a roller coaster at Cedar Point. Ever since his self-titled debut came out in 1980, the singer-songwriter has gotten great praise from critics and fellow musicians but has never found the mass audience he so richly deserves.
Lucinda Williams has this quote on Willie Nile's website: "If there was any justice in this world, I'd be opening up for him instead of him for me." And Robert Palmer of the New York Times once called him 'an artist who is at once an iconoclast and (a) near-perfect expression of contemporary currents.' But after bad experiences with major labels Arista and Columbia, the Buffalo, New York native has gone the fan-funded route on his independently released new album, "American Ride," a bracing set of rock and roll tunes in the tradition of Springsteen and Seger.
Warm and friendly during a recent phone conversation, Nile has an upbeat attitude that is hard to resist. The longtime Manhattan-based artist brings his band to Ann Arbor for a show at The Ark Friday night, while his new album comes out next Tuesday.
Q: How did you go about financing the release of "American Ride?"
W.N.: I went to PledgeMusic.com to raise money for the project. The plan was for me to put it out on my own label, and one of my managers wanted me to go the fan-funded route. In four days we reached our goal, which amazed me and was very encouraging. We got 300 percent more than we were looking to get.
Q: Do you feel that the whole major-label world is disappearing, perhaps happily so in your case?
W.N.: It's totally changed. There still are major labels, but the old system where a label would ride with an artist for a few albums is gone. The Internet has made it a completely different ballgame. Fans get something back of value and get to be a part of the project. It feels to me like a family and the response was strong, so it means I'm doing the right thing. I'm not trying to be "American Idol" with my music; this is about real music for real people, reflecting real life.
Q: We rarely see you touring the U.S., even though you've been releasing albums since 1980. Do you spend much time overseas?
W.N.: The European fan base is very, very strong, but I've never toured a lot. In the '80s I toured with the Who, and then I left the business; I walked away from it. I got into it so that it would be fun, to make music and try to make a living. But there ended up being more business than music, and this was not what I came for. So I walked away and moved back to Buffalo to raise a family. But things are better now. I started going to Europe in the early '90s, and now I play there four months out of the year. We're starting to play more in the U.S. as well. The shows are great fun and I believe in it; I'm looking forward to playing in Ann Arbor for the first time. I love playing college towns.
Q: What led you to do Jim Carroll's "People Who Died" on your new album? It's the only cover version on "American Ride."
W.N.: It's one of my favorite old songs; it's a hidden classic of rock and roll. I knew Jim Carroll; we were acquaintances. Years ago I played a Saint Patrick's Day event and was asked to sing it in honor of Jim. It's got some redemption in it, some salvation in it. My dear brother John passed away six years ago, so I dedicate it to him. I love the song and wanted to bring it back to life for those who might have missed it.
Q: I love the title track from "American Ride," it's one of those great travelling songs which namedrops a lot of cities along the way, just like "Back in the USA" and "I've Been Everywhere." What led you to write that one?
W.N.: I love this country; I love the dream and the idea of this country, a place where you can come and make a better life for yourself and your family. I sat with my guitar and it just came to me. I knocked it off pretty quick, about 45 minutes. I'm optimistic. I believe that people can make a difference, however much that is. What this country was founded on, the notions of freedom and fair play, I still believe in that. I was on tour recently with Alejandro Escovedo and he called the song a cross between "This Land is Your Land" and "Route 66," which I love.
Willie Nile plays The Ark, 316 S. Main St., Ann Arbor, at 8 p.m. Friday, June 21. Tickets are $15, available from the box office.