Posted on
Wed, Oct 6, 2010 : 12:07 p.m.
Willy Porter teaming up with Carpe Diem String Quartet at The Ark
By Kevin Ransom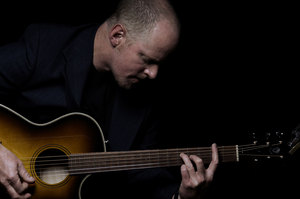 Willy Porter is an "active" guitarist. That is, he boasts some serious chops, his style is percussive and intricate, and he often employs complex, syncopated grooves, a la Leo Kottke.
Sometimes that means that he fills up a lot of space, so much so that when he plays solo shows, he's got so much going on — rhythmically, melodically and harmonically — that you hardly notice he doesn't have a band accompanying him.
So, Willy Porter didn't know what to expect when he was contacted earlier this year by the Carpe Diem String Quartet.
While their training was obviously in the classical idiom, the group also has demonstrated its facility and eclectic spirit by weaving rock, folk and newgrass elements into their mix.
"They were looking for an artist to collaborate with, and they heard my music, and they thought (correctly) that 'This is unconventional singer-songwriter stuff,' and they thought it would be interesting to do string arrangements for some of my songs, and to interact with my guitar playing," says Porter, who comes to The Ark with Carpe Diem on Sunday.
"My reaction was, 'Well, I don't know what this will sound like, but I'm game for any musical experiment.'" So, Porter sent them tapes of voice-and-solo-guitar versions of several of his songs, "and they went ahead and worked up these arrangements — I didn't even have to alter what I was doing," says Porter by phone from his home in Milwaukee.
"And I didn't have an issue with any of their arrangements. They really fleshed out what I was doing, and augmented some of the existing chord forms, and made the songs more interesting, and extended the range."
After just one rehearsal, Porter was so impressed, and everyone was so pleased with the result, that they decided to record a live album in Columbus this past spring — "Live at BoMA," slated for October 8 release — and decided to tour together.
The Carpe Diem String Quartet currently consists of violinists Charles Wetherbee and John Ewing, violist Korine Fujiwara and cellist Kristin Ostling. Two are former members of the Columbus Symphony Orchestra, one is still a member of that orchestra, and the fourth was formerly with the Baltimore Symphony Orchestra. The Quartet, which is based in Columbus, has been together since 2004.
Ostling is a recent addition. She replaced Diego Fainguersch, who played cello on the live album.
On that album, Porter and Carpe Diem performed several of Porter's previously recorded songs, including "Moonbeam," "Dishwater," "Breathe," and "Big Yellow Pine." Listen to Willy Porter and the Carpe Diem String Quartet "Moonbeam" (MP3).
And the Quartet really does recast Porter's songs, giving them a whole new feel, and forcing the listener to hear familiar songs in new ways — ways that frequently expand on the meaning or emotional content of the song.
"Like, on 'Big Yellow Pine,' they really enhanced the emotion of the song — they gave it some ghosts, and made it spookier," says Porter. Indeed, the new, enhanced version of "Pine" begins with Porter's deft picking, which is then accompanied by the mournful drone of the cello, before the violins and viola add a sweet melancholy.
Similarly, "Dishwater" begins with a wistful intro by the violins and viola, and then the sympathetic cello adds texture and depth, and then the other strings plaintively back Porter's vocals with heart-tugging, almost "crying" sound.
Elsewhere, on "Breathe," a subtle, almost amorphous opening gives way to Porter's rapid-fire progressions, and the strings assert themselves without being frenetic.
And in many cases, these classically trained players adeptly cross over into rootsier terrain, and cross that line where a violin "becomes" a fiddle.
"Yeah, I love that aspect of their playing," says Porter. "Korine has such a soulful approach to the instrument, which lends her playing a strong, bluesy quality. I love the the way she phrases her vibrato — she drags the tone up, and uses powerful voicings that remind me of old-time music."
And while conventional classical-music players — the ones who primarily play pieces composed by the masters 200 to 400 years ago — don't get a chance to do much improvising, the Carpe Diem players are eager to improvise off of a theme. The arrangements Porter's songs constructed so that there are sections built in to the songs that allow for such improvisations — by Porter as well as by the string players.
PREVIEW
Willy Porter and the Carpe Diem String Quartet
Who: Acclaimed singer-songwriter and accomplished guitarist hooks up with musically ambitious and eclectic string quartet.
What: Porter and the Quartet will do a set featuring new, expanded arrangements of his songs, Porter will do a solo set, and the Quartet will do a set..
Where: The Ark, 316 South Main Street.
When: Sunday, Oct. 10, 7:30 p.m.
How much: $17.50. Tickets available from The Ark box office (with no service charge); Michigan Union Ticket Office, 530 S. State St.; Herb David Guitar Studio, 302 East Liberty Street; or Ticketmaster.com.
"Sometimes, we'll be at a sound check, and I'll jam on something, and they're right on it," says Porter. "I think this quartet represents a new breed of classical musicians in that they're not 'married to the page.'"
For the live show, in addition to the collaboration between Porter and the Quartet, he will do a solo set, and the Quartet will do a set. Besides the songs that are performed on the live album, they've also worked up some cover songs, and will collaborate on a few of Porter's newer songs that have not yet been recorded.
And the simpatico between Porter and the Quartet is such that they're talking about making a studio recording together.
"But I wouldn't want it to be a group of songs I've already written on my own," says Porter. "I would want us to collaborate on the writing, as well. I feel like this is just a starting point for us."
Kevin Ransom, a free-lance writer who covers music for AnnArbor.com, can be reached at KevinRansom10@aol.com.