Posted on
Mon, Mar 22, 2010 : 5:41 a.m.
Winter Jam offers music with a Christian message at EMU Friday
By Roger LeLievre
Winter Jam 2010, headlined by some of the top names in Christian music, comes to Eastern Michigan University's Convocation Center Friday as part of a 44-city tour.
Performers will include the Grammy-nominated octet NewSong and multi-platinum-selling artist Third Day. Other acts on the bill include Newsboys, Tenth Avenue North and Fireflight.
"Our vision has always been to bring together great music, the Gospel message and a low admission price," Eddie Carswell, NewSong founding member / Winter Jam creator, told AnnArbor.com. "We want families and youth groups to enjoy a night of top-notch entertainment that serves a greater purpose."
In addition to the main show artists, the tour includes a pre-jam party with up-and-comers Sidewalk Prophets, Robert Pierre and Revive. Tony Nolan, tour pastor for several different bands, will also speak at the concert.
---
PREVIEW

Winter Jam 2010

Who: Third Day, Newsboys, NewSong, Tenth Avenue North, Fireflight, Robert Pierre, Sidewalk Prophets and guest speaker Tony Nolan.

What: Christian-rock extravaganza.

When: 7 p.m. (6 p.m. doors, pre-jam party starts at 6:15 p.m.), Friday, March 26.

Where: Eastern Michigan University Convocation Center, 799 North Hewitt Road, Ypsilanti.

How much: $10 at the door. Info: 734-487-2282, Winter Jam web site or Premier Productions web site.
---
Carswell said Winter Jam, now one of the biggest Christian music events of its kind, started out on a much smaller scale 15 years ago, with just NewSong.
"We have a great time with the concerts, a lot of fun. We've shared Christ … just tried to let people know what a relationship with Christ is all about," said Carswell. "It's just the same thing now, blown up with 8 bands … it's amazing to see it happen."
NewSong's latest recording is "Give Yourself Away." In keeping with the album's name, the band decided on an unusual method of distribution. "Inside, there are 2 CDs — one for you to keep, one for you to give away," Carswell explained. "Pay whatever you can; we're cool with it. Just promise us you'll get out and give the other one to somebody — the guy at the gas station, or the nail salon or one of your friends at school. Let's just see what God will do by us investing in these CDs that people might not normally get."
Although not motivated by profit, "the money still works out fine. Some people give a dollar, or change. Others give $20 — people get it. It's a real Christian-hearted thing and people want to be involved in it," he added,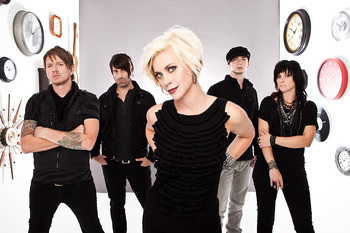 NewSong isn't the only group on the bill that's recently released an album. Third Day — with Grammy, Dove and American Music awards to their credit — recently came out with "Revelation," which features collaborations with Robert Randolph, Chris Daughtry and Flyleaf's Lacey Mosely. Fireflight's latest effort is "For Those Who Wait."
Over their 2 decades together, the Newsboys have earned 5 gold albums, as well as Dove awards and Grammy nominations. Tenth Avenue North was the 2009 recipient of the GMA Dove Award for New Artist of the Year.
At first, Carswell recalled, the popularity of worship music was considered a fad. But that's not the case anymore.
Listen to a selection of songs by the Winter Jam 2010 performers:

The Winter Jam 2009 Tour Spectacular ranked among the largest tours in the world, according to the music industry magazine Pollstar. Winter Jam also received the Gospel Music Award's Impact Award, presented to "the non-artist individual or organization that has made the most significant impact on the gospel music industry over the last two or three years." In addition, Winter Jam 2009 was voted Concert of the Year by Gospel Music Channel viewers and Best Tour in the CCMmagazine.com Readers' Choice Awards.

Roger LeLievre is a freelance writer who covers music for AnnArbor.com.