Posted on
Wed, Sep 11, 2013 : 2 p.m.
With new CD 'Creole Soul,' jazz trumpeter Etienne Charles taps into Afro-Caribbean background
By Roger LeLievre
Trumpeter/bandleader Etienne Charles may only be in his 20s, but he has already recorded three well-received albums, and has just released another.
He'll offer local fans a taste at a CD release party Saturday night at Kerrytown Concert House.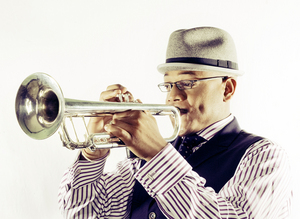 Courtesy photo
The album, "Creole Soul," buoyantly taps into a myriad styles rooted in his Afro-Caribbean background, and plumbs the musical depths of the islands, from calypso to Haitian voodoo music. Also in the mix are reggae, belair, kongo and rock as well as the influence of Motown and R&B music Charles listened to on his parents' record player when he was growing up.
"Jazz is Creole music," says Charles who was born in Trinidad, relocated first to Florida and then New York to further his jazz studies, and who today teaches jazz trumpet at Michigan State University.
"As a person in the new world, I've been influenced by so much music. And my family has a mixed background, with French Caribbean, Spanish and African roots as well as Venezuelan influences. I come from a fusion of rhythms, a fusion of cultures.
"That's what this album is all about: focusing on soul music that is Creole at heart," he says.
Etienne Charles performs at Kerrytown Concert House, 415 N. Fourth Ave., Saturday, Sept. 14 at 8 p.m. Admission is $30-$5. Details at www.kerrytownconcerthouse.com or 734-769-2999.