Posted on
Mon, Mar 1, 2010 : 5:11 a.m.
Work gallery show examines illusion and reality
By John Carlos Cantu
The University of Michigan Work Gallery's current exhibit is called "Dis Illusion," but there's nothing disillusioning about it. In fact, the exhibit's exploration of illusion and reality is nothing short of energizing.
Art's penchant for swinging from giddy optimism to penetrating pessimism shines through in this exhibit fearlessly exploring what curators E.E. Campbell and Ashley Elander call "positive shift(s) in our vision" facing illusions and disillusions that have the power to "destroy" reality.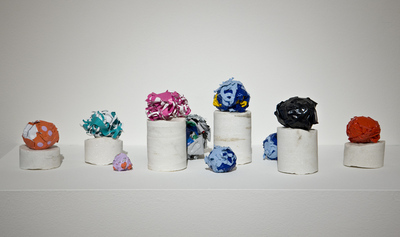 Image courtesy University of Michigan School of Art and Design.
This could indeed be pretty hard stuff — depending upon whose reality was getting destroyed. But the old saying that you can't make an omelet without breaking a few eggs applies; "Dis Illusion" works from this premise in both art and ideas.
Some of the best student talent at the University of Michigan's School of Art and Design (as well as U-M staff and U-M art instructors; and artists from across the country) have contributed to the proceedings.
As E.E. Campbell (speaking on behalf of co-curator, Ashley Elander) said in a recent interview, "Ashley and I both have an admiration for optical art and the science behind visual illusion. Using this as a starting point, we wanted to expand the understanding of illusion from visual trickery to illusion as a concept or idea.
"In doing so," said Campbell, "we were hoping for a very broad interpretation of illusion, pushing creators to determine how to create a reality, or how to destroy a reality altogether."
Campbell and Elander should consider their goal accomplished. Among U-M undergraduates creating and destroying realities are the curators themselves, Kent Caldwell, Jack Carder, Paolo Carone, Emily Cromwell, Jeremy Daly, Jack Doehring, Caitlin Dronen, Erica Fink, Evan McLaughlin, Erica McTurk, Courtney Michalik, Jenna Lyn Utter, and Shawna Wei. Other U-M connections are U-M School of Art and Design lecturer Katie Rubin, and U-M Slusser and Work Gallery Director Mark ("Uncle Art") Nielsen.
Ann Arbor artists are "Dad," Peter Baker, Tom Buckholz, Louis Dickinson, Brian Hunter, Ted Kennedy, and Joe Levickas. Eastern Michigan University has contributed Victoria Weeber.
What these artists share is some sense of illusion — or, in some instances, disillusion. But it's not a matter of simple positivity or negativity. Rather, there's a fine line between optimism and pessimism in these artworks.
The exhibit's inspiration is 20th century French-American maven Marcel Duchamp, who was no stranger to either illusion or disillusion. And it's his brand of puckish neo-Dada (as well as its variants, such as op-art) that's touched upon in one way or another by these artists.
For example, Kent Caldwell's installation, "Balder's Nightmare," features a clever cross between J.R.R. Tolkien's demonic "The Fellowship of the Ring" Balrog and Duchamp's 1969 "Etant donnes" — yet done with a knowing twist. Caldwell's young "Balder" stands resolutely in front of the monster and his sole defense is a flickering lamp. The installation, built into the Work gallery wall, invites the viewer to explore his hidden world — and the lamp's flickering invites a tongue-in-cheek distant comparison to Duchamp's illuminating masterwork.
Likewise, Uncle Art's vinyl tape and marble "Skin" and Erica Fink's paper "Piles" are colorful variations of what at one time were called "unhappy readymades." Fink's paper shavings "Piles" were collected from under her desk and "piled" for the exhibit. Meanwhile, Uncle Art's "Skin" consists of small bunched-up balls of vinyl that had once been attached as alphabet letters to gallery walls as the forlorn remnants of what he calls "transient attempts to define reality."
Stephanie Tiza's 16mm film "Two Minute Painting" explores one of those territories Duchamp tossed off in the first half of the 20th century. Tiza's film — a cascading purple-hued gestural abstraction — runs on the Work gallery wall. Relentlessly sloshing and sliding, "Two Minute Painting#8221; creatively picks up where latter-day experimental filmmakers have left off.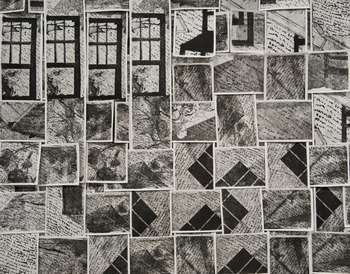 Image courtesy University of Michigan School of Art and Design.
One of last year's most intriguing artworks is making a welcome return in this exhibit. Katie Rubin's 2009 Ann Arbor Art Center Janet Gallup (Best of Show) "The Print" award-winner, "Mourning on Wells Street," is set against the Work Gallery's far wall. The roughly 4- by 6-foot print consists of more than 1,000 inner-threaded intaglio pieces ranging from inches to not much more than a foot in size. Cutting and splicing her work from a few base images — foremost a window sill (which, inadvertent or not, seems a diminutive homage to Marcel Duchamp's "The Bride Stripped Bare by her Bachelors, Even") — Rubin skillfully knits her multi-faceted collage.
And speaking of "The Bride Stripped Bare," history records that Duchamp considered his intricate glasswork finished when fate dictated that it should be utterly smashed and laboriously pieced back together after its initial 1926 display. Similarly, Jeremy Daly and Jack Doehring's "Sweet Light" installation in the basement of the Work Gallery has undergone a significant modification from its original form.
"Sweet Light" was meant to shine an otherworldly pale fire in its confined basement installation space with light bulbs glistening underneath haphazard piles of tossed sugar. But physics dictated otherwise as the bulbs overheated and exploded, leaving clumps of burnt sugary mass strewn about. Rather than consider the work anything other than what it is, Daly and Doehring have left behind its remnants. And this ultimately makes "Sweet Light" nothing less than a kind of aesthetic disillusionment working for their art — instead of working against it.
"Dis Illusion" continues through March 12 at the University of Michigan Work Gallery, 306 S. State St. Gallery hours are noon to 7 p.m., Tuesday-Thursday; noon to 8 p.m., Friday-Saturday; and noon to 5 p.m., Sunday. For information, call 734-998-6178.
John Carlos Cantú is a free-lance writer who reviews art for AnnArbor.com.