Posted on
Wed, Apr 20, 2011 : 10:13 a.m.
World premiere documentary 'My Heart is an Idiot' focuses on Davy Rothbart's love life
By Jenn McKee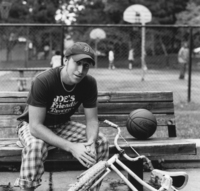 After filmmaker David Meiklejohn tagged along on two separate, two-month Found Magazine tours in 2005 and 2006 — and shot seemingly endless footage of Ann Arbor founder Davy Rothbart's romantic life — he knew he wanted to edit his first full-length documentary, "My Heart is an Idiot," full-time.
But Meiklejohn couldn't afford to do that in New York City, where he was living at the time, so he and Rothbart discussed the possibility of the filmmaker temporarily re-locating to Ann Arbor.
What ended up happening?
"It's a really interesting story — and the kind of thing that only happens to Davy," said Meiklejohn. "He has this weird magic thing happens to him, where he ends up in these curious situations because he's more open to them than most people."
Rothbart's plan of action was to make up a flier and distribute copies to locals, explaining that Meiklejohn would walk dogs, babysit, do dishes, etc. — essentially, that he would do anything that was needed around the house in exchange for a room and time to work.
"Found interns went around to all the neighborhoods that summer, spreading the flyers around wherever they could," said Meiklejohn. "Two hours after putting them in a bunch of mailboxes, (Ann Arbor's) Lori Saginaw called. She told us later that she just knew it was for her."
PREVIEW
"My Heart is an Idiot"
What: World premiere of David Meiklejohn's documentary, shot during two Found Magazine tours in 2005 and 2006, that focuses on the romantic trevails of Ann Arbor-based founder Davy Rothbart. Both Meiklejohn and Rothbart will answer questions after the screening.
Where: Michigan Theater, 603 E. Liberty.
When: Friday, April 22 at 7:30 p.m.
How much: $10-$40. Advance tickets available online.
Meiklejohn, who originally planned on living and working in Ann Arbor for six months, ended up working on "Heart," on and off, for two and a half years. Now, "Heart" is having its world premiere at the Michigan Theater on Friday, April 22, at 7:30 p.m.
"Part of it was just my inexperience," said Meiklejohn. "I didn't know how to pare down 150 hours of footage — how to wrangle that much material into a smaller piece. … The other thing made it stretch was there were down periods, when I didn't enjoy the work, and it felt more like an obligation than a joy. … But I knew, even in the most difficult times, that in the end, it would be less depressing to work really hard on this film, and work through the hard times, than just give up on it along the way."
Meiklejohn's first impulse was to make a documentary about the Found tours, wherein Rothbart road trips around the country with his brother, Peter, and shares some of the funniest found items that have been submitted to the magazines with live audiences.
Pretty early on, though, Meiklejohn realized that most of his on-camera discussions with Rothbart involved his romantic pursuits, and that this material was the most compelling.
Rothbart, for his part, said he wouldn't originally have thought his romantic life, by itself, worthy of a documentary, but he trusted in Meiklejohn's instincts and supported his decision.
"After we'd finally come to terms with where the film was heading, Davy and I had this conversation," said Meiklejohn. "We agreed that no matter what happens, no matter how scary or awkward or intense things get, we have to keep the camera rolling."
But how did the women involved feel about having highly personal moments filmed?
"I think there was some minor trepidation on the part of a couple of the women beforehand, which is reasonable — just because I'm so willing to open up my personal life to the world doesn't mean they're going to be equally enthusiastic about opening up theirs," said Rothbart. "But after they saw the movie, they were super into it and totally on board, which is really great, and a testament to David's balanced storytelling. By including the women as collaborators, and allowing them to give voice to their own feelings within the film, I think David really gained their appreciation and support for the finished product."
At one point in the film, Rothbart anticipates, and builds up, a reunion with an old girlfriend, Alex, who was living in San Francisco; but from there, things get increasingly complicated.
Of course, most of us will never watch painful, watershed moments from our intimate lives unfold on a big screen; and while Rothbart almost never balked while being filmed, he did struggle with the editing process.
"During the tour, we were in a new city every single day," said Meiklejohn. "The pace was so fast — you just had to keep moving forward. … But in Ann Arbor, Davy and I tried to edit the film together at first. … We were creatively butting heads a lot, and neither of us figure out what was going on. … But we finally figured out that Davy just couldn't edit this movie. It was too painful for him — too hard for him to think objectively about the story."
Meiklejohn thus assumed all post-production duties on "Heart," and when he finished, he submitted the film to 10 of the most prestigious film festivals in the world. When no acceptances followed, he and Rothbart planned a cross country tour for the film — which will follow its world premiere at the Michigan — that would make use of the Found tour infrastructure.
Inevitably, Rothbart feels nervous about how he comes across in the film. But what did he take away from it?
"I think I've learned that while any 'love at first sight' (experience) is still worth investigating, it doesn't always mean that I'll be compatible with that person in an actual, lasting relationship," said Rothbart. "So I still honor those impulses, but I try not to let them overwhelm me as often or as intensely, and try to acknowledge what I'm feeling with a little more perspective - what I'm feeling may still be real, but I don't need to let it demolish me."
Jenn McKee is the entertainment digital journalist for AnnArbor.com. Reach her at jennmckee@annarbor.com or 734-623-2546, and follow her on Twitter @jennmckee.