Posted on
Thu, Jun 20, 2013 : 6:07 a.m.
'World War Z,' 'Vertigo' and more on local movie screens
By Russ Collins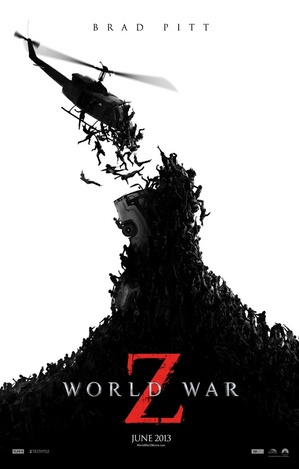 Opening at the Multiplex
"Monsters University" shows the origins of the friendship of Mike Wazowski and James P. Sullivan, the inseparable duo from "Monsters Inc." From the moment these two mismatched monsters met, they couldn't stand each other. "Monsters University" unlocks the door to how Mike and Sulley overcame their differences and became the best of friends. Richard Corliss of TIME Magazine says, "This minor film with major charms still deserves to have kids dragging their parents to the multiplex for one more peek at the monsters in the closet. With Pixar, familiarity breeds content." "Monsters University" opens Friday.

"World War Z" follows United Nations employee Gerry Lane (Brad Pitt) as he traverses the world in a race against time to stop the zombie pandemic that is threatening to destroy humanity. William Goss of FILM.com says, "As I understand it, fidelity to Max Brooks' novel has been scant at best, but neither that nor countless post-production woes prevent Paramount's adaptation from serving as an efficient and effectively exciting globe-spanning zombie thriller." "World War Z" opens Friday.

Opening Downtown

In "The East," an operative for an elite private intelligence firm (Brit Marling) goes into deep cover to infiltrate a mysterious eco-terrorist organization attacking major corporations. Colin Covert of the Minneapolis Star-Tribune says, "A fast-rising newcomer to film, the willowy Marling is maturing fast, and encouragingly unwilling to dumb herself down for stock girlfriend roles. This is her strongest work yet and I hope a harbinger of much more to come." Also starring Ellen Page, Alexander Skarsgard, Patricia Clarkson and Julia Ormond, "The East" opens Friday at the State Theatre.

Filmed with the startling immediacy of unfolding history, Academy Award-winning director Alex Gibney's "We Steal Secrets: The Story of WikiLeaks" is a riveting, multi-layered tale about transparency in the information age and our ever-elusive search for the truth. Detailing the creation of Julian Assange's controversial website, which facilitated the largest security breach in U.S. history, the film charts the enigmatic Assange's rise and fall in parallel with that of Pfc. Bradley Manning, the brilliant, troubled young soldier who downloaded hundreds of thousands of documents from classified U.S. military and diplomatic servers. "We Steal Secrets: The Story of WikiLeaks" opens Friday at the Michigan Theater.

Special Screenings Downtown

In "To Wong Foo, Thanks For Everything, Julie Newmar" Patrick Swayze plays Vida Boheme, a classy and long-reigning drag queen. With his understudy Noxeema Jackson (Wesley Snipes), Vida wins a New York drag contest and an all-expenses-paid trip to Hollywood. But when Miss Chi Chi Rodriguez (John Leguizamo) cries at having lost the contest, the film becomes a strange buddy road movie, with the 3 cross-dressers traveling across the American heartland in a shiny yellow Cadillac. "To Wong Foo, Thanks For Everything, Julie Newmar" plays Saturday, June 22 at 11:59 p.m. at the State Theatre.

In 2012, the unthinkable happened. "Citizen Kane" finally lost its #1 place in the Sight and Sound critics' poll as the best film of all time. Its replacement was Alfred Hitchcock's 1958 film "Vertigo." One of three great midcentury films by this famous director, critics originally questioned the casting of a fifty year old Jimmy Stewart with a much younger Kim Novak and also disliked the film's length and slow pace. Yet over the years, "Vertigo" has come to be viewed as perhaps Hitchcock's masterpiece and certainly one of the outstanding American films of the era. "Vertigo" plays as part of the Michigan Theater's Summer Classic Film Series on Sunday, June 23 at 1:30 p.m. and Tuesday, June 25 at 7 p.m.

Presented in partnership with UMS, "National Theatre Live: This House" picks up in 1974 as the corridors of Westminster ring with the sound of infighting and backbiting as Britain's political parties battle to change the future of the nation. "National Theatre Live: This House" plays Sunday, June 23, 7 p.m. at the Michigan Theater.

The Summer Classics After Dark film series kicks off with "Django," the story of a mysterious man dragging a mud-stained coffin behind him. Franco Nero stars as Django, a man who finds himself in the middle of a war between Mexican revolutionaries and a band of sadistic racists led by the fanatical Major Jackson (Eduardo Fajardo). In the face of overwhelming odds, Django has a plan: to exact revenge while pitting enemy against enemy. Featuring the addictively catchy title song performed by Rocky Roberts, "Django" made an international star of Franco Nero, and along with Sergio Leone's Man With No Name trilogy, established the Spaghetti Western as an internationally popular genre. "Django" plays Thursday, June 27 at 10 p.m. at the Michigan Theater.

See you at the movies!