Posted on
Sat, Jul 13, 2013 : 5:39 a.m.
WSG Gallery exhibit explores the fascinating diversity of book art
By John Carlos Cantu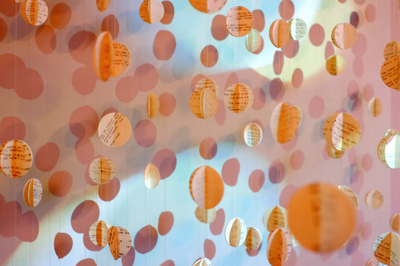 The
WSG Gallery
's "Book+Paper Art" is a timely reminder that transitions in contemporary art are unpredictable. Six times around, and this event is reaching the point of being one of Ann Arbor's most surprising (and anticipated) events on the local fine arts calendar.
What could be more seemingly ordinary than the book? The notion of printed pages bound together within a cover seems to say it all.
But, of course, as "Book+Paper Art" shows us, this definition doesn't begin to say it all.
The book's origins were more grand, gold gilding and encrusted jewels being common. Yet these handsome items (medieval manuscripts being among the most valued of them) were handcrafted — so the best we can say is that after thousands of years, the medium has come back around.
Or so says WSG's Barbara Brown, curator of the 23 artworks on display in "Book +Paper Art."
Brown says this exhibit has "been dedicated to the marvelous world of book arts." But since its inception in 2006, the focus of the show has evolved.
"The aim has always been to exhibit a wide selection of quality book and paper art," says Brown. "Some pieces found in past shows were traditional and recognizable as books. There will be less of them in this show. Instead you'll find artist's books along with great handmade paper pieces and installations.
"In previous show statements, I've written that the term 'artist's book' gives rise to much discussion (and irresolution) among book artists. Further, the point has been made that the term should come with a warning label. The instant one uses it, one must then be ready to define it and defend the definition! There will probably never be a determination that everyone agrees on, but I think 'book inspired art' might be a good place to begin."
This is a good point, because "book inspired art" is certainly one way to describe this remarkably diverse show.
Local artists included in this show are Ruth Bardenstein, (curator) Brown, Norma Penchansky-Glasser, Alvey Jones, Ted Ramsay, Ellie White, and Howard White. This is a standout list of Southeast Michigan talent, and "Book+Paper Art" lives up to its unruly promise.
Among other artworks, take Bardenstein's, Penchansky-Glasser's, and Jones' "book" efforts as examples of present-day book art: Eastern Michigan University instructor Ruth Bardenstein's "LW A to Z" flag book with hand-printed paste paper and collage materials is a handsome print effort that generally conforms to the notion of book with its colorful internal pages upon whom type and overlaid alphabet letters are nestled between celebratory covers.
Penchansky-Glasser, an EMU master of fine arts graduate, has contributed six books of which her flag book with mono-printed past paper, collage "Mother's Day (1950)" features an array of colorful nonrepresentational pages. Their furious abstract design is juxtaposed against stray floral design and aged black and white photograph. As much a collage as it is a memento, "Mother's Day (1950)" is ultimately book as keepsake.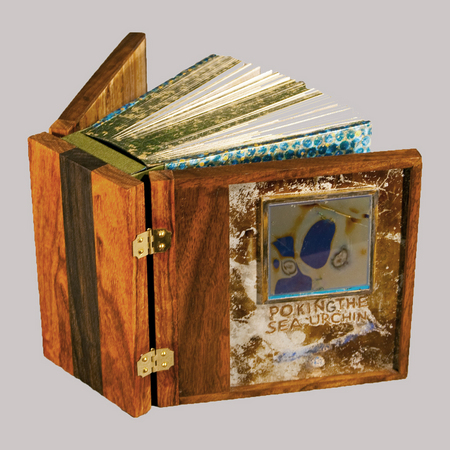 Mixed-media specialist Alvey Jones' artwork defies categorization almost all the time. And his "books" in this exhibit reflects his distinct approach to art, as his clamshell boxed drum leaf binding with zinc and walnut cover "Poking at the Sea Urchin" fits within the traditional parameters of book art. But his far more adventurous wall-mounted oversized etched ink on fabric "Wood, Bone, Rock and Rain: A Paleolithic Grammar" effortlessly mingles its intriguing elements (including handprints) in a dramatic way that refers back to the pre-history of writing as well as the pre-history of lexigraphy or literature.
Likewise, University of Michigan Emeritus Art Professor Ted Ramsey has contributed a trio of artworks that includes wall-mounted sculpture, installation, and print. In particular, his "Thylacine Dream" installation (like Jones' "Wood, Bone, Rock and Rain") uses its varied visual elements to introduce a non-verbal articulation whose inference satisfies the same purpose of a "text." Consisting of a ladder and various other objects (including Ramsey's vivid three-dimensional depiction of this legendary Tasmanian carnivorous marsupial), "Thylacine Dream" is a reminder that words and binding alone need not make a document.
All of which in turn leads to the arguably most interesting book in this exhibit: Curator Barbara Brown, Ellie White, and Howard White's "POD" installation. This formidably scaled wall installation consisting of hundreds of circular paper bulbs suspended from the WSG ceiling with light projected on it from above is braced with a sand box beneath.
As Brown tells us, "The inspiration for "POD" ("Poem of the Day") was twofold. A while back, a great friend of mine, (poet) Lucinda Carr, began to e-mail me a poem each morning. Some were written by Lucinda, others culled from the writings of her favorite poets. The idea to type the poems by hand came from another dear friend, Meghan Forbes, who began publishing a literary journal, Harlequin Creature, two years ago.
"Since the journal's inception there has always been one over-arching rule: the issues must be hand-bound, and they may contain nothing generated digitally. Thus, the journal pages have all been typed on old manual typewriters during good old-fashioned typing bees, covers and artwork all achieved with a letterpress. After one of the last typing bees, I decided to make an installation piece from Lucinda's PODs using a marvelous old manual Olympia typewriter that had formerly belonged to Meghan's dad, journalist Jim Forbes.
"As the digital toolset expands," continues Howard White and Ellie White's artists' statement, "visual artists are there to explore and develop new mediums of expression. In traditional video projection and video art, the important factors are the development of color and light over time, with the projection surface of secondary importance.
"In 'POD,' presented here, we employ a technique called 'projection mapping,' in which the projection surface is elevated in importance to the same level as all other elements. The video is mapped over time to various areas of the installation to emphasize not only motion, light, color and time, but introduce the unexpected usage of the three-dimensional surfaces into the viewer's experience."
The result of this trio's effort is grand interaction of light, word, and material whose subtle whimsical ambiance creates a setting that stretches the boundaries of what a book can be. For "POD" is readable in far more ways than one. Its flicking backlit motion amplifies the twisting paper just as the poesy justifies its mingling of aesthetic and meaning. All that is left is to be read.
"Book+Paper Art" will continue through July 27 at WSG Gallery, 306 S. Main St. Gallery hours are noon-6 p.m. Tuesday-Wednesday; noon-9 p.m. Thursday; noon-10 p.m. Friday-Saturday; and noon-5 p.m. Sunday. For information, call 734-761-2287.