Posted on
Fri, Nov 2, 2012 : 7:01 a.m.
WSG Gallery showcasing latest computer artworks of Michelle Hegyi
By John Carlos Cantu
If we think about it at all, we usually think of light changing with our day. But Michelle Hegyi's exhibit "How the Day Changes with the Light" at the WSG Gallery inverts this nebulous notion.
"I'm drawn every day to chance juxtapositions of light, line, color, brushstrokes," says this local printmaker about her latest gestural abstract artworks. "Inspired, I start painting with no preconceived idea.
"One line leads to another—one color to another—layer over layer—previous strokes or images combining into one. The pleasure comes in the journey: combining the layers in various ways until it feels just right, traveling through untold iterations of adding and taking away—through complexity to simplicity—it all depends on the particulars of the day I am working. The piece eventually taking shape until finally it feels resolved."
The 18 artworks in this display have been computer-generated, and the textured layers we find are superimposed in a nuanced manner.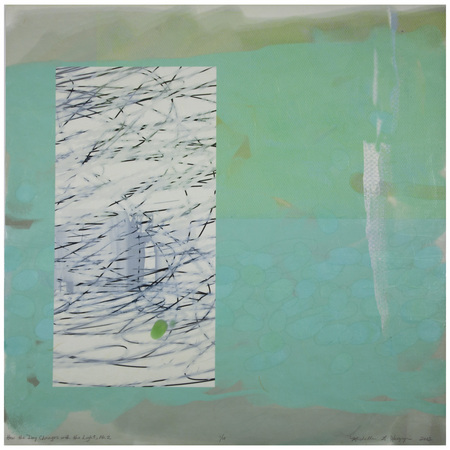 This isn't too much of a surprise. Having last seen Hegyi's work in her 2010 "Do You Remember the Shape of Trees...." (also at the WSG Gallery), "How the Day Changes with the Light" is an adaptation of her prior aesthetic. What significantly differs is the tactile generation (and regeneration) of her latest computer-generated art.
Manipulating her gesture through her computer programming, Hegyi varies the tone of her work through her complementary chromaticity. It's an airy artful gambit whose sophistication is masked by the measured simplicity of her abstraction.
"Much of my work is created on the computer," says Hegyi, "but (it) has the look and feel of real paint. I find the computer enables me to experiment and to learn from an infinite number of color, value, line and space permutations, still allowing for the history of a piece to show through the layers.
"Using brushstrokes and other elements and sometimes whole layers from previous work helps to connect each work to the other. The happy accidents of chance combinations are an added bonus. In the last few years I have used the encaustic medium to add to the luminous quality of my work."
Encaustic painting uses heated wax on which colored pigments are added and these elements—sculpted as much as painted—are then applied to the work's surface before it cools. Add the computer, and you have the shimmering effect to be found in this exhibit.
"In this body of work, Hegyi adds, "digital paint strokes (created on the computer using a pressure-sensitive pen and a tablet) are combined with real paint strokes (that are scanned in through acrylic, encaustic monotype), and then digitally collaged (again using the computer) in translucent layers.
"I then print the piece myself to be sure I'm getting the desired colors, using archival pigment ink on Japanese Unryu paper. Afterwards, I infuse the print with encaustic medium, and paint the back with white acrylic paint. The transparent encaustic medium is critical, enhancing the digital layering, as the light filters through the wax, through the pigment to the acrylic white paint on the back of the piece and then is reflected back through the wax to the viewer."
The results of her effort are paintings that have a complex, elevated relief. Each artwork has a veiled, lustrous transparency tricking the eye into seeing three dimensions. It's not only a nifty artistic trick, it's also a harmonious way of depicting an understated temporal change.
Each of these works has its own unique variation. But "How the Day Changes with the Light No.2" illustrates Hegyi's art at its best.
This painting's 2-foot-square working surface is a handsome series of planes upon which Hegyi's experiments seem to float. Its foundation is an indeterminate ground over which other planes hover.
Three foreground planes in "No. 2" in turn brace the painting with two diaphanous turquoise planes set on top of one other, bearing just enough visual weight to ballast the artwork. Yet they paradoxically also have just enough transparency to give the painting an aerial lucidity.
Hegyi's signature is more properly a rectangle to the left, upon which a series of lines swirl about energetically. And these create yet another foreground spatiality resting on air. In Hegyi's terms, they're concretized light changing before our sight.
Pushing and pulling us through its trompe l'oeil spatial depth, "How the Day Changes with the Light No. 2" certainly finds the day changing with the indirect incandescence Hegyi provides. Her art finds poetry in day and light.
"Michelle Hegyi: How the Day Changes with the Light" will continue through Nov. 24 at WSG Gallery, 306 S. Main St. Gallery hours are noon-6 p.m. Tuesday-Wednesday; noon-10 p.m. Thursday-Saturday; and noon-5 p.m. Sunday. For information, call 734-761-2287.