Posted on
Mon, May 27, 2013 : 10:11 a.m.
Ya'ssoo Greek Festival will celebrate culture, food, dance, and more
By Jennifer Eberbach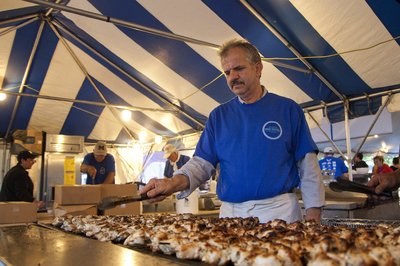 Jeffrey Smith | AnnArbor.com file photo
"We have this idea about love and friendship shown to strangers—
felix xenia
," says
Father Nicolaos Kotsis
of Ann Arbor's St. Nicholas Greek Orthodox Church. "We want to make our neighbors and those who come visit us feel welcome. They are supposed to receive more attention than ourselves sometimes."
This sentiment is a perfect introduction to what the Ya'ssoo Greek Festival is all about. People of every cultural heritage gather together to celebrate spring with Greek food, dancing, live music, a marketplace, and tours of the neo-Byzantine church.
The annual weekend-long, outdoor Greek cultural festival will be hosted by St. Nicholas Greek Orthodox Church on Scio Church Road, on May 31 from 11 a.m. to midnight, June 1 from 11 a.m. to midnight, and June 2 from noon to 6 p.m.
PREVIEW
Ya'ssoo Greek Festival
Who: All welcome. Sponsored by St. Nicholas Greek Orthodox Church.
What: Popular cultural festival featuring Greek cuisine and homemade pastries, live Greek music and entertainment, dancing, the Agora Marketplace, the Hellenic Cultural Exhibit, and Kids' Corner.
Where: St. Nicholas Church, 3109 Scio Church Road. Shuttle and free parking at Knox Presbyterian Church (2065 S. Wagner) a half-mile from St. Nicholas.
When: May 31 and June 1, 11 a.m.-midnight; June 2, noon-6 p.m.
How much: Admission is $3 after 4 p.m. Friday and 1 p.m. Saturday; free for children 12 and under; free admission for everyone on Sunday. Visit annarborgreekfestival.org.
When making plans to attend the Ya'ssoo Greek Festival, note that the best way to get there is by taking the shuttle service. Park at nearby
Knox Presbyterian Church at 2065 S. Wagner Road
and jump on the free shuttle, which runs continuously with a short wait time.
A church member who helps promote the festival, Artemis Alex, says Ya'ssoo presents "authentic cultural experiences," which visitors from both inside and outside of Washtenaw County come to enjoy. "Being in Ann Arbor, we are multicultural to begin with. We are international with our students here and everyone else," she says, agreeing that it is easy to hold a cultural festival here. "People are excited to come and enjoy our culture and our food."
One of the biggest indicators of culture, as well as one of the best reasons to attend Ya'ssoo, is food. Church members cook up an amazing feast of entrees, sides, and desserts - one of the best meals that I have ever had. Greek beer and wine will also be served.
"They take the food seriously and with good pride that comes from wanting to please the guests and make sure they have a good time," Father Kotsis says of the church members who cook for Ya'ssoo.
The festival would not be what it is without dancing, another main feature. Dance performances by kids and teens from the church and Detroit-based group KYKLOS Hellenic Society Dancers will punctuate opportunities for the whole crowd to boogie down.
"Dancing, for Greeks, I think, is a very important expression of their joy. At weddings, baptisms, or anytime they want to express joy and the fullness of life, you'll see someone who is Greek dancing. There are many different types of dances. Several are your basic dances that are common for people of Greek heritage. The rest of them come from different areas of Greece and reflect regional histories and cultural aspects," Father Kotsis explains.
Both nation-wide and regional dances will be performed at Ya'ssoo. Younger kids in St. Nicholas' Greek school program will showcase dances that are common across Greece, while teens in the GOYA youth group's dance troupe will present some examples of localized dances. And let us not forget the beautiful, colorful costumes the dancers wear - another look visitors can take into the Greek and Greek-American culture experience.
If you are so inclined, do not hesitate to try the dances yourself. Everyone is encouraged to move around and get joyful, even if you do not know a single step. "It is great to see our neighbors from the Ann Arbor community dance. The Greek culture is always open to having people join in," Father Kotsis says, adding that there is no reason to be intimidated if you have never tried it before. "Just get up and move your arms and have fun!" he laughs.
Ya'ssoo is also a shopping opportunity. The Agora Marketplace will feature artifacts and merchandise - handmade jewelry, clothing, icons, a booth for St. Nicholas Church's bookstore, and other goods.
New this year, kids can do creative projects that have a Greek theme at the Kid's Corner. "It is a real family event. There was a demand for more kid's activities, so we are trying it out," Alex explains. Another option for the young ones is to go play on the soccer field.
Last but certainly not least, another significant aspect of culture is religion. Tours of St. Nicholas will happen throughout the course of the festival. The church on Scio Church Rd. broke ground in 2001 and services there first began in 2003, after they moved from the old Greek Orthodox church on Main Street. This year is the church community's 78th in Ann Arbor.
"What we have here is three designs of ancient churches of Constantinople brought together in a neo-classical Byzantine-style church," Father Kotsis says of St. Nicholas' architecture elements. Shapes within the church's design are inspired by the ancient Hagia Sophia (a dome within a square), Hagia Irene (a square cross), and the Church of Saints Sergius and Bacchus (a hexagon).
They are in the process of adding icons - art depicting Biblical figures and stories - around the altar. An iconographer is currently working on them in a studio in Greece. And among the art and architecture of the newer building, treasures that once adorned the church community's old building downtown go back a couple generations - namely the pulpit and baptismal font.