Posted on
Tue, Feb 5, 2013 : 5:31 a.m.
Yo La Tengo bringing a more focused sound to the Michigan Theater
By Kevin Ransom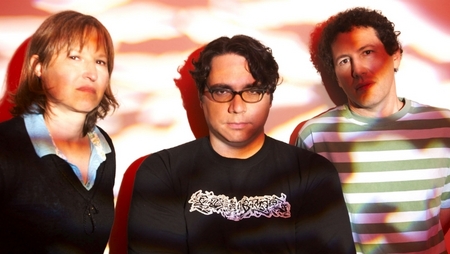 Throughout their history,
Yo La Tengo
, the indie-rock heroes from Hoboken, New Jersey, have maintained a restless artistic curiosity and an ambitiously eclectic spirit. That's been true since their 1986 debut album, and during that quarter-century-plus, they've drawn on garage-rock, jazz improvisation, Brit-folk harmonies, krautrock, soul music, art-noise guitar freakouts, and on and on.
And they're proud of not repeating themselves. They've often demonstrated that eclectic spirit by shifting musical gears from album to album. And on tour, they typically play songs differently from night to night. One night, a song might be a freewheeling, 15-minute-long improvisation, the next night it might clock in at a concise, pop-friendly four minutes.
That affinity for those extended improvisational excursions has indeed long been one of their trademarks, but on their new album, "Fade," they found themselves leaning more toward brevity.
"When we were writing and recording these songs, we didn't necessarily start out thinking that, but early on, we realized the songs were getting shorter and shorter, and that appealed to us," says James McNew (bass, vocals), who joined the group in 1992 after the band—anchored by husband-and-wife Ira Kaplan (guitar/piano/vocals) and Georgia Hubley (drums/piano/vocals)—had previously used a rotating lineup of different bass players.
"The novelty of having a lot of shorter songs this time appealed to us, so we began condensing what we might usually do," says McNew, who joins his bandmates on Friday for a show at the Michigan Theater. "But it felt natural—it didn't feel like we were forcing anything on ourselves, it felt like we were following it as it was happening. And then we got into rhythm of it. We got into a mindset, in terms of arranging the songs that way."
PREVIEW
Yo La Tengo
Who: Seminal, influential indie-rock band whose beginnings date back to the mid-1980s.
What: Eclectic, ever-shifting mix of pop, garage-rock, jazz improvisation, Brit-folk harmonies, krautrock, soul music, art-noise guitar freakouts and more.
Where: Michigan Theater, 603 E. Liberty Street.
When: Friday, 8 p.m.
How much: $27, $45. Buy tickets at Michigan Union Ticket Office, The Ark box office, ticketmaster.com and all Ticketmaster outlets. Charge by phone at 800-745-3000.
Generally speaking, with a couple of exceptions, "Fade" is also a more languid, subtle and intimate-sounding effort than many of the group's previous albums.
"That wasn't conscious," says McNew during a recent phone interview. "We just wrote a bunch of songs, recorded 13 of them, and used 10 of them, and made the best album we could make. That's definitely one side of our personality—sometimes we're loud, and sometimes we're more quiet. We're pretty naturally comfortable doing both, so neither of them ever seems to be an extreme."
A couple of those above-noted exceptions are the lead-off track, "Ohm," and the album closer, "Before We Run." "Ohm" is rousing and uptempo, and marked by bristling, jagged guitars, and "Before We Run" is similarly anthemic, but adds strings and horns to anchor the song's intense emotions with extra textures.
So, was anything going on in their world that might have inspired the comparatively more languid sound this time out?
"It's possible," says McNew, cryptically. "All of our songs, we write for ourselves, both musically and lyrically, but we try to leave the meanings open, and not define them. And we never print the lyrics. I think that's better. When I hear song on the radio, I hear it in terms of how it relates to my own life, which could be completely different than what, say, the Ohio Players might have had in mind when they wrote 'Love Rollercoaster,'" he quips.
Yo La Tengo's approach to structuring their songs is to bring their individual song sketches in to rehearsal, and then find the arrangements through jamming and improvisation. "And a lot of messing around," adds McNew. "We just start playing, and we'll discover a chord progression we like, and find a place for it, and then build up the songs from there. At at some point, the song finds its natural length. Sometimes it remains 20 minutes long, sometimes we'll whittle it down to four minutes."
And while all three members obviously have their own "main instrument," they frequently interchange musical roles.
"We all play different instruments to varying degrees of skill," says McNew. "Sometimes, one of us will spend more time learning an instrument and getting better at it, so those changes can also be heard in the music. On this record, I played more 12-string guitar than I'd ever played before. And Georgia played lot of keyboard and guitar, and I played drums on one song."
The Band employed a similarly impromptu approach, passing instruments and vocal parts around, until they discovered what sounded like the "real" version of the song.
"Yeah, and that's fun to do," says McNew. "To me, the sound of Georgia playing guitar is very apparent. I know what her style is, and neither Ira or I can capture that, and that adds to our library of tones and textures. When other people listen to the records, it's sometimes kind of a mystery. You're not sure who's playing what until you come and see our live show."
As for their dizzying romp through far-flung styles, McNew observes that "we're just fans. We like many different kinds of music, and all of it has become part of us. It all goes in, and eventually it comes out of us somehow. Sometimes, it comes out in more direct fashion—like, some songs of ours have a more prominent soul-music element."
Their spontaneous, jazz-inspired improvisational approach—both while working out the arrangements and in their live shows—comes from the band "wanting to leave things open, and letting them change and grow," says McNew. "We definitely like that spontaneity. Some songs change length every night, and different cues come at different times in the songs, and we like segueing from one song right into another. That can be a fun and freaky thing to do."
Kevin Ransom, a free-lance writer who covers music for AnnArbor.com, can be reached at KevinRansom10@aol.com.