Posted on
Mon, Mar 11, 2013 : 11:05 a.m.
Yo-Yo Ma talks about Hill Auditorium program, Silk Road Project - and UMS
By Susan Isaacs Nisbett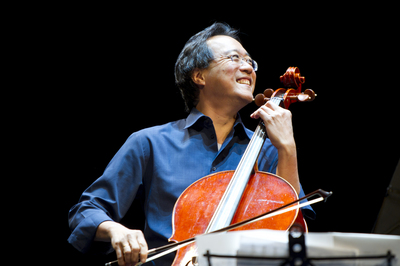 photo by Todd Rosenberg
Have culture; will travel. When superstar cellist
Yo-Yo Ma
and the
Silk Road Ensemble
return to Hill Auditorium Saturday evening—both to play and for Ma and the Silk Road Project to receive the University Musical Society Distinguished Artist Award as part of the 18th annual Ford Honors Program—it's with 15 musicians from 8 different countries. Their packs will be fully loaded with musical traditions from Japan to Persia, India to Italy, and hybrids from everywhere in between.
If the ensemble's programs take their cue from the mixing of cultures on the ancient Silk Road, they also reflect the cross-fertilization our present world permits. said Ma in a recent phone interview from Cambridge, Mass.
You get musicians like Iranian kamancheh virtuoso Kayhan Kalhor, Galician gaita player Cristina Pato and Indian tabla master Sandeep Das coming together. You get a composer and shakuhachi player like Kojiro Umezaki—Danish father; Japanese mother; raised in Tokyo, teaching in California—on the same bill as John Zorn, a downtown American composer whose "Suite from 'Book of Angels' the ensemble has arranged.
And you get highly interesting contradictions.
"So basically, here's something weird, so on the one hand a lot of the music we play comes from very ancient sources," said Ma, "but the other part is that the oldest piece of music of music we're playing is 13 years old. We like mixing tradition and innovation. They sit well together. The idea of constant evolution in culture is as necessary as in nature."
Ma notes that four of the pieces on the current program originated with ensemble members.
"The contemporary part of our program is a testament to the fact of our present world," he said. And, as he wrote aptly in materials about the group, "What better introduction to the Ensemble than through music inspired by our world travels together and the friendships we have formed along the way?"
PREVIEW
Yo-Yo Ma and the Silk Road Ensemble
Who: Superstar cellist with ensemble of acclaimed musicians in their own right.
What: Music, new and old, blending sounds from Europe, Asia and the Americas; and the presentation of the UMS Distinguished Artist Award to Ma and the Silk Road Project. (Pre-concert Ford Honors Gala dinner and post-concert afterglow; proceeds to benefit UMS education projects.)
Where: Hill Auditorium, 825 N. University Ave.
When: Concert is Saturday, 8 p.m.
How much: $20-$150, UMS Michigan League Ticket Office, (734) 764-2538, and online at ums.org.
Ma, who functions as the ensemble's artistic director, founded the Silk Road Project in 1998 to encourage deeper understanding of other cultures and beliefs. It has been a time-consuming—and highly satisfying—adventure, he said.
"It makes me aware of all the things that I don't know," he said. "For one thing, I'm sorry to say I'm the oldest guy in the group by probably a good 15 years, a generation apart. And that's really a great thing. It keeps me evolving."
The evolution has fed back not only into the ensemble but into Ma's more traditional classical music making.
"For a while, I was playing fewer concertos because I was spending so much time on the survival of the group. I had to pay a lot of attention to that, so I couldn't play a lot of concertos. Now I'm playing a lot more concertos again, and what I discovered is that I am no longer satisfied with saying, 'This is how I did it.' My ears are better. Maybe I play a little more out of tune. But I demand that the ear and the physicality of the playing are a better match. My ear is demanding more. I will not play a phrase because the notes are there and I'm OK with it.
"Where's the love? What's driving this phrase? Is there enough impetus, energy; am I in the right state of mind? We get lazy because we have it technically, and we stop thinking about why it is there. I'm more demanding now. I see that in working out the style of a piece, I have to ask all those questions."
Saturday's program marks Ma's 11th appearance in Ann Arbor under UMS auspices. The performances include orchestral dates, solo recitals and two 2009 concerts with the Silk Road Ensemble. He is thrilled to return—and to be the recipient, along with the project he directs, of the UMS Distinguished Artist Award.
UMS and the University of Michigan are "extraordinary," he said. "It's a community of students, teachers and professors and just, you know, brilliant people who know how to be individuals but also how to work in a group," he said. "So, in that sense, in terms of value-driven excellence, it's such an honor to be associated with that institution. We try to be the same as an arts organization."