Posted on
Thu, May 3, 2012 : 3:04 p.m.
You can find deals galore, then take in a burlesque show
By Ann Dwyer
FUNDRAISER
The Family Learning Institute will hold a "Bee on Board for Literacy Spelling Bee" in the Morris Lawrence Building on the WCC campus on Friday. 7 p.m. Doors open at 6:30 p.m. with drinks, hors d'oeuvres, and music by the Community High Jazz Band. FLI has helped more than 800 economically disadvantaged students improve their reading, writing and math through free, one-on-one academic intervention. The Bee is FLI's major annual fundraiser. $35. WCC is at 4800 E. Huron River Drive, Ann Arbor. 734-973-3300.
SHOPPING
It will be "Midnight Madness" in downtown Ann Arbor Friday night. There will be music and entertainment from 7-9 p.m. Celebrate "Quatro de Mayo" with participating businesses who will be staying open late, offering specials and sales throughout the day. No cover; price of purchases.
MUSIC
See Cairn to Cairn, featuring David Mansfield, at the Ark on Friday. 8 p.m. The band's upcoming album contains new melodic originals with lush classic reinterpretations. This is the official CD release performance featuring David Mansfield. $15. The Ark is at 316 S. Main St., Ann Arbor. 734-761-1800.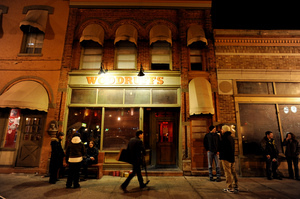 Melanie Maxwell | AnnArbor.com
DANCE
The Tickled Fancy Burlesque Company will bring their tour to Woodruff's on Friday. 9 p.m. Ann Arbor's own burlesque show will include special guests including, Detroit's Lula LaRose, Satori Circus and all the way from Chicago, Cruel Valentine and Bella Bathory. $7 and $10. Ages 18+. Woodruff's is at 36 East Cross St., Ypsilanti.
SHOPPING
Huron Hills Church will hold a "Huge Garage Sale" on Saturday. 8 a.m.-2 p.m. Find clothing for all ages, housewares, tools, linens, furniture, toys, books, games, bikes, sporting goods and much more. The funds will go toward the youth mission trip to Mexico. Cost of purchases. The church is at 3150 Glazier Way, Ann Arbor. 734-769-6299.
ETC.
The "Ann Arbor Juggling Arts Festival" returns to the Wide World Sports Center on Saturday. 10 a.m.-5 p.m. Jugglers and non-jugglers alike are invited to the festival for games, workshops, lessons, prop vendors and open juggling. $2 admission. WWSP is at 2140 Oak Valley Dr., Ann Arbor. 734-913-4625.
ANTIQUES
There will be a "Spring Antique Appraisal Clinic" at the Dexter Area Historical Society & Museum on Saturday. 10 a.m.-3:30 p.m. The appraisers are from DuMouchelles Art Gallery in Detroit and have knowledge covering many categories. Admission is free. Appointments are 15 minutes for the verbal appraisal with an asking donation of $7 per item appraised. To schedule an appointment and for additional information, call 734-424-9998. On Saturday, call the museum at 734-426-2519. Proceeds benefit the museum. The museum is at 3443 Inverness St., Dexter. 734-426-2519.