Posted on
Thu, Jun 21, 2012 : 5:58 a.m.
You'll have 2 opportunities to see Mitch Ryder today, but only 1 to see Esperanza Spalding
By Ann Dwyer
MUSIC
You'll want to get downtown today to see Mitch Ryder at Sonic Lunch Liberty Plaza. Noon-1:30 p.m. It was Mitch Ryder who served as the musical bridge between the Motown soul factory and the high energy, take no prisoners rock 'n' roll that would roar out of Detroit. He's certain to give a high octane, turbo, super charged performance. Free. On the corner of Division & Liberty St., Ann Arbor. http://soniclunch.com/.
BOOKS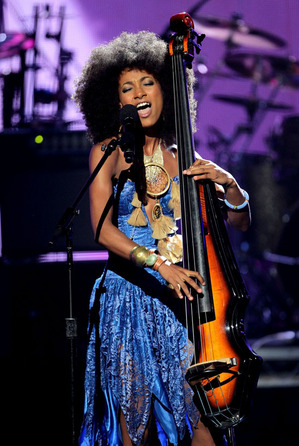 Courtesy photo
Can't get enough Mitch Ryder? The legendary rock-and-roll icon will discuss and sign his new autobiography, "Devils & Blue Dresses: My Wild Ride as a Rock and Roll Legend" at the Ypsilanti District Library. 7 p.m. Ryder will talk with Martin Bandyke about the ups and downs of a stellar career spanning six decades. The evening will include a Q&A with the audience. Free. YDL is at 5577 Whittaker Road, Ypsilanti.
FESTIVAL
The Ronald McDonald House of Ann Arbor will hold a "Family Festival of Hope Celebration" in the Main Street area of downtown Ann Arbor. 5-9 p.m.This ultimate street fair will provide fun for all ages with entertainment, face painting, balloon animals, photo booth, surprises and more. The Verve Pipe will perform. Admission is free. On the corner of South Main and Liberty streets, Ann Arbor.
FESTIVAL
"Sounds & Sights on Thursday Nights" continues in Chelsea. 6:30-8:30 p.m. The festival runs weekly through Aug. 16. In addition to musical performances, there are a variety of children's attractions and activities including face painters, jugglers, balloon artists and magicians. See a complete schedule here: chelseafestivals.com/soundsights/schedule/. Most events are free. On Main Street in Chelsea.
CARNIVAL
The Ann Arbor Jaycees 61st annual Summer Carnival at Pioneer High School runs through the weekend. Thursday and Friday: 4-11 p.m.; Saturday: 1-11 p.m.; Sunday: noon-8 p.m. From Tilt-a-Whirl to elephant ears, head to this fun-filled family event. Unlimited ride wristbands cost $20. There is a minimum ticket purchase of $5 for admittance after 9 p.m. and no admittance after 10 p.m. Carnival hours and ticket prices are subject to change. Pioneer High is at 601 W. Stadium Blvd., Ann Arbor. 734-994-2120.
MUSIC
Act fast to get tickets to see Esperanza Spalding at the Power Center as part of the Ann Arbor Summer Festival. 8 p.m. With a unique and style-spanning presence, Spalding became the first jazz musician to receive the Grammy Award for Best New Artist in 2011, beating out Justin Bieber. You should support her for that fact alone. $50, $45, $40, $30. Tickets available by phone at 734-764-2538, online through A2SF.org, or in person at the Michigan League Ticket Office, 911 N. University Ave. The Power Center is at 121 Fletcher St., Ann Arbor. 734-763-3333.
STORYTELLING
See "Story Collider: Where Science And Storytelling Combine!" at Live/The Last Word (formerly Live at Pj's/Goodnite Gracie's). 7-9 p.m. Story Collider is an evening of entertaining, personal stories about science. Presenters tell their stories --f rom the hilarious to the poignant -- about how science impacted their lives in a relaxed, fun setting. The session was packed, so arrive early. Find out more about Story Collider at storycollider.org. For ages 21 and over. Live is at 102 S. First St., Ann Arbor. 734-623-1443.
MUSIC
Sh\'Aut\ Cabaret will present "Monsters, Madmen and the Whimsically Twisted." 7:30 p.m. Hear songs from Broadway's slightly "off center" characters, including those from Phantom, Victor/Victoria, Grey Gardens, Passion and many more. Free and open to the public. On the patio at 315 Braun Ct., Ann Arbor. 734-994-3677.