Posted on
Sat, Mar 16, 2013 : 11:35 a.m.
Young Ann Arbor violinist to participate in national youth orchestra
By Susan Isaacs Nisbett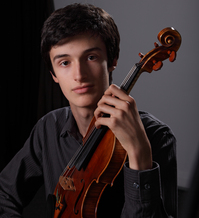 When the
National Youth Orchestra of the United States of America
undertakes its inaugural tour this summer—from Washington, D.C.'s Kennedy Center to Moscow, St. Petersburg and London—its ranks will include Pioneer senior
Giancarlo Latta
.
Latta, a 17-year-old violinist who is the son of Joanne Tangorra and John Latta of Ann Arbor, was one of 120 exceptional young musicians ages 16-19 to be selected for the orchestra, created by Carnegie Hall's Weill Music Institute. The program's goal, according to Carnegie Hall press materials, is "to shine a light on the extraordinary talent of young American instrumentalists, offering each NYO-USA member a transformative musical and cultural experience as they develop their musical skills, receive training at the highest professional level, and travel abroad, serving as musical youth ambassadors for the U.S. "
Three other musicians from Michigan—Cullen O'Neil, cello (Kalamazoo); Caelan Stewart, horn (Clarkston); and Jacob Warren, bass (South Lyon)—also made the cut.
All four join peers in the first year of this tuition-free program that begins with an intensive two-week residency at SUNY-Purchase, directed by James Ross, associate director of the Juilliard School's conducting program and artistic director of the National Orchestral Institute at the University of Maryland.
At the end, Ross and the faculty turn their protegees over to famed Russian conductor Valery Gergiev, who leads the orchestra on tour in the U.S. and abroad. U.S. superstar violinist Joshua Bell tours with the orchestra, soloing in the Tchaikovsky Violin Concerto. Other repertoire for the tour includes the Shostakovich Symphony No. 10 in E Minor and a new work by young American composer Sean Shepherd, co-commissioned by Carnegie Hall specifically for NYO-USA.
Violinist Latta got interested in the NYO-USA when the project was announced about a year ago.
"I read about it, and I mean, it sounded like a great thing, obviously," he said in a phone call. "It got a lot of attention when they first announced it. There's so much to like about it. So I decided to apply."
The main attractions were opportunities to work with artists like violinist Bell and Gergiev, and to gain more orchestral experience.
"That's something I haven't had a lot of, other than with the school orchestra. That's part of the reason to seek this out," he said. And the tour was icing on the cake. "That's not something I've ever really done," he said.
Latta began studying violin at age 6 with Anna Bittar Weller. His current teacher is famed violin pedagogue Almita Vamos at the Music Institute of Chicago's Academy for pre-college musicians, where he is an Academy Special Merit Scholar, a distinction awarded to students demonstrating an "unusually elevated level of proficiency and musicianship." He's been doing this Chicago commute for five years.
He has performed with the Toledo Symphony and the Dexter Community Orchestra as a winner of their concerto competitions in 2011 and 2012, respectively. He has also performed with the Oistrach Symphony Orchestra as a winner of the Eighth Annual DePaul Concerto Festival for Young Performers, and has won prizes in the Birmingham Bloomfield Symphony Orchestra Young Artist and the Society of American Musicians competitions.
A passionate chamber musician, Giancarlo is a member of Quartet Enigma at the Music Institute of Chicago, and has studied chamber music with members of the Cleveland and Cavani quartets and the Lincoln Trio. As a member of the Calliope Quartet, Giancarlo won the SHAR String Quartet Competition in 2012 and 2010. He is the founder and leader of the Pioneer Chamber Orchestra, a conductorless string ensemble based at Pioneer High School.
He has attended the Chautauqua Music Festival, the Meadowmount School of Music and the Ithaca Suzuki Institute's Preludio Violin Program. He was concertmaster of the Pioneer High School Symphony Orchestra for performances in Vienna, Salzburg and Munich in April 2011, and was previously concertmaster of the Ann Arbor Youth Symphony Orchestra.
Latta has now completed his auditions for college music programs and is awaiting the results. But he said an eventual orchestral career has appeal. "Especially if it was an orchestra that travels occasionally. I like traveling a lot also."