Posted on
Fri, Mar 1, 2013 : 1:07 p.m.
Young Saline performers aim to raise money for technology and eliminating tetanus
By Ann Dwyer
The children are our future. Take that as you want, but they need our help and to entertain us. That's why Y.A.P. at You: The Saline Young Adult Talent Show is so perfect. They'll sing and dance for your amusement and to benefit their technology program.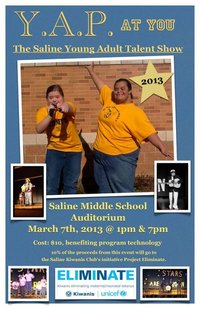 Additionally, 10 percent of the proceeds from the event will go to the Saline Kiwanis Club's initiative Project Eliminate. The project aims to eliminate tetanus from the planet. They seek to "reach the poorest, most neglected mothers and babies with additional lifesaving health care," according to their
website
.
Thursday, March 7, 2013. 1 and 7 p.m. $10. Saline Middle School is located at 7190 Maple Road, Saline. 734-429-8070.