Posted on
Wed, Apr 14, 2010 : 11:45 a.m.
Ypsilanti author C.L. Anderson wins Philip K. Dick Award for science fiction
By Kurt Anthony Krug
Between 2006 and 2009, science-fiction novelist Sarah Zettel had a tough time getting her work sold.
However, she is making up for that rough patch with a vengeance as her latest novel, "Bitter Angels"(Spectra, $7.99) — which she wrote under her new pseudonym, C.L. Anderson — won the Philip K. Dick Award earlier this month.
Dick was an award-winning science-fiction author who is arguably best known for the book "Do Androids Dream of Electric Sheep?" — the inspiration for the 1982 Harrison Ford movie "Blade Runner." Upon his death in 1982, an award was named in his honor and is given annually to the best original science-fiction paperback published each year in the United States.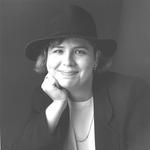 "It's an award for the best science-fiction or fantasy novel to be released as a mass market paperback in a given year," explained Zettel, 43. "The idea is that most awards and reviews go to books released as hardback books, so an award for paperbacks would call attention to the excellent work released in that form."
The award is judged by a committee of authors and editors who read the science-fiction and fantasy novels that are released during a given year, then decide on a list of finalists and vote. One of the many past recipients of the Dick Award include William Gibson, who penned 1984's "Neuromancer" and ushered in the "cyberpunk" sub-genre of science-fiction.
"It is high-powered company, and I'm honored to be included," said Zettel. The author, a 1988 University of Michigan alum, lives in Ypsilanti with her husband, Timothy Smith, an aerospace engineer, and 8-year-old son Alexander.
Zettel was unaware her novel was even being considered, nor was she present for the ceremony in Seattle when it was announced she won.
"I was stunned. Absolutely stunned. Elation came a few seconds later," she said. "I found out at about a half-hour past midnight on April 3. The only reason I was awake was even awake was I'd gotten up to check to see if anybody had posted the award results online yet. I was so convinced that I hadn't won. When the phone rang, I was actually annoyed that we'd gotten a wrong number so late. When I picked it up, (I heard fellow author and Kalamazoo native) Nisi Shawl telling me I'd won."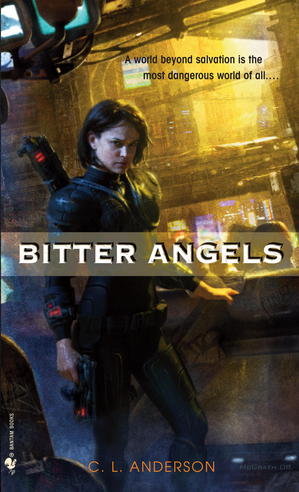 "We were startled and extremely happy to hear about Sarah winning the (award)," said fellow author Steven Piziks of Ypsilanti. "'Bitter Angels' deserves it, though. Not only is it a great story, it's a powerful commentary on our attitudes toward war."
One constant in Zettel's work is writing about strong female protagonists, and "Bitter Angels" is no exception. The story centers on Terese Drajeske, an ex-field commander for the Guardians, a special forces unit for the United World Government for Earth. Retired from the military life and now a mother of three, Terese learns about the murder of her friend and colleague Bianca Fayette, and returns to the fold.

"Terese is much more damaged than my previous characters," said Zettel. "She is very much the wounded veteran being forced back into the service."
According to Zettel, "Bitter Angels" came from the idea of wanting to write about peace.

"When science-fiction envisions a future without war, it frequently requires a change to the fundamental human nature or genes, usually imposed by some outside power without permission. Alternately, the peace comes about because of the implementation of a totalitarian regime nobody in their right mind would want to live under," explained Zettel.
"I wanted to write about a future where peace was a human choice, implemented over the course of years. What would it take to maintain peace when humans still are prone to violence, and where power still corrupts? Who would be charged with the job and what would they have to do to without resorting to totalitarian tactics and, more importantly, without running the risk of starting the war they're trying to prevent?"
Asked why she wrote under a pseudonym, Zettel said it was per her publisher's request. She still plans to write books under her both own name and pen name, especially since she won this award as C.L. Anderson.
"Sometimes a new name can bring a new perspective with it," she said. "That's OK. C.L.'s done good work so far and I expect 'she' will continue to."