Posted on
Sun, Jul 29, 2012 : 5:20 a.m.
Ypsilanti District Library hosting an ocean full of shark art
By John Carlos Cantu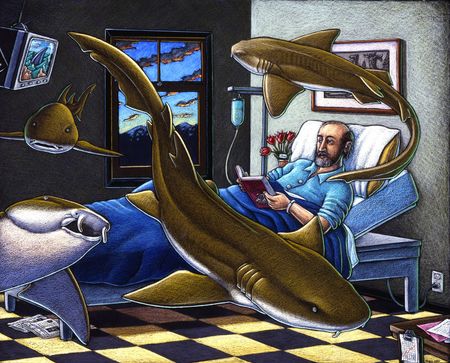 Ray Troll's exhibit "Sharkabet: A Sea of Sharks from A to Z" is taking a fanciful bite out of Ypsilanti this summer.
Troll, a decidedly offbeat scientifically-oriented artist who resides in the "Tongass Narrows in rain-swept Ketchikan Alaska," as his biography tells us, "brings a street-smart sensibility to the worlds of ichthyology and paleontology."
It's certainly reflected in his "Sharkabet" book whose colored images have been print enlarged and put on display at the Ypsilanti District Library Whitaker Road Branch.
As the bio continues, Troll "has appeared on the Discovery Channel; lectured at Cornell, Harvard and Yale; shown work at the Smithsonian; and has even had a ratfish named after him (a New Zealand species called Hydrolagus trolli). Not too bad for a T-shirt-wearing kinda guy."
Not bad, indeed. And the same can be said of the art in his "Sharkabet," which started as a children's book when he found that nothing along this line had been published.
The result, as the YDL "Sharkabet" gallery statement says, is an exhibit that's "a fun way to explore sharks.
"Consisting of panels and text," continues the statement, Troll's art "presents an alphabet of living and extinct sharks in a series of colorful, whimsical, yet scientifically accurate drawings."
Kid's play—well, maybe not. In some instances, surreal might be a better way of putting it.
What Troll has otherwise done with "Sharkabet" is to study this formidable creature with an eye that's quite keen and then translated what he's learned through an equally keen visual perspective. So if his work is "scientific," it's also science with a definite edge.
And maybe this is the whole point, because there's enough edginess in these sharks to go around. Start with the fact that some of Troll's observations revolve around sharks that existed up to 300 million years ago. Granted, no one can really know what those creatures looked like back then, but Troll has poured enough time, energy, and study to give us a good glimpse of what they might have looked like.
Some of the seriously vicious-looking creatures that Troll's conjured are "Helicoprion" (a buzz-saw toothed shark that arose in the late Carboniferous period 280 million years ago); "Iniopterygian" (a shark that lived from the Devonian to Carboniferous periods of 345-280 million years ago whose elongated pectoral fins allowed them fly like today's modern-day flying fish); and "Megalodon" (one of the most powerful predators in vertebrate history that lived roughly from 28 to 1.5 million years ago, during the Cenozoic Era, and which looked like an unsettling massive, bulkier version of today's great white shark).
This leaves room for 23 other alphabetical specimens—most of them roaming oceans today—and most of which should make us thankful for the fact that open water isn't nearly as dangerous place as it was once-upon-a-time. Among these current shark versions are the frightfully delightful "Japanese Devil Ray" whose expansive fins and horns are quite impressive; the long, toothy-snouted "Queensland Sawfish"; and the current largest fish alive, the "Whale Shark," that's as long a school bus.
Troll even throws the rule book away with the stray composition that flies in the face of reason. For example, his "Goblin" shark (first found off the coast of Japan at the turn of the 20th century) is depicted smiling cheerfully behind a pile of underwater jack o'lanterns festively hanging out with assorted landlubbing monsters.
Likewise, his "Nurse" shark finds Troll himself resting in hospital surrounded by this decidedly dangerous-looking bottom-dweller. It's obvious from his surreal "Nurse" composition that this part artist and part paleontologist has found a subject he can really sink his teeth into—and vice versa.
"Sharkabet: A Sea of Sharks from A to Z" will continue through Aug. 19 at the Ypsilanti District Library-Whittaker Road Branch, 5577 Whittaker Road, Ypsilanti. Community Room Exhibit hours are 9 a.m.-9 p.m. Monday-Thursday; 10 a.m.-6 p.m. Friday-Saturday; and 1-5 p.m. Sunday. For information, call 734-482-4110.