Posted on
Mon, Dec 5, 2011 : 5:50 a.m.
Ypsilanti native in finals of TV's 'X Factor' - in Germany
By Bob Needham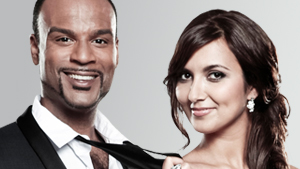 An opera singer from Ypsilanti has made it all the way to the finale of the German edition of the television talent franchise "X Factor."
Joe Guyton was born and raised in Ypsilanti, and he attended St. Francis and Gabriel Richard schools in Ann Arbor—spending his final year and graduating from Interlochen, the prestigious music academy in northern Michigan.
As his mother, Sharon Guyton of Ypsilanti, explained recently, Joe is primarily an opera singer, and has lived in Germany for a while, as opera tends to be more popular in Europe than it is here. When a female singer he worked with in Germany suggested the two try out as a duo for the German "X Factor," they only had a week to prepare—but under the name Nica und Joe, they've done very well, and this week finds them in the finale along with two other acts.
"The X Factor" is a televised competition originating in England, the creation of former "American Idol" judge Simon Cowell. Different editions of the show air in more than a dozen countries; the German edition is in its second season. Winners get a professional recording contract.
Speaking on her way to catch a plane, Sharon Guyton said the show was flying her to Germany for a weeklong stay so she can see the finale, which takes place Tuesday. It is expected to be available on the show's website about 5 p.m. EST on Tuesday.
Elisa Guyton, Joe's sister-in-law, said the family has been gathering at the computer each week to watch Nica und Joe move on in the competition.
"This has been so amazing," she said. "The kids watch his performances over and over ... Most of the time when he's singing I'm just in tears, because I'm so proud and so happy."
Although most of Nica und Joe's performances have been of pop songs, they have worked opera in as well. Elisa Guyton said Joe's goal is to bring opera to the masses, especially in the U.S.
"It's all of our dreams come true for him," she said of his success on TV.
Watch Nica und Joe perform "I Want to Know What Love Is" on the German "X Factor" website.
Listen to Nica und Joe perform "All By Myself":