Posted on
Fri, Feb 15, 2013 : 9:50 a.m.
Ypsilanti Pipe Organ Festival to feature 'Music from Sainte-Clotilde'
By Ann Dwyer
If the pipe organ sounds antiquated to you, perhaps it's time to get acquainted at the Ypsilanti Pipe Organ Festival. On Sunday, the festival will feature "Music from Sainte-Clotilde."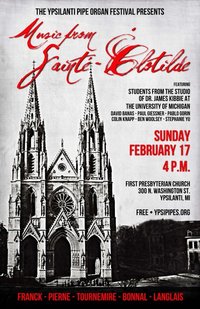 "Students from the studio of Dr. James Kibbie at the University of Michigan will present music by the five great organist-composers of the Basilica of St. Clotilde in Paris—Cesar Franck, Gabriel Pierne, Charles Tournemire, Joseph-Ermend Bonnal, and Jean Langlais," according to the press release.
These composers started the "The Saint Clotilde Tradition" when Franck—who played the Cavaillé-Coll pipe organ at the Basilica of St. Clotilde until his death—was replaced by his former student, Gabriel Pierne. Pierne was, in turn, replaced by another student of Franck's, Charles Tournemire.
The Ypsilanti Pipe Organ Festival seeks to making the instrument and its music "relevant to modern audiences by providing free, widely accessible concert events." Find out more about the festival at wp.ypsipipes.org.
Sunday, February 17, 2013. 4 p.m. Free. At the First Presbyterian Church of Ypsilanti, 300 N. Washington St., Ypsilanti. 734-482-1525.