Posted on
Tue, Feb 15, 2011 : 5:59 a.m.
Ypsilanti District Library exhibit showcases Peanuts cartoons of Snoopy as flying ace
By John Carlos Cantu
courtesy of ExhibitsUSA
Perhaps the single most interesting aspect of Charles M. Schulz's Peanuts was how the famed long-running newspaper comic strip (Oct. 2, 1950 to Feb. 13, 2000) used its pint-sized younger set to depict how life's often half-empty cup might turn out to be half-full by the end of the day.
Such was the bittersweet fate of good ol' Charlie Brown, often called a loser. But Schulz also crafted a winner in that comic strip. And when he did, not only did his work dramatically change—so did American popular culture.
The exhibit "Snoopy as World War I Flying Ace" at the Ypsilanti Public Library-Whittaker Road Branch illustrates the martial adventures of this most unusual of heroes: a droopy-eared beagle who gained heroic proportion as much for what he didn't do, as for what he did.
Snoopy made his first appearance two days after the strip premiered on Oct. 4, 1950. But it would take a change of ownership (he didn't originally belong to Charlie Brown) and another 15 years (Oct. 10, 1965) for him to don goggles and flying helmet to famously fly his dog house in pursuit of the infamous World War I aviator fighter ace Manfred von Richthofen, Germany's Red Baron.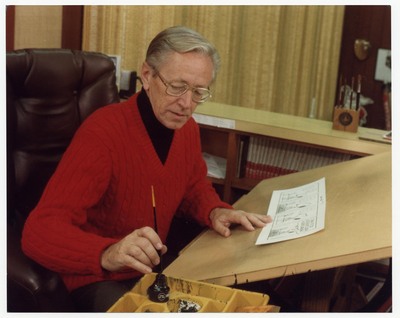 courtesy of ExhibitsUSA
As Schulz said in a 1970s interview (as quoted by exhibition organizers ExhibitsUSA, in one of the display's three gallery statements): "My son Monte claims to have been the one who gave me the idea for Snoopy chasing the Red Baron in his World War I flying gear while atop his 'Sopwith Camel' doghouse. "I, of course, deny that he actually gave me the idea, but I will admit that he inspired it, for at the time he was very much involved with building plastic models of World War I airplanes.
"It was an afternoon," concludes Schultz, "when he was showing me one of his models that I drew a helmet on Snoopy and placed him in a pilot's pose on top of his doghouse. The whole thing kind of fit together and I knew I had one of the best things I had thought of in a long time."
Best thing, indeed. Snoopy had long graduated from single-word thought bubbles to a full-fledged anthropomorphic character who was often more than one step ahead of his human master. In fact, as the 40 daily and expanded Sunday strips in this display show us, it's often difficult to tell who's more in command of any given situation—the boy or his dog—because Snoopy's heroics touch the outer bounds of valor with a kind of panache previously unseen in newspaper comic strips.
Krazy Kat might have been a bit more cerebral early on. And Garfield would afterward have his own unique personality. But they are mere cats. There had also been plenty of other dogs populating the Sunday section with their antics, but even the later entry Marmaduke doesn't have as much derring-do as the fighter ace.
Snoopy's antics involve danger and bravery, whether fantasy or not. In the guise of the fighter ace, he's always on the hunt while being hunted. Snoopy proved to be a hero in his time, the Baron's time—and our time, too.
Schultz's economy of line in the strip was always a marvel. His ability to convey complex information with the slightest visual articulation was well matched by his ability to condense complex emotional thought into a juvenile frame of mind. This insight is, after all, the considerable wonder of Peanuts.
But as Snoopy's "World War I Flying Ace" shows us, Charlie Brown's dog broke all conventional bounds of the already malleable comic strip. His adventures verged on the surreal, and they must have been a welcome change of pace for the cartoonist.
This may be why Snoopy became the most recognizable character in the beloved strip. The irony, of course, is that Snoopy never did catch up to his mortal arch-enemy. But then again, neither did his arch-enemy ever quite catch up with him. And it's because of this sometimes loopy optimism, filigreed with an exceptional charm and a twinge of good luck, that makes Snoopy a hero worth celebrating today.
"Snoopy as the World War I Fighting Ace" will continue through March 11 at the Ypsilanti Public Library-Whittaker Road Branch, 5577 Whittaker Road, Ypsilanti. Community Room Exhibit hours are 9 a.m.-9 p.m. Monday-Thursday; 10 a.m.-6 p.m. Friday-Saturday; and 1-5 p.m. Sunday. For information, call 734-482-4110.