Posted on
Sat, Dec 3, 2011 : 8:20 a.m.
Ypsilanti Youth Orchestra set to premiere local 14-year-old composer's work on Sunday
By Jenn McKee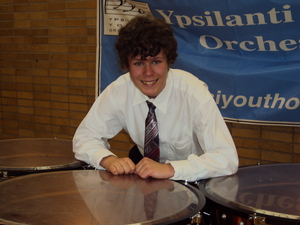 Spencer Gravel, whose piece will premiere on Sunday.
A musical tribute to a 1958 Great Lakes freighter wreck will have its world premiere at the Ypsilanti Youth Orchestra's concert on Sunday.
Oh, and did I mention the composer of the piece, "Southeast of Gull Island: The Wreck of the Carl D. Bradley," is Spencer Gravel, a 14-year-old, 8th grade student at Ann Arbor Learning Community?
"I started (composing) when I was 9," said Spencer. "At first I was just trying to write things down, not because I had something specific that I really wanted to write down, but because I really admired other composers that I'd heard on TV and on the radio, and I wanted to be like them. So I had my mom teach me how to write the music down, then I wrote random notes, and eventually came up with some tunes to write down. And at around that time, I got some musical software to help me, so I could listen to what I was writing."
Spencer had begun taking piano lessons just as he started composing, but he generally preferred trying to play songs by ear; and shortly thereafter, he began playing percussion in his school's band.
But Spencer's mother, Trisha Miller, who studied music education in college before choosing another path, has also played a significant role in her son's music education.
PREVIEW
Ypsilanti Youth Orchestra concert
What: The concert will feature the premiere of 14 year old Spencer Gravel's "Southeast of Gull Island: The Wreck of the Carl D. Bradley."
Where: 105 N. Mansfield in Ypsilanti.
When: Sunday, December 4 at 3 p.m.
How much: Admission is free.
"My mom has been playing music for me since before I was born, and a lot of it has been classical music," said Spencer. "I just heard it on the radio, and I've gone to a lot of concerts, too. I have always also been aware that a lot of other people (my age) didn't like it as much as I did. But that didn't make me want to listen to other music that much."
YYO's director, William R. Hayes, had initially asked Spencer to write something for the group.
"I knew I wanted to tell a story with it, but I didn't know what," said Spencer. "At first, I thought about doing a Greek myth. But the previous summer, I'd read about the Carl D. Bradley in a book, and I remembered that it might be good story. I did some research to see what it was like, and I considered other shipwrecks as well, but I just decided that it would be a very good story. It was fairly recent for a shipwreck - it wasn't from the 1800s or anything - and it was very tragic. 33 out of 35 people on board the ship died, and the ship had been one of the biggest ships on Great Lakes for a while. So I thought it would give e the chance to have a section of the piece that was grand, and it wouldn't all have to be horrible and tragic. There were a couple of survivors, so I could learn more about wreck itself, and have more information to base (the piece) on."
Spencer's 11-year-old sister Sylvia, a 6th-grader, will play flute for her brother's musical premiere. But don't expect to see Spencer on the podium on Sunday, baton in hand.
"Mr. Hayes, the director, asked me to conduct it, but I said I'd rather just play timpani for the first public performance of my work," he said. "Because I love playing the timpani."
Jenn McKee is the entertainment digital journalist for AnnArbor.com. Reach her at jennmckee@annarbor.com or 734-623-2546, and follow her on Twitter @jennmckee.