Ypsilanti's Threefold Productions to present 'Pretty Fire' and 'The Pillowman'
Posted on Thu, Jul 19, 2012 : 10:22 a.m.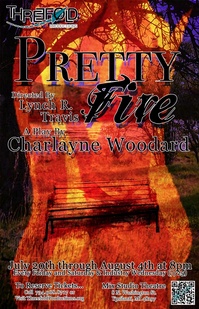 Ypsilanti's newest theatre company, Threefold Productions, recently announced the first two shows of its 2012-13 season.

First, "Pretty Fire," written by Tony nominee Charlayne Woodard, follows one woman's struggle to find her voice in a small suburb of New York during the Civil Rights era.

Lynch R. Travis is directing the production, and in a press release, Travis said, "I share the playwright's ability to recall and find importance in the events that occurred in within her family when she was a very small child. Some of those stories are warm and happy memories, while others are terrifying and mysterious, and in many ways, I believe our childhoods can be both the best and worst times of our lives."

Woodard's one-woman show is an untraditional theatrical piece, separated into a series of short vignettes that transports audiences back home, wherever that may be, and through the "Pretty Fire."

Threefold Productions has also decided to undertake "The Pillowman," a script by Martin McDonagh that follows an unsuccessful author and his emotionally stunted younger brother as they are interrogated by two bulldog policemen about their potential involvement in a recent string of child murders.

Director Sarah Lucas said, in a prepared statement, "I have always loved taking challenging, big shows and finding a way to make them work in small spaces. I think the intimacy that the MIX Studio Theater offers will only enhance the general (discomforting nature) of the piece and force myself, my designers, and my cast to find a new way to tell this story."

"Pretty Fire," starring Qamara Black, is scheduled to run July 20 through August 4. "The Pillowman," starring Evan Mann, Brooklyn Dimitri, Sean Sabo, Jon Ager, Monica Kozakiewicz, Julia Garlotte, and Zac Hendrickson, and directed by Lucas, will open September 21 and run through October 13.

Both productions will be held at The MIX Studio Theatre in Ypsilanti, at 130 W. Michigan Ave. Tickets - $18 ($15 for students/seniors) each - can reserved on online at www.threefoldproductions.org. For more information email info@threefoldproductions.org.