Posted on
Wed, Aug 28, 2013 : 10:32 a.m.
Zingerman's Deli: something old, something new, something more than just really good food
By Kim Bayer
Even if you've lived here for decades, I say you're not a confirmed Ann Arbor townie until a hapless visitor driving in rolls down their window to ask, "Can you tell me how to find Zingerman's?"
Zingerman's is now officially the Zingerman's Community of Businesses, aka ZCOB, with nine interrelated Ann Arbor food ventures managed by 18 partner/owners. But the pilgrims seeking to worship at the shrine of the Z are inevitably questing for the Zingerman's Deli hidden on a tiny, cobbled, one-way block of Detroit Street in Kerrytown near the Ann Arbor Farmers Market.
With the completion this year of an epic six-year construction project to tie adjoining properties into a single Zingerman's "campus" (and adding new operational and seating capacity for the Deli) I wanted to understand what has changed at the 31-year-old Ann Arbor icon and what has remained the same.
RESTAURANT REVIEW
Zingerman's Deli
422 Detroit St., Ann Arbor, MI
734-663-3354
http://www.zingermansdeli.com
Hours: Daily 7 a.m. - 10 p.m.
Plastic: All
Liquor: None
Prices: Moderate. Sandwiches $6.99-$15.99
Noise level: Moderate to loud
Wheelchair access: Yes
The acute-angled brick Deli building remains the lynchpin and main entry point at the north end of the colorful Zing compound. At the south end of the property is
Zingerman's Next Door
. But in between now the Deli is connected to the house next to it (where takeout functions) and to an entirely new two-story shoebox of a building where much of the new operational capacity and seating resides.
From what I could gather, the number of seats has roughly doubled both inside and out. And seating options are legion, from outdoor decks upstairs to a downstairs dining room with a wall of garage doors flung open in good weather, and a cavernous open dining hall in between. The tent is gone from the patio, replaced by green and blue umbrellas over dozens of picnic tables.
Even with all the changes, entering the Deli appears much the same: up a step to the original front door, tiny black and white tiles on the floor, wooden bread counter on the right, and the glass cases with pale cheeses and ruddy meats from around the world circling from the left.
But the retail space has subtly expanded, with more high-end shelf stable groceries, like line-caught tinned fish and traditionally made pastas. A new connector shelved with books now leads to a large holding area where a new deli case filled with familiar sides fronts the open kitchen. Offering words of welcome from their posts at the case, perky young acolytes stand by with Z-pads, ready to take your order.
To get a sense for the "old" (or perhaps I should say "classic") Zingerman's, I organized a tasting party around the variations of a deli staple for which Zingerman's sets the gold standard — the Reuben. Zingerman's offers five different Reubens on its recently updated 600+ item menu.
Most often defined by thinly sliced corned beef with sauerkraut, Swiss cheese and Russian dressing on grilled rye bread, the Reuben's original birthplace is contested. Whether it was Omaha or New York, our group's "Reuben-o-rama" shed no new light on the creation myth of the sandwich, though we did our utmost to evaluate variations hailing from Georgia and Montreal, and from Brooklyn to Cowboy country.
Each was, no surprise, delicious. They were also expertly grilled, conscientiously wrapped for take-out, and each cut into quarters as I requested. Zingerman's is known for being king of customer service as well as sandwiches after all.
Although tasty, I'm not sure why the #18 Georgia Reuben with turkey, or the #123 TNT Cowboy Reuben with BBQ beef brisket and provolone cheese belong in the Reuben hymnal. The Georgia Reuben is a great turkey sandwich, lighter than a regular Reuben, with grilled rye bread enclosing a small mountain of thin-sliced turkey breast and crunchy purple-spiked coleslaw — but I question calling it a Reuben. Of the juicy and amply endowed Cowboy Reuben, one of our tasters noted, "This tastes like a great sloppy joe." I called it Reuben-esque. My beef is that neither of these sandwiches combines the essential qualities of meat, bread, sauce and kraut that would earn it the name Reuben.
Regarding the other Reubens, there were strong proponents for #48, Binny's Brooklyn Reuben, with excellent peppery pastrami and pumpernickel, rather than corned beef and Jewish rye. And there was a vote for the appealingly smoky #43, Muno's Montreal Reuben with a thick stack of Montreal Smoked Meat on rye.
After sincere contemplation of the various Reuben paths, I remained unconverted. The #2 Zingerman's Reuben is still the one true Reuben for me. It is the Reuben that all others aspire to being; one friend described it simply as "canonical." The Jewish rye is thick and crusty, the stacked leaves of pink, thin-sliced corned beef are juicy and thick as a pocket Torah, and the Swiss cheese adds a little dairy richness. The combination of top quality ingredients and the variety of textures with the incredible house-made Russian dressing and naturally fermented sauerkraut make this the sandwich grail to me. There is no Reuben but the #2 Reuben, which is the best it has ever been as a result of a change that happened last year.
By switching to The Brinery's locally grown and fermented sauerkraut in 2012, Zingerman's made a change to the original Reuben which Chef/Owner Rodger Bowser says had been the same since the day they opened, save for the switch to their own Bakehouse bread. Bowser told me that incorporating the Brinery's products is "one of the coolest things I've done here at Zingerman's because it touches so many different places on the menu." And because the Brinery is now contracting with local farms to be able to supply Zingerman's, Bowser says it's "not just a better sandwich, it's a better community."
Although the sandwich recipes don't change often, according to Bowser, Zingerman's Deli releases a new menu about once a year. Their latest, released in June, includes more than a half dozen new "picnic" options for solo diners and couples, along with four new sandwiches, setting the stage for the investigation of the "something new" part of this review.
The availability of a "cone of meat," made up of slices from the various charcuteries behind the Zinger meat counter, used to be a townie secret. Now it's right out there in large print next to the cheese cone on the new picnic menu. These and a few other items, like the Ploughman's Plate and Game Day pretzel-based options, have been specially designed for people in the neighborhood who aren't in the mood to wait, one of the Zing staffers told me. You order the pre-set meats, cheeses, sausages, breads and condiments to go and can get rung up at the bread counter rather than being shunted over to the new sandwich checkout area. I am a fan of the cheese cone with a selection of four of their best cheeses.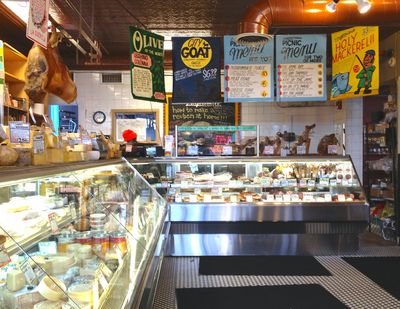 Kim Bayer | AnnArbor.com contributer
As for the newest sandwiches, two in particular have created a rift between me and my one true love of the #2 Reuben. The Banh Mo, named for Zingerman's Mail Order managing partner Mo Frechette, is the Zingerman's version of the classic Vietnamese banh mi sandwich. Deli Chef/Owner Rodger Bowser told me he was able to add this sandwich to the menu when the Bakehouse started making a roll he could put it on, and he discovered the Detroit-based Corridor Sausage company's
Vietnamese chicken sausage
. When he told me that the Corridor chicken sausage is so good it tastes like pork I had to laugh.
Filled with with galangal, cilantro, and other Asian herbs, I'd also have to agree that it's every bit as good as a pork sausage. The brat-sized chicken sausage split lengthwise on a soft toasted oblong roll may not be strictly traditional, but it is crazy delicious. With a slick of mayonnaise and a sprinkling of chopped cilantro, a special highlight of this sandwich is The Brinery's hot pickled carrots. These dime-thin carrots are crunchy, tart, hot and garlicky at the same time. And they add just the right spark of contrast to the rich sausage and mild sweetness of the brioche-like bun.
Another new sandwich, Davey's Deep Purple (named for David Klingenberger, the Brinery's irrepressible owner and "Chief Fermentation Officer") hits all the right spicy, tangy, rich and salty notes. Pepper-hot Cajun Tasso ham is stacked with The Brinery's purple Storm Cloud Zapper kraut, (with Michigan green cabbage, Michigan red beets, fresh ginger root, sea salt), along with Swiss cheese and mayonnaise grilled on a large paesano roll. It's an inspired combination.
Both of these are examples of how the interplay of humble ingredients into a unified whole can create a spine-tingling experience akin to a harmonizing choir. Most of Zingerman's sandwiches make that beautiful music in your mouth, but some need additional tuning in my estimation.
The other two new sandwiches, #219 Erica's Tea-wich with pimiento cheese and #222 Marshall's Ten out of Tin, a tuna melt variation, didn't really come together for me. The vegetarian Tea-wich's thick layer of spicy pimiento cheese is paired with lots of thinly sliced cucumber and tomato on soft wheat bread and was fine, uniformly soft and mild, good for someone in need of comfort food.
The Ten out of Tin puts a thick slab of a respectable (if boring) tuna salad on pumpernickel bread and layers it with thin sheets of roasted chiles and Swiss cheese. This one tasted flat to me, too much bland tuna salad, even if it was studded with tiny bits of celery. The mild heat of the chiles did little to provide zip; it needed some extra bite from onion or mustard, or a tangy counterpoint of capers and some additional texture. Some zing perhaps.
I was still happy with the overall experience. I'm okay with having a couple of clinkers with the meal when I've had a nice chat with each of three staff who offered in-depth information and gracious hospitality, and when I am sitting outdoors on a beautiful patio on perhaps the loveliest evening of the year surrounded by color and fluttering umbrellas and soft music in the background. I'm among the Zingerman's faithful who is fine with paying $13 for the treat of an excellent sandwich and an evening out because I know it's not just the sandwich that I'm buying.
It's worth it to pay a couple of bucks more to know that not only is the food made to the highest standards (in part because Zingerman's is a leader in buying from local farmers and producers) and every customer is treated like royalty, in addition the employees are treated with respect and dignity including healthcare coverage, a living wage (and intention to move to a "thriving" wage), extensive training, and up to 75 percent off with staff discounts.
I also understand that the Zingerman's 2020 Vision lays out an intention to incubate nearly a dozen more businesses, and that they are working on figuring out how to offer shares for employee ownership. I know that the Zingerman's Community Chest helps out employees dealing with catastrophe, and that not only did Zingerman's start Food Gatherers twenty some years ago, they remain among Food Gatherers main benefactors. And these are just a few examples.
With more than 500 employees, nine businesses (and more on the way) and with food that people travel from around the world to experience, Zingerman's has made Ann Arbor better in innumerable ways. Regardless of the cacophony of complaints about "Zingerman's prices," it's worth a couple of extra dollars for the long list of cascading benefits that having a world leader in the art of corporate citizenship brings to my town.
That and the food just doesn't quit. I heard from Chef/Owner Rodger Bowser that once things are humming with his new kitchen capacity, it's in their vision to roll out "Platesville" dinners of the month using some of their fine ingredients in plated traditional dishes. He said they're already developing recipes for things like kreplach made with their own beef brisket and chicken broth. In October he's hoping to start with bratwurst and sauerkraut, and he also wants to do spaghetti and meatballs, a simple pasta with their own olive oils and parmesan cheese, chicken paprikash, and brisket with fresh ground horseradish.
He says, "We're never going to stop improving the food here."
That sounds fantastic, but please just keep the #2 Reuben and Davey's Deep Purple on the menu.
Kim Bayer is a freelance writer and culinary researcher. Email her at kimbayer at gmail dot com.