Posted on
Thu, Oct 21, 2010 : 5:29 a.m.
Zingerman's Southside strikes a delicious balance of flavor and value
By Susan Isaacs Nisbett
Angela J. Cesere | AnnArbor.com
I love a trip to Zingerman's on Detroit Street — to browse the latest in olive oils, to nosh a sample of cheese, snag a small square of chocolate-cherry bread or share a fresser-size sandwich loaded with fire-roasted chilies or a perfectly spiced pastrami on rye. But some of these high-quality pleasures come with high costs, caloric and monetary. Leave it to Zingerman's to deliver the solution.
The solution came along with the newspaper this summer, in the form of a flier for "Zingerman's Southside." Now I'd been to the warehouse, also on the Ann Arbor's southside, off of East Ellsworth Road, for some of the great sales they've had (love that half-price Pasta di Aldo Chitarrine and good old Cream Nut Peanut Butter for $4, not $7). But I'd never visited the industrial park off Airport Boulevard that's home to the Bakehouse, the Creamery or the Coffee Company, aka Zingerman's Southside, where the baking, cheese-making and coffee roasting take place and where many classes are taught. Sounded worth a drive to me, especially with the flier's promise of a free slice of coffee cake (Bakehouse), a free cup of coffee (Coffee Company) and a free scoop of gelato (the Creamery).
REVIEW
Zingerman's Southside
• Bakehouse - 3711 Plaza Drive, 734-761-2095
• Creamery - 3723 Plaza Drive, 734-929-0500
• Coffee Company - 3723 Plaza Drive, 734-929-6060
On the web: Bakehouse | Creamery | Coffee Company

What: Zingerman's retail outlets and cafes in the industrial park where they bake their bread, make their cheeses and gelati, roast their coffee and teach classes.
Hours: Bakehouse, 7 a.m.-7 p.m., Monday-Saturday; 7 a.m.-6 p.m., Sunday. Creamery, 10 a.m.-7 p.m., Monday-Saturday; 10 a.m.-6 p.m., Sunday. Coffee Company, 7 a.m.-6 p.m., Monday-Friday; 7 a.m.-4 p.m., Saturday and Sunday.
Liquor: No.
Plastic: Yes.
Prices: Moderate.
Value: Excellent.
Noise level: Peaceful.
Wheelchair access: Yes.
The Bottom Line: Well worth a visit for lunches on-site or to go, a breakfast treat or to stock up for meals at home.
I found much more than that when I arrived, and it's inspired repeated visits: a neat trio of shops with ample parking, outdoor seating at picnic tables and Adirondack chairs; and indoor seating either at the Coffee Company or in the small "Swanky Café," an industrial-chic space, adjoining the wedding cake showroom and baking education center, that has four tables for three and a number of benches.
It's not necessarily a place to linger — and many patrons pick up food to go — but you don't buck crowds, the environs are surprisingly pleasant given the industrial-park setting, and the culinary offerings are satisfying, as well as simpler and different from what's on tap in the Kerrytown Zingerman's.
Unless you're caffeine-deprived — in which case you should head right to the Coffee Company (where I had a robust cappuccino that exceeded any I've had downtown) — begin your pilgrimage at the Bakehouse, a pleasant blond-wood-paneled space stocked with all manner of tempting breads, pastries and cakes, many fresh out of the oven. But the selection of ready-made sandwiches, soups and salads, with daily and seasonal specialties, is the reason to put the Bakehouse on your lunch menu.
The sandwiches, available Monday-Saturday, don't much resemble the ready-made baguette sandwiches at the Zingerman's Next Door on Detroit Street or the custom mile-high creations at the Deli itself, many of which are griddled and grilled.
The standard sandwiches here, rather, are more like idealized versions of the sandwiches you might make yourself at home — if you had some good Zingerman's breads and great fillings on hand. There's fresh mozzarella, roasted peppers and pesto on foccacia; rosemary ham with Swiss and honey Dijon mustard on a soft, New York-style onion roll; good tuna salad on pumpernickel; or an extravaganza of Applewood smoked bacon, rosemary ham, Genoa salami with garlic mayo, and lettuce on farm bread. There are vegetarian sandwiches, too, and all can be reserved for pickup with a simple phone call, a good idea if you think ahead, since when they're out, they're out). This is everyday food, not big splurge food, and the prices of the sandwiches — from $4.25-$6.95 — reflect that.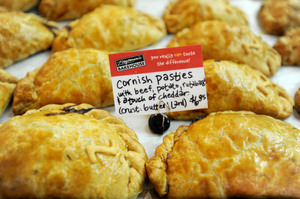 Angela J. Cesere | AnnArbor.com
Each day, there are specials, too, and they're definitely worth keeping track of — either by consulting the online menu or by signing up for a daily e-mail. For example, meatloaf sandwiches (on Roadhouse bread, with romaine and sweet harissa pepper spread, just like you'd make at home) have just rotated in for Tuesdays; pasties, big enough for a dinner and a reasonable $6.95 each, have likewise joined the fall-winter lineup; and delicious strudels, in spinach-Swiss cheese and Indian-spiced potato versions, make warm, tasty appearances Thursday through Saturday.
Each weekday brings a choice of two fresh soups, plus more in the cooler (there's a microwave in the Swanky Café to heat food). We've loved butternut squash with apple, sparked with just a touch of hot pepper; excellent gumbo; turkey chili with Urfa pepper; cream of broccoli; and a really fine chicken noodle, among others. Try the cheddar ale only if you like your cheese soups very bitter. Once again, the prices are down-to-earth — $2.50 a cup or $4.95 for a bowl, good bread included. And need I say that it's easy to find a dessert to round out the meal?
Part of the fun of visiting Zingerman's Southside, though, is wandering from emporium to emporium, assembling a meal to eat on-site or take away. You could buy a salad at the Bakehouse, and then head next door to the Creamery for a tangy Zingerman's Manchester cheese round and some Felino salami to complete a picnic. Then you could pop back in for some creamy gelato and work the calories off with a few steps down the sidewalk to the Coffee Company for an espresso. And if you should chance on a twist of Creamery mozzarella wrapped with fresh bay leaves, as I did earlier this fall, take it home for melting in the oven and pairing with slices of baguette. I was going to serve it to guests, but it never made it past the family dinner table.
Angela J. Cesere | AnnArbor.com
Susan Isaacs Nisbett is a freelance writer for AnnArbor.com.