Posted on
Fri, Jan 15, 2010 : 4:52 p.m.
1 year after Obama's inauguration: state of the peace movement forum
By Interfaith Council for Peace and Justice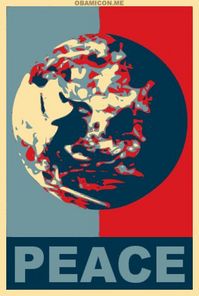 peace icon by qbama on obamaicon.me
Many people went into 2009 with high hopes for the new Obama administration. Others went in with a sense of apprehension or anxiety. One year into the new Obama Administration, members of the Ann Arbor community have a broad spectrum of reactions, ranging from disappointment to elation to the past year's performance.
Regardless of one's feelings, questions still remain for many people in the peace movement and in the community about what's next.
On Wednesday, January 20, there will be a discussion of these questions hosted by the Interfaith Council for Peace and Justice. The panel will take place at Church of the Good Shepherd, 2145 Independence Blvd., Ann Arbor. Dessert will start at 6:30 p.m.,and the panel will begin by 7.
This panel will bring together activists, local leaders and community members to explore g>what has changed, what hasnot changed, and what has not changed enough in the Obama administration. Six panelists will also discuss the role of grassroots efforts going forward on the issues of racial and economic justice, Latin America, Israel-Palestine, world hunger, climate change, and warfare.
Some progressives have seen important changes in the last year. Chuck Warpehoski, co-director of Interfaith Council for Peace and Justice, notes, "for eight years I was fighting against one proposal after another to build new nuclear weapons or to cover up torture. It's a great change to have an administration that has banned torture and is working to eliminate nukes. But there's still a lot more work to do."
Mary Anne Perrone, a Latin American activist and former Maryknoll Missioner has been less satisfied. Her "cautious optimism was sharply dislodged by the administration's response to the coup in Honduras and its subsequent disregard for the democratic process there."
Others like Jesse Worker, a Michigan grad who is now a grassroots organizer for Clean Water Action and the 1Sky campaign, says that issues like climate change are threats to survival right now. While the environment is degrading and people are suffering, he criticizes politicians and world leaders for continuing their habit to "drag their feet to assuage corporate interests" rather than make real change.
Yet despite all these concerns and disappointments, local storyteller and community member La'Ron Williams, sees the issue as less about leaders than about movements:
"Once upon a time, there was a mass movement for far-reaching, fundamental, and substantive change in American society. It included a component that pushed for peace and non-violence, and involved a man named Martin Luther King Jr. The movement was the horse, King was the cart. In like fashion, Obama is the cart. We desperately need a new movement as the horse. We can't forget that."
I hope you can join ICPJ for what should be a great discussion of the past year and what to do about it.
For more information, visit www.icpj.net, call (734) 663-1870 or email info@icpj.net.
---- By Rick Durance. Rick Durance is an intern at the Interfaith Council for Peace and Justice and a history student at the University of Michigan.