Posted on
Thu, Apr 5, 2012 : 7:17 a.m.
35-year Good Friday tradition highlights diversity of Broadway neighborhood
By Susan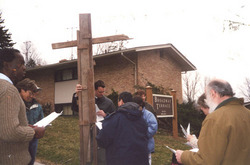 Susan McGarry | Contributor
At noon on April 6, in a contemporary service of "Stations of the Cross," members and friends of St. Aidan's Episcopal Church will bear their cross from the bottom to the top of Broadway hill.
For 35 years, this service, though fashioned on the 14 stations in Jerusalem, has made each station a place of prayer for present day concerns. We pray for hunger and good harvests, for ecological awareness and clean water, for fun and leisure, and for the elderly and those who are alone. We offer prayers for good government, for those who are sick and the vast number of people and institutions in our community who serve them, and for good education at all levels.
We include prayers especially for the poor, unemployed, underemployed, and victims of violence. We pray for the scars of the economic challenges that we face today and for the spiritual ability to face the path ahead of us.
The Broadway neighborhood is not just a peaceful residential neighborhood. It is a mixed and vibrant community. There, we have always been able to find places to focus all these prayers.
This neighborhood was one of the first settled in Ann Arbor, as it sits at the edge of the riverside plain and the joining of two Native American trails (Pontiac and Plymouth Roads) that come together at a gentle ford of the Huron River. Today, at its lowest edge it borders the gateway to the University of Michigan Medical Campus and the housing for much of the Medical Campus staff, both student and professional.
On Broadway you find Indian and Korean markets, a vibrant pottery studio, a party store, a caf&eacute, and pizza. The block supports senior and low- income housing, an Avalon program house, a yoga studio, three churches, and the Baits Drive entrance to the University of Michigan North Campus with its music, engineering, architecture and theater departments.
The bold new venture of a private dorm (Courthouse Square) on Broadway adds its housing alternative to the vast campus of co-op, undergraduate, graduate and married student housing.
In contrast to this successful building venture, at the other end of Broadway sits the blighted site of the planned development of "Lower Town," a place where the ambitious hopes and dreams of city planners met the current financial and housing crises. The locked gates on this fallow property give witness to national and state economic challenges that we often imagine pass by a fair city like Ann Arbor.
Even as we bear this witness to neighborhood blight, we also honor a lovely creek-side play park, some of the natural woods of North Campus and the St. Aidan's/Northside Presbyterian Natural Habitat, a five-acre natural woodland that offers walking trails on the verdant slope between Broadway and Plymouth roads.
Finally, Broadway hosts Cedar Bend Park and the romantic overlook off of Cedar Bend drive that has long served as a lovely place to contemplate the expanse of Ann Arbor or to spend some special time with someone you love.
Over the years our sites of prayer have changed. No longer do we pray for the unemployed right at the Broadway branch of the unemployment office. It is gone, as is the Riverview Medical Facility for mental health clients. Yet the Broadway Neighborhood continues to be a place that provides for the diverse needs of our Ann Arbor population and seems it will always provide places that call to mind a broad scope of present day concerns.
Susan McGarry is a Community Contributor. For more about Good Friday Stations, go tohttp://www.staidan.org/stations.html